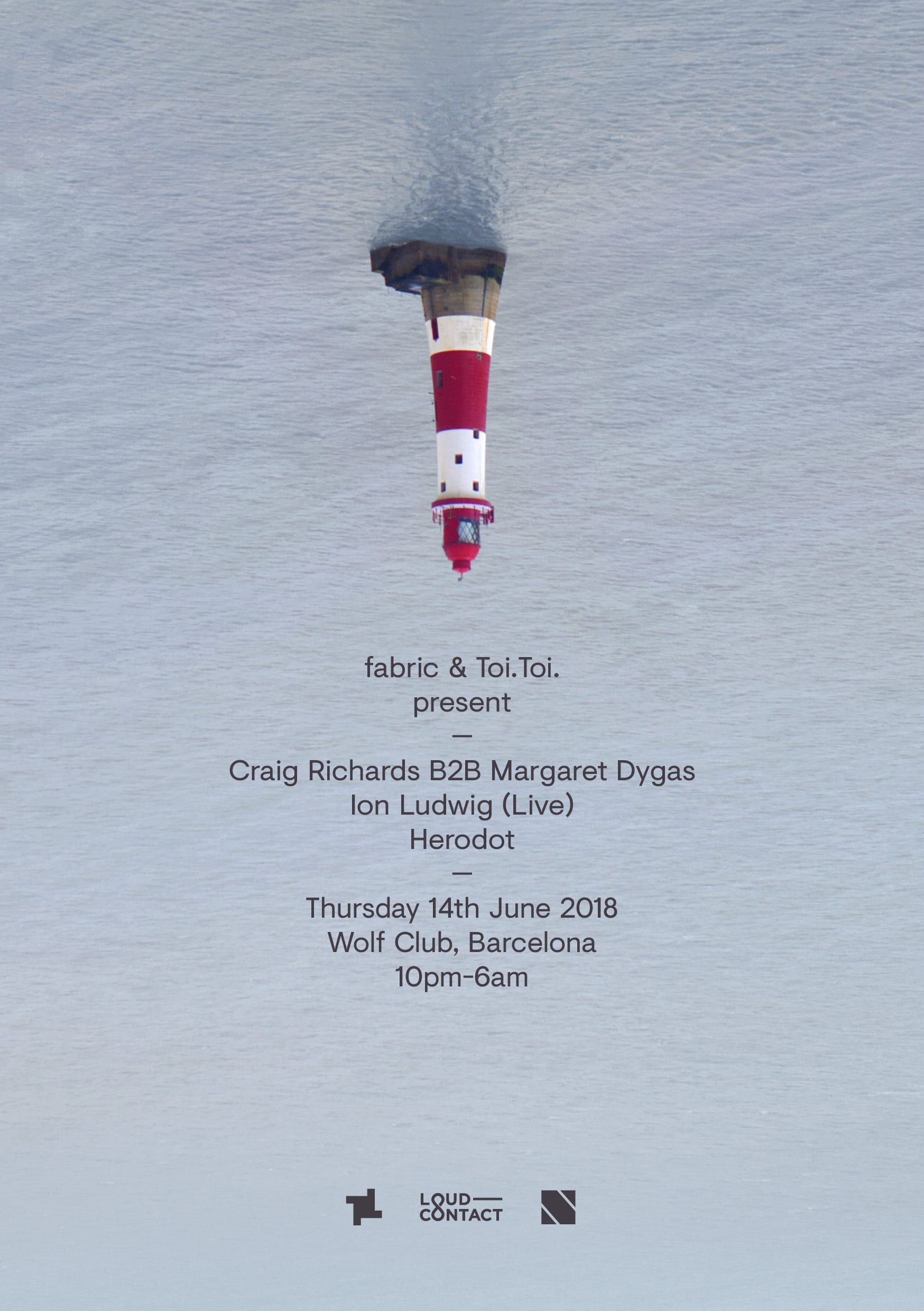 fabric & Toi Toi Partner for Off Week 2018
This summer, fabric head to Barcelona for the first time for OFF Week. On 14th June you can find us taking over Sant Martí space WOLF, where we are partnering with Toi Toi as part of their 8th anniversary celebrations.
London based Toi Toi's annual Off Week events have been highlights in the busy calendar in Barcelona and have been important fixtures in Farringdon too. Hosting Room Three regularly, as well as placing their high spec cast of artists consistently in our programming fabric and Toi Toi share a special kind of synergy.
The line-up perfectly reflects where we meet in production and musical values. Leading the bill are Craig Richards and Margaret Dygas who are set to unite for a special back-to-back set. The pair's history stretches back over a decade, since the start of her career Dygas has played regularly at fabric, appearing alongside Richards at his long-running residency. Earlier this year they went All Night Long in Room One setting a precedent for a dynamic collaboration and masterclass in their craft.
A special guest is also set to join the bill, who we can't announce just yet, but as a member of the [a:rpia:r] camp we can say to expect a serving of high-class Romanian minimal.
A key signing on the Toi Toi roster Ion Ludwig is set to perform live too. Ludwig's style of deep and dubby house has placed him among Europe's top minimal artists in recent years, with material landing on the likes of Perlon, Trelik and Sushitech. In his live sets, Ludwig uses drum machines and synthesizers to recreate his coveted productions.
Herodot completes the bill. Part of the second generation of Romanian house artists, the Toi Toi signing is one of the key figures of Bucharest's electronic music scene, working as a highly-skilled DJ and regular at the city's top late-night venue, Club Guesthouse. In 2013 he launched the label Unamin, and last year signed to Toi Toi's tight-knit roster.
The event takes place at WOLF Barcelona, one of the city's key venues located in the Sant Martí district.

Line up:
Craig Richards B2B Margaret Dygas
Very Special Guest [a:rpia:r] Ion Ludwig (Live)
Herodot

10pm-6am
WOLF Barcelona
Almogavers, 86
Barcelona

Tickets are now on 5th release available via Resident Advisor