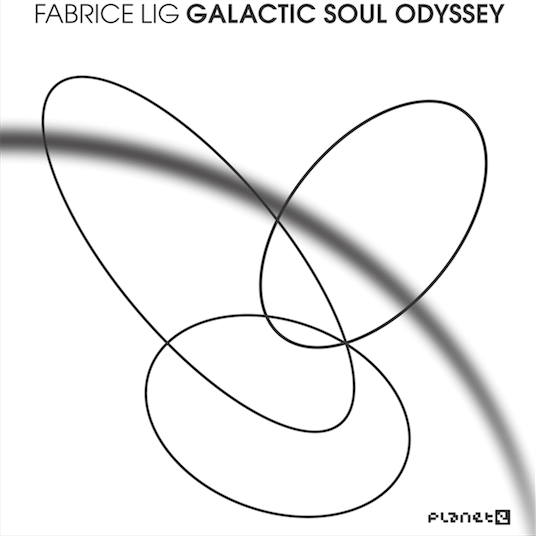 Fabrice Lig – Galactic Soul Odyssey
Handpicked by Carl Craig for his first release on the label, veteran producer Fabrice Lig delivers an inspiring album of hi-tek funk, soul, house and breakbeat with 'Galactic Soul Odyssey' on Planet E.

"What is touching me in Fabrice Lig's career is the way he is following his own line, without caring about trends, and that's the path an artist should follow. It is not post Detroit, it's an emotion." – Jean-Michel Jarre

A high school teacher by day, father of three and deeply passionate music devotee, there's an undeniable sense that Fabrice Lig was cut from a different cloth than most.

The Belgian artist, also releasing music under the Soul Designer moniker is responsible for the classic 'Walking On A Little Cloud' album on Laurent Garnier's F Communications, as well as a slew of pivotal Detroit-influenced cuts on labels such as KMS and 7th City Records that captured the essence of the iconic hotspot's spirit while retaining Lig's trademark free-flowing funk.

For his debut full length on Planet E, the dexterous producer has crafted an album of contrasts that gleefully scribbles outside the lines for an otherworldly 12-track trip of galactic proportions that mines inspiration from everyone from Todd Terje to Marvin Gaye and Quincy Jones, while retaining an undeniable thread to the Motor City.

There's the steely tension-filled 'Born To Be Wise' that sounds somewhat akin to the opening musical score of a Bond film, if said flick was set on Mars, while the tempo is later set to disco via the ultra smooth vocal injection from Hard Ton on 'Celestial Love Rising'.
There's a heavy hint of a future house classic when Lig teams up with lauded vocalist and former Octave One collaborator Ann Saunderson for 'No Judgment' that's already been generating serious heat since being released as a single recently. The masterful 'Oostende Blues' is the Belgian's own masterful tribute to his hero Gaye spanning energetic tech funk that gradually tempers to reveal more tender melodic tones. In a highlight heavy album, the work also features the Terje-inspired 'Superstring Theory' that mixes up disco, funk and '90s rave vibes all executed with astounding compositional skill – no mean feat from an artist who's never had a music lesson in his life.
A track-by-track breakdown of 'Galactic Soul Odyssey' by Fabrice Lig
1. Dwarf 2703
I wanted to make a track with a guitar bassline, 4/4 beats for the dancefloor, and finally it turned into a breakbeat track with flying melodies and funky rhythm. This was one of those tracks where I didn't really decide where it went…it just had a life of its own.

2. Galactic Mission 2702
Everything started with a beat and funky chords, then the bassline and breaks were added. The tracks became magic when I added the vocal sample and gave it soul.

3. Born To Be Wise
It's that kind of long track I like to do, a kind of nine-minute story with contrasts (deep melodies to dark ambience). It also features my favourite Roland SH 101 bassline to bring the climax to the track. It's probably one of the most dancefloor-orientated cuts on the album.

4. My 101 In Zero Gravity
That kind of track is like a recreation for me. I've used a SH 101 sound with a rhythm machine to do a funky and proper minimal techno track. It's a pure joy to do and to play and it's a good track to have in an album, especially when other tracks are more complicated. It means listeners can free their mind before continuing the journey.

5. No Judgment feat. Ann Saunderson
No Judgment is magic. I made an instrumental with my soul and my heart. I asked Ann Saunderson to make lyrics and vocals and she worked in the same way giving the music its heart and soul. With these special string melodies, a magic track appears. It's really a true love track. I'm sure the people can feel it when listening to.

6. Static Surface 22
Once again my best friend Roland Sh 101 is the main synth in the track. I wanted to keep the bass melody simple, so I added funky rhythm elements and again to bring some contrast, some little organ melodies to ensure it has that soulful vibe.

7. Superstring Theory
Some people (including Carl Craig) realised that I was influenced by Todd Terje with this track. I started this track in my living room, just for fun, with my wife asking me to stop making "noise", but I couldn't stop as I'd finally struck on inspiration. This is probably one of the highlights of the album. It's funky but also with a hint of disco and has a complicated structure, by changing to a string melody at the end. It's like a painting combining black and flashy colours; contrasts are life.

8. Galactic Soul Odyssey
This is my proper funk recreation. If I was a real gifted musician, I would probably be a funk music musician. This type of music links up everything I like about music: soul, funk, strong music composition. I found a great bassline loop, some chords, added a brass section that was influenced by Michael Jackson/Quincy Jones' style and added a solo part. It's an unusual track for me. Some people will definitely be surprised. I know Carl was.

9. Steady State model
This is a really slow tempo house track and more in the laidback style of the Detroit house scene. I wanted to use special tonalities and melody and wanted to inject a kind of strange atmosphere into it. It could be the track for a journey into the unknown…

10. Lux Stealer
It's probably my vision of house music. For me it's a house track, but with techno elements, funky chords, funky bassline, strong beats, deep melodies, short vocals elements. One of my favorite tracks off the album too.

11. Celestial Love Rising feat Hard Ton
This is a magic collaboration. Max and Mauro from Hard Ton are amazing guys. It was a big pleasure to work with them. I sent them a track and they wrote a superb vocal line. Totally into the spirit of the instrumental idea…they really understand my music

12. Oostende Blues
A really special track for me. It's a tribute to Marvin Gaye's time in Belgium when he was preparing his comeback. At this time he had changed a bit and after years of success had become more arrogant and proud, but his time in Belgium brought back his real personality; that of a soulful, simple, humble guy. Once again this track is all about contrasts: starting with a really funky bassline and techno style, to a second part more into introspective melodies, it represents the transition he experienced in my country.