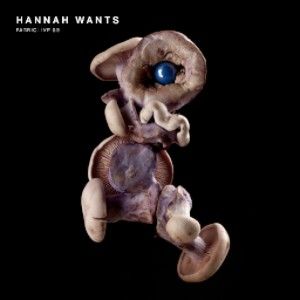 Hannah Wants - FABRICLIVE 89
Following an incredible, fast-paced few years, Hannah Wants is now joining the ranks of one of the UK's most esteemed mix CD series, FABRICLIVE.
A DJ's DJ first and foremost, Hannah has always considered mixtapes to be an essential part of her craft; she's kept up her free to download bi-monthly mix series for years now, no matter how busy her increasingly global tour schedule becomes.
Whilst Hannah's FABRICLIVE mix is similar to her mixtapes in its storytelling ethos – 'they start somewhere, go somewhere and end somewhere else' – it is a more evolved sound than those she was putting out years ago. Traversing a variety of tracks and sub-genres, the tracklist includes five of Hannah's own productions – one of which will never be released – as well as a mixture of old and new music that Hannah loves; "I had to dig my old hard drive when I made this mix, I wanted it to be a unique and refreshing play to the listeners."
Hannah is known for her Birmingham-influenced, bass-heavy sound, and she doesn't disappoint on this mix; this feel is channelled throughout her own productions, as well as those from well known players like Shadow Child, Huxley, Cera Alba and Josh Butler. The already-iconic collaboration between Funky pioneer Champion and Four Tet's 'Flip Side' also makes the cut.
The mix also sees Hannah venture into darker, tech-ier territory, such as the Erykah Badu-sampling 'High' by Dennis Cruz and Enrico Sangiuliano & Secret Cinema's 'Alone With The Bitch'. An unreleased track by Jacob B, 'The Substance' provides one of the heaviest moments of the mix, contrasting nicely with the sparse yet gritty follow up, Alex Coulton's 'Ambush'. Hannah rounds off the mix with a couple of releases from two of techno's biggest labels, Tale Of Us's remix of Thugfucker's famous 'Disco Gnome' on Life And Death and Marco Faraone's pounding 'Boost' on Drumcode. Expertly bringing the tempo back down Hannah selects Domino release 'Cold Nites' by How To Dress Well as her final track.
Hannah's contribution to the FABRICLIVE mix series displays her refined taste and effortless approach to genre-blending to its full extent. Whilst she's known for her incendiary peak time sets, mixes allow Hannah to explore more forms of the music she loves so much.
About Hannah Wants
Hailing from Birmingham, Hannah is a champion of the new breed of bass-orientated, garage-influenced house of her hometown. Following a life-changing trip to Ibiza in 2010, Hannah worked hard to build a solid fanbase through her unique, energy-filled sets, journey-like mixtapes and successful forays into production, until in 2014 she was crowned both DJ Mag and Mixmag's 'Best Breakthrough DJ' as well as Mixmag's 'Star of the Year'. Remaining faithful to her core fanbase, Hannah has kept up her bi-monthly mixtapes that are always available for free download and streaming – and in 2015 Hannah was given the opportunity to build on this with an Essential Mix for Radio One, as well as a contribution to the Residency series. 2015 has also seen the beginning of Hannah's own headline series of events, 'What Hannah Wants' – the party has been a sell-out success so far, filling famous clubs like Ibiza Rocks, Amnesia and Manchester's The Warehouse Project. With her DJing and events in high demand, 2016 also saw Hannah cement her status as a skilled producer – she's released solo singles 'Just', 'Hidden Love' and hotly anticipated collaboration with Katy B 'Honey' in a relatively short period of time. With her fame rapidly spreading, she now frequently tours the US and Europe as a headline act.
Tracklist
1. TÂCHES x Eli & Fur – Lookalike [Different] 2. Cera Alba – Solitary Nights [Champion|Mad Tech] 3. Josh Butler – Need Me [Rejected] 4. Dennis Cruz – Feeling High [Suruba X] 5. Enrico Sangiuliano & Secret Cinema – Alone With the Bitch [Gem] 6. Hannah Wants (feat. Kristine W) – Just [Toolroom] 7. Hannah Wants – Bump Track [Unreleased] 8. Shadow Child & Huxley – Err [Food Music] 9. Wade – Irreversible (Leftwing & Kody Remix) [Lost] 10. Hannah Wants – Found the Ground [Ammunition Promotions Ltd] 11 Four Tet & Champion – Flip Side [Text] 12. Hannah Wants feat. Detour City – Hidden Love [Cr2] 13. Jacob B – The Substance (Original Mix) [Unreleased] 14. Alex Coulton – Ambush [Ammunition Promotions Ltd] 15. Katy B & Hannah Wants – Dreamers VIP [Virgin EMI] 16. Claude VonStroke – Who's Afraid of Detroit? (10 Year Anniversary Mix) [DIRTYBIRD] 17. Marco Faraone – Boost [Drumcode] 18. Thugfucker – Disco Gnome (Tale Of Us Remix) [Life and Death] 19. How To Dress Well – Cold Nites [Domino]
For more information on Hannah Wants, please visit
https://www.facebook.com/hannahwantsdj/
https://twitter.com/hannah_wants
https://soundcloud.com/hannah_wants