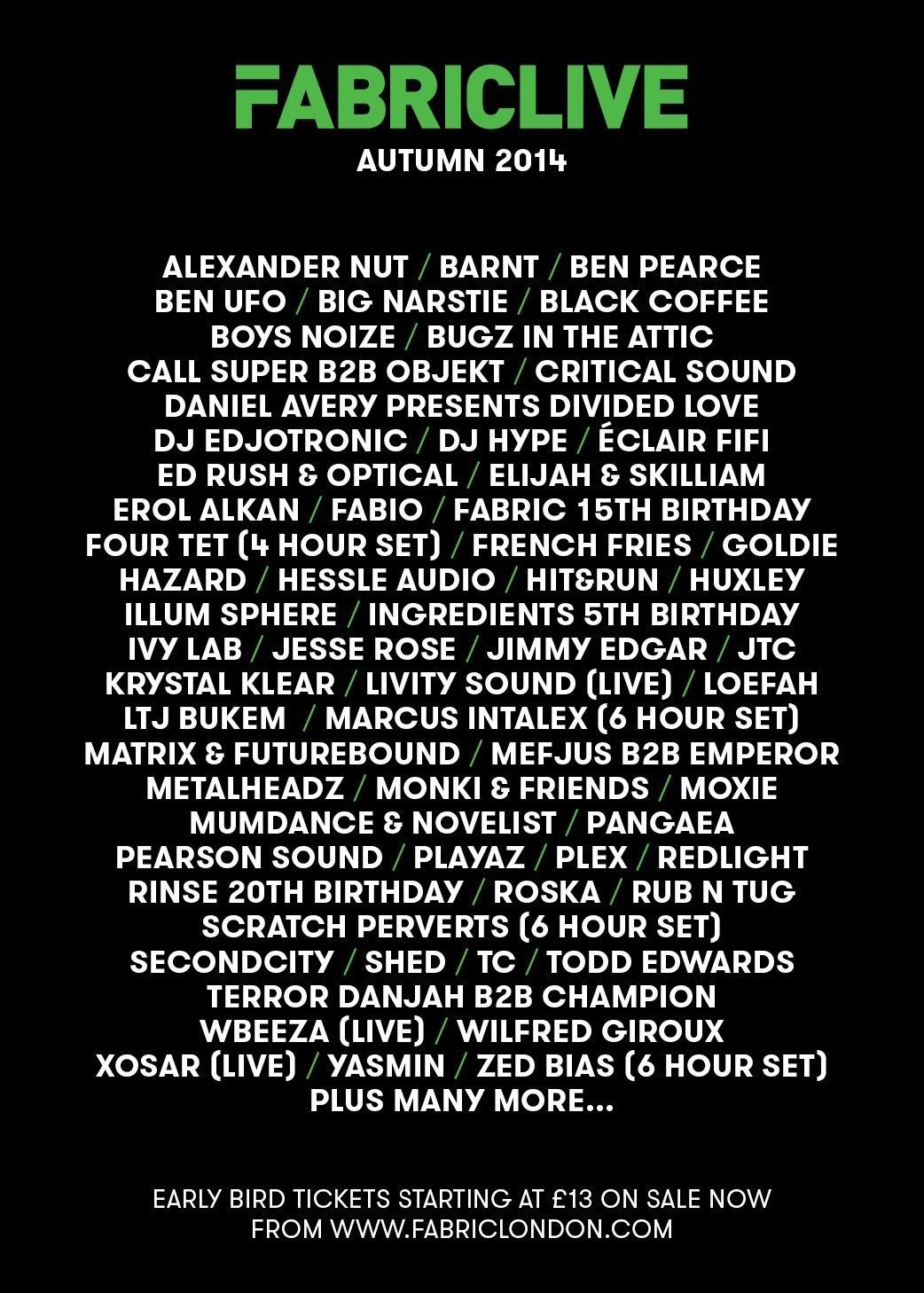 FABRICLIVE announces Autumn 2014 Season
Serving very much as another seasonal mission statement, FABRICLIVE is proud to present the full listings for Autumn 2014.
Leaving behind the vitamin D drenched hedonism of the summer months should never really be a cause for concern. Yes, it's a time when people are forced to come back down to earth, when the workforce starts to knuckle down once again but it needn't be a time for sad sun-burnt faces.
Whilst you've been away on holiday, relaxing and/or potholing in the Chiltern Hills, we've been putting in work and shaping FABRICLIVE's Autumn Season with another slew of boundary pushing artists, labels, crews and collectives so that when you do finally come back to reality, we've got you and your escape.

Earlybird tickets on sale now at: www.fabriclondon.com


Full Listings:
Fridays // FABRICLIVE.
doors: 11pm – 7am
prices: £13-£18 advance/£19 door/£13 student and fabricfirst; £10 after 3am
05 SEPTEMBER
RINSE 20TH BIRTHDAY PARTY…
ROOM ONE:
Todd Edwards, Romeo, Lisa Maffia, Slimzee, Richie Dan, Mighty Moe, Fonti, Bushkin, Pied Piper, Norris Da Boss, Supplier, DJ Iron
MCs: PSG, Ranking, DT
ROOM TWO:
Princess Nokia, Darq E Freaker, Visionist, Marcus Nasty, Faze Miyake, A.G. Cook, Palmistry, DJ Haus, Neana, Deamonds
ROOM THREE:
Scratcha DVA, Crazy Cousins, Kismet, Supa D, Ill Blu, Funkystepz
12 SEPTEMBER
ROOM ONE:
Erol Alkan, Rub N Tug, The Emperor Machine (Live), Dark Circles
ROOM TWO:
CLEK CLEK BOOM…
Special Guest TBA, French Fries, Aleqs Notal, Jean Nipon, Aethority (Ministre X & Mattias Mimoun)
ROOM THREE:
PLEX…
AnD, Killawatt, Metrist, J Tijn, Luke Handsfree, James Tec, Skunkrock
19 SEPTEMBER
ROOM ONE:
HESSLE AUDIO…
Pearson Sound, Pangaea, DJ Bone, Jon Rust + More TBA
ROOM TWO:
METALHEADZ…
Goldie, Ulterior Motive, Om Unit, Dom & Roland, A.I, Blocks & Escher, DLR
MCs: GQ, SP:MC, DRS
ROOM THREE:
CALL SUPER 'SUZI ECTO' LAUNCH…
Call Super, Gatto Fritto, Call Super B2B Objekt B2B Special Guest,
26 SEPTEMBER
ROOM ONE:
PLAYAZ…
DJ Hype, Hazard, Pascal, Matrix & Futurebound, Original Sin B2B Sub Zero, Tyke, Pleasure B2B Heist
MCs: IC3, Felon, Funsta, Rhymestar
ROOM TWO:
BUKEM IN SESSION…
LTJ Bukem, Bailey, Commix, Dynamic, Madcap
MCs: SP:MC, Stamina, Moose
ROOM THREE:
INGREDIENTS 5TH BIRTHDAY…
Skeptical, Digital, Villem, Response B2B Clive Ingredients
MCs: Bassline
—
03 OCTOBER
ROOM ONE:
TBA
ROOM TWO:
ROSKA PRESENTS…
Roska, Matt Jam Lamont, Wilfred Giroux, Mumdance & Novelist, Yasmin, Motions, Jamie George
ROOM THREE:
Bugz In The Attic (All Night Long)
10 OCTOBER
ROOM ONE:
Ben Pearce, Secondcity, J Phlip, No Artificial Colors
ROOM TWO:
CRITICAL SOUND…
Mefjus, Kasra B2B Jubei, Ed Rush & Optical, Ivy Lab B2B Foreign Concept, Emperor, Sam Binga & Redders, Hyroglifics
MCs: GQ, DRS, AD, Maksim
ROOM THREE:
TBA
17 OCTOBER
FABRIC 15TH BIRTHDAY WEEKEND…
LINEUP TBA
24 OCTOBER
ROOM ONE:
Redlight, Moxie + More TBA
ROOM TWO:
Huxley, MJ Cole, Tom Demac (Live) + More TBA
ROOM THREE:
MONKI & FRIENDS…
Monki, Woz, Toyc & Zulu
31 OCTOBER
ROOM ONE:
PLAYAZ…
DJ Hype, Hazard, Pascal, Mampi Swift, The Prototypes, Annix, Potential Badboy
MCs: IC3, Evil B, Felon, Junior Dangerous
ROOM TWO:
BUKEM IN SESSION…
LTJ Bukem, Nu:Tone, A.I, Furney, Mach4
MCs: Lowqui, Moose, Ribbz
ROOM THREE:
Scratch Perverts (6 Hour Set)
—
07 NOVEMBER
ROOM ONE:
BNR RECORDS…
Boys Noize, Untold, Jackson And His Computer Band (DJ Set), DJ Edjotronic
ROOM TWO:
HOYA:HOYA…
Illum Sphere, JTC, Krystal Klear, Eclair Fifi, Jonny Dub, Jon K
MCs: Chunky
ROOM THREE:
PRINCIPALS…
Bradley Zero, Charles Drakeford, Nic Tasker
14 NOVEMBER
ROOM ONE:
DANIEL AVERY PRESENTS DIVIDED LOVE…
Daniel Avery, Jimmy Edgar, Xosar (Live), Barnt, Scott Fraser
ROOM TWO:
LIVITY SOUND LAUNCH…
Livity Sound (Live), Shed, Peverelist, Kowton, Asusu
ROOM THREE:
Marcus Intalex (6 Hour Set)
MCs: SP:MC
21 NOVEMBER
ROOM ONE:
Black Coffee, Wbeeza (Live), Alexander Nut, Moxie
ROOM TWO:
BUTTERZ…
Elijah & Skilliam w. Big Narstie & Novelist, DJ Q, Logos (Live), Flava D, Wen
ROOM THREE:
Zed Bias (ALL NIGHT LONG)
28 NOVEMBER
ROOM ONE:
PLAYAZ…
DJ Hype, TC, Hazard, Pascal, Sub Zero, Taxman + More TBA
MCs: IC3, Funsta, Felon
ROOM TWO:
BUKEM IN SESSION…
LTJ Bukem, Fabio, The Insiders + More TBA
ROOM THREE:
HIT & RUN…
Chimpo B2B Barely Legal, Metrodome, Rich Reason, Dom Hz, Silas B2B Snare Surgeon
Hosted by Fox, T-man & Chuckz