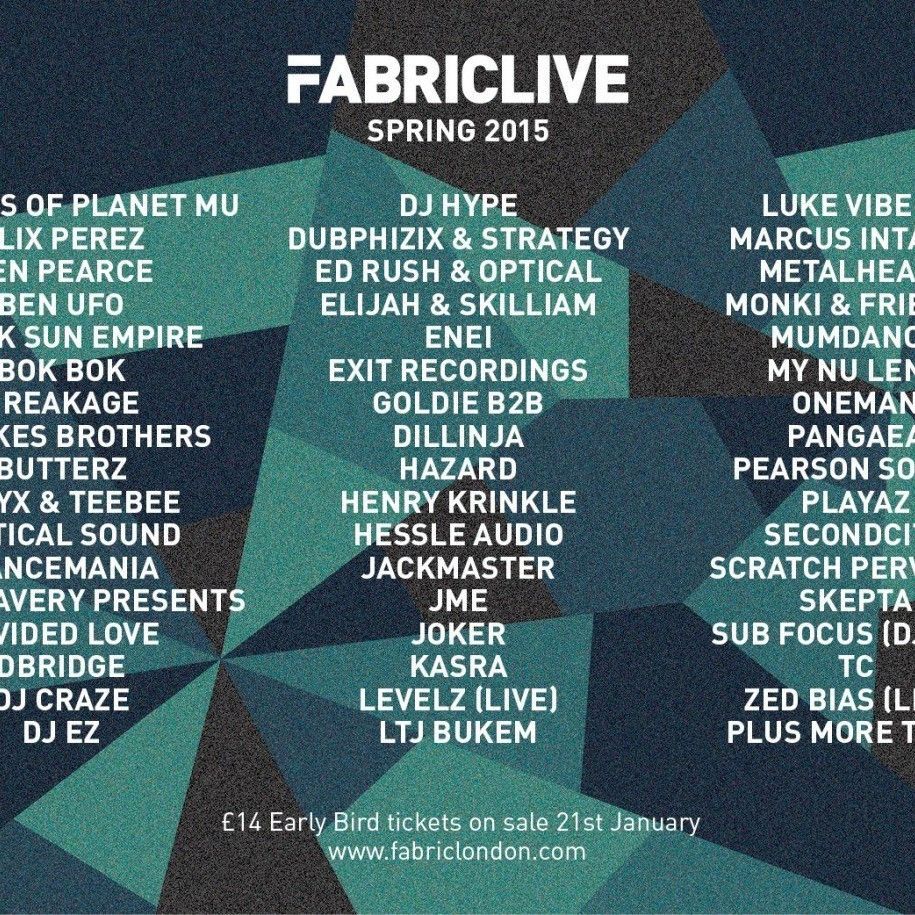 FABRICLIVE Announces Spring Season 2015
Now, more than ever, it feels particularly prevalent that, as a team, we end the first month of the New Year looking towards the future. And although it might feel impossible right now to move past the grasp of the morning thaw and the late night chill of January, FABRICLIVE is proud to be able to present the full listings for the forthcoming Spring period.
Earlybird tickets will go on sale at www.fabriclondon.com
from 12pm/midday today.
FABRICLIVE MARCH-APRIL-MAY 2015
Full Listings:
fridays // FABRICLIVE
doors: 11pm – 7am
price:£14 advance/£20 door/£14 student/£10 fabricfirst; £10 after 3am
—
06 MARCH
ROOM ONE:
HESSLE AUDIO…
Ben UFO, Pearson Sound, Pangaea, Special Guest: Jackmaster
Hosted By Chunky
ROOM TWO:
EXIT RECORDS: MARK SYSTEM 'FINAL APPROACH' ALBUM LAUNCH…
DBridge, Mark System, Alix Perez, Kid Drama, Fracture, Skeptical
MCs: SP:MC, GQ, DRS
ROOM THREE:
MOOD HUT…
Penderstreet Steppers, Hashman Deejay, Bake, Brian Not Brian
13 MARCH
ROOM ONE:
Ben Pearce, Secondcity, Henry Krinkle, Dorsia
ROOM TWO:
DJ Craze, DJ Die, Scratch Perverts, Chimpo, Rich Reason
MCs: Tonn Piper
ROOM THREE:
02:31…
Tom Shorterz, Yasmin, Pete Graham, Andy Bell, Brady & Reidy, BLCKSHDW
20 MARCH
ROOM ONE:
EZ, Oneman, New York Transit Authority, Flava D, Martelo
ROOM TWO:
DANCEMANIA 'GHETTO MADNESS'…
Tyree Cooper, Parris Mitchell, Bodyjack & Special Guest: Bok Bok
ROOM THREE:
PRINCIPALS…
Bradley Zero, Charles Drakeford, Nic Tasker
27 MARCH
PLAYAZ EASTER SPECIAL…
ROOM ONE:
DJ Hype (2 Hour Set), Hazard, TC, Pascal, Dimension, Annix, Potential Badboy
MCs: IC3, Funsta, 2 Shy, Tonn Piper, MC Biggie
ROOM TWO:
Plastician, Logan Sama, Ulterior Motive, Hatcha, Brockie, Northbase, Tyke
MCs: Crazy D, Det, More TBC
ROOM THREE:
Doc Scott B2B Source Direct, Zero T B2B Fierce, SCAR, Macpherson
Hosted by Bassline
—
03 APRIL
ROOM ONE:
Sub Focus (DJ Set) & MC ID, Breakage, Dismantle, Kove, Culprate & Maksim
ROOM TWO:
CRITICAL SOUND…
Mefjus B2B Emperor, Kasra B2B Enei, Ivy Lab, Foreign Concept, Sam Binga & Redders, Hyroglifics
MCs: GQ, SP:MC, Mantmast
ROOM THREE:
Fabio (All Night Long)
10 APRIL
ROOM ONE:
BUTTERZ…
Special Guests TBA, Joker, Elijah & Skilliam, Royal T, Commodo
Hosted By Serious
ROOM TWO:
FABRICLIVE 80: MUMDANCE LAUNCH…
Mumdance (Extended DJ/909/Modular Set), Pinch, Novelist & Riko Dan, Randall (90-92 Hardcore Set), Logos, CJ Yaxley B2B Temple
17 APRIL
ROOM ONE:
Special Guest TBA, Marquis Hawkes, Cinnaman, Jon Rust
ROOM TWO:
Calyx & Teebee, Brookes Brothers, Rockwell, Joe Ford, Hamilton,
MCs: LX:One, Tonn Piper & More TBC
ROOM THREE:
TBA
24 APRIL
ROOM ONE:
PLAYAZ…
DJ Hype (DJ Set), Hazard, Pascal, Break, Grooverider, Sub Zero B2B Taxman, Tyke
MCs: IC3, Felon, Funsta, Tonn Piper, MC Biggie
ROOM TWO:
LTJ Bukem, Marcus Intalex, Doc Scott, Bachelors Of Science, Stamina (DJ Set)
MCs: Stamina, More TBC
ROOM THREE:
INGREDIENTS…
Skeptical, Halogenix, Eveson, Mako, Clive Ingredients
MCs: Bassline
—
01 MAY
ROOM ONE:
METALHEADZ…
Goldie B2B Dillinja, Lenzman B2B Jubei, Dom & Roland B2B Klute, SCAR, Ant TC1, Khan
MCs: GQ, SP:MC, DRS
ROOM TWO:
FABRICLIVE 81: MONKI LAUNCH…
Monki, Special Guest TBA, Paleman, Mella Dee, Champion, Toyc & Zulu
ROOM THREE:
TBA
08 MAY
ROOM ONE:
ROOM TBA
ROOM TWO:
Ed Rush & Optical, Black Sun Empire, Optiv & BTK, Loxy, Stealth B2B Xtrah
MCs: SP:MC, 2Shy, more TBC
15 MAY
ROOM ONE:
DANIEL AVERY PRESENTS DIVIDED LOVE…
Simian Mobile Disco (Live), Daniel Avery, Call Super
ROOM TWO:
20 YEARS OF PLANET MU…
Luke Vibert, Kuedo (DJ Set), µ-Ziq (Mike Paradinas), Mr Mitch
22 MAY
ROOM ONE:
TROPICAL…
JME, Skepta, Preditah, Plastician, Logan Sama, Slimzee
ROOM TWO:
LVLZ…
Dubphizix & Strategy, LEVELZ (Live), Chimpo, Biome, Metrodome, Jonny Dub, Rich Reason, + Special Guest TBA
MCs: Black Josh, Chimpo, Chunky, Fox, Skittles, Sparkz, T-Man and Truthos Mufasa
ROOM THREE:
STRIPES…
Special Guest TBA, Kinzy, Monkey Wrench, MYSTRY, Spoils, Sukh Knight, True Tiger
29 MAY
ROOM ONE:
PLAYAZ…
DJ Hype (2 Hr Set), Hazard, Pascal, The Upbeats, Ivy Lab, Tyke, Potential Badboy
MCs: IC3, Funsta, Biggie, MORE TBA
ROOM Two:
LTJ Bukem, Utah Jazz, Source Direct, Madcap, Vandera
MCs: SP:MC, Stamina, More TBA
Room Three:
Hatcha (All Night Long) & Crazy D