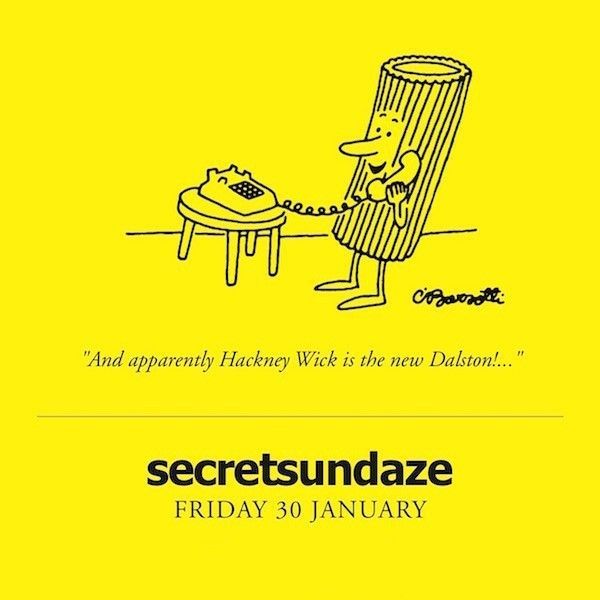 SECRETSUNDAZE 2015 – NEW DATES ANNOUNCED
secretsundaze reveal the first acts for several keys dates in London as well as a busy and far-reaching UK & International tour schedule.
secretsundaze are proud to announce details of their 2015 campaign with new parties announced for Easter Thursday and two 'classic' May bank holiday parties in addition to a busy international tour schedule. As always, the event's programming and line-ups maintain a considered balance between welcoming back firm favourites and introducing newcomers to the party, keeping things fresh.
As previously announced, the 2015 season kicks off with Berghain's Ryan Elliott and Bristol's hotly-tipped Shanti Celeste on 30 January 2015 at BLOC. Hackney Wick's BLOC with a capacity of just 550 is the smallest venue that secretsundaze will have thrown a party at for some years, but with it being the beginning of the year it felt like the perfect time to do a more intimate cosy party in great space with killer sound.
Other acts announced today for the first series of 2015 London events include Detroit's Delano Smith, who goes from strength to strength with his releases on Sushitech and his own Mixmode imprint. Smith marks his first return to secretsundaze in London for 5 years, despite having performed numerously for the brand in New York, Paris, Berlin, Amsterdam and Barcelona in recent times. Similarly, New York's Fred P, whose various artist projects and labels make him a very busy man and master of the deep, makes a timely return, as does quite possibly secretsundaze's favourite producer, New Jersey native, DJ Qu.
Paris based music obsessive and My Love Is Underground main man Jeremy Underground Paris makes his second appearance at secretsundaze, after his blistering set in 2014, as does Ostgut Ton and Panorama Bar resident Virginia, known equally well for her DJ, vocal and production skills. 

The Netherlands' STERAC aka Steve Rachmad, bona-fide techno legend who has made a great come back with releases on the likes of Klockworks and Delsin, pops his secretsundaze cherry in 2015, headlining the Part 2 of the summer Opening Party at The Laundry.
Linkwood also joins for Part 2 of the summer Opening Party. The Edinburgh producer is known for his stunning soul drenched 12's on the likes of Prime Numbers and Firecracker – watch out for his new album dropping in March, silky and smooth as you'd expect. Mosca, who has successfully emerged from the depths of the UK bass scene to become a techno force to be reckoned with, also marks a return, as do Bristolians Peverelist & Kowton, whose Livity Sound imprint goes from strength to strength, alongside their other solo productions most notably for the Young Turks off-shoot Whities getting those in the know, wet at the lips. secretsundaze are also happy to welcome onboard long-time friend and DJ's DJ Jane Fitz. Anyone that has seen Jane play knows she is the real deal often showing up the headliners she plays alongside with her selection and skills.
More acts are still to be revealed so listen out for news on the Dutch headliner of the May Bank Holiday special at Studio 338 and another New Jersey artist playing alongside Fred P for the summer opening party… As ever, secretsundaze residents Giles Smith and James Priestley will play every London party. They have been at the helm since the very beginning and widely regarded as some of the finest resident DJs in the capital.
In terms of venues for the first half of the year, secretsundaze will return to some of the favourite venues from recent years, including the basement of The Laundry with its raw aesthetic which works perfectly for the night time shows and contrasts beautifully with the open and outdoor spaces of The Oval & Studio 338.
INTERNATIONAL
The first half of 2015 also demonstrates the brand's wide reach, throwing up multiple dates in Germany at Tresor Berlin as part of the 4 date 2015 residency there, a second appearance at the excellent Bob Beaman in Munich and their annual Easter Sunday all day party and residency at Robert Johnson.
Early February sees a return to Paris for Badaboum before heading off to Japan and Australia for dates in Tokyo (Air), Osaka (Circus) and then Sydney and Melbourne for two debut shows down under. Late March sees secretsundaze hit Warehouse in Rome and last but not least they have 3 dates in the UK: Brighton, Newcastle and Belfast.
2015 is shaping up to be another vintage year for one of the UK's and Europe's best-loved parties, DJ duos and record labels. With a new sister label hitting the shops soon as well as an enviable party and tour schedule, secretsundaze continue to show why they remain at the forefront of the scene.
SECRETSUNDAZE LONDON
Secretsundaze
Friday 30 January 2015 – BLOC 11pm – 6am
Ryan Elliot, Shanti Celeste, Giles Smith, James Priestley
Tickets: http://www.residentadvisor.net/event.aspx?657575
Secretsundaze Easter Special
Thursday April 2nd – The Laundry / 10pm – 6am
Dj Qu • Mosca • Virginia • James Priestley • Giles Smith
Secretsundaze 2015 Opening Party
Sunday 3rd May 2015 – Oval Space & The Laundry / 2pm – 6am
Part 1 – Oval Space / 2-10.30pm
Fred P • Special Guest TBA • Jane Fitz • Giles Smith • James Priestley
Part 2 – The Laundry / 10pm – 6am
STERAC aka Steve Rachmad • Peverelist B2B Kowton • Linkwood • James Priestley • Giles Smith
Secretsundaze May Bank Holiday Special
Sunday 24th May – Studio 338 / 2-10.30pm
Special Guest TBA • Delano Smith • Underground Paris • Giles Smith • James Priestley
TOUR DATES
23/01/2015 Bob Beaman, Munich, DE
24/01/2015 Tresor, Berlin, DE
30/01/2015 Bloc, London, UK
07/02/2015 Badaboum, Paris, FR
20/02/2015 Circus, Osaka, JP
21/02/2015 Air, Tokyo, JP
28/02/2015 The Bristol Arms, Sydney, AUS
07/03/2015 Lounge, Melbourne, AUS
28/03/2015 Warehouse, Rome, IT
02/04/2015 TBA, London, UK
03/04/2015 The Brunswick, Brighton, UK
04/04/2015 Tresor, Berlin, DE
05/04/2015 Robert Johnson, Offenbach, DE
03/05/2015 Oval Space & The Laundry, London, UK
24/05/2015 Studio 338, London. UK
31/05/2015 World HQ , Newcastle, UK
06/06/2015 Twitch, Belfast, IR