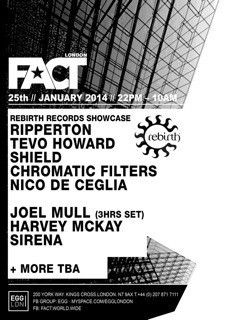 FACT
Worldwide events crew FACT are back at Egg with maybe their best line-up yet, featuring Joel Mull, Ripperton, Tevo Howard, Shield and Chromatic Filters vs Nico De Ceglia.
When detailing Joel Mull's production career it's almost easier to name the labels that he is yet to appear on than to list the magnitude of seminal labels that have come calling for his work. Brief highlights include Harthouse (who released Joel's most recent album 'The Observer'), Superstition, Turbo, Music Man, Cocoon, Drumcode, EC Records, Audiomatique, Liebe*Detail, Jericho and Saved Records. This variety of labels says everything about the versatility of Joel's approach to making music and his ability to balance sounds from across the spectrum with heavy-duty rhythms, chords, and melody.
House and techno producer Raphael Ripperton burst onto the international dance music scene as part of the mighty Border Community label, linking up with the seminal UK imprint as it was enjoying its most formidable years in the mid-naughts. Born in Switzerland, Ripperton started his career as one-half of Lazy Fat People (an artist who himself had appeared on the Wagon Repair and Planet E labels). When Ripperton decided to go solo, the style that marked those early collaborative releases stayed with him, and he became know for deep, melodic, and moody productions with a penchant for the dancefloor. He also runs the Tamed Musiq label and is a revered DJ who really takes you on a journey.
Tevo Howard is a Chicago house legend who has been producing killer house music for years, but who has been DJing even longer. He's released on labels like Buzzing Fly and Beautiful Granville Records as well as his own Tevo Howard Recordings and recently released a well-received album under one of his other monikers. Closing out the big line-up are Shield and Chromatic Filters vs Nico De Ceglia.