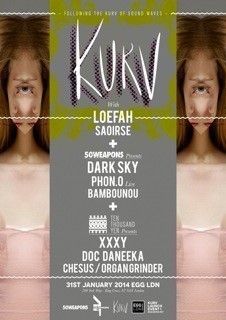 Kurv
Launching a new chapter in the history of one of London's biggest venues is the launch of Kurv at Egg London on Friday 31st January.
A one stop showcase for the best in underground music, Kurv will show you Egg in a way you've never seen it before presenting a double header of some of the most serious underground labels out there – 50 Weapons and Ten Thousand Yen, with DJs Dark Sky, xxxy, Doc Daneeka, The Organ Grinder, Chesus, Bambounou, Phon.o (live) and Loefah all playing.
Only one man could headline the first Kurv: Bass music legend Loefah. An instrumental figure in the early days of Dubstep as part of DMZ alongside good friends Mala and Coki, South London lad Loefah has enjoyed a renaissance in the last few years as the head of not one but two labels; School and Swamp81. Influencing bass-centric UK music for nearly a decade, its pretty much impossible to imagine things without this man.
Supporting him we have showcases from 50Weapons and Ten Thousand Yen, two labels relentlessly committed to finding new and unique ways of making you dance. Turning out for 50Weapons are eclectic London trio, Dark Sky, Berlin-based experimentalist Phon.O, and Parisian maverick Bambounou. Ten Thousand Yen meanwhile bring the sugar sweet melodies of Mancunian XXXY, the inventive House of label boss Doc Daneeka and the floor ready stylings of Chesus and Organ Grinder.
Tom, Matt and Carlo together make up the London based production and DJ unit Dark Sky. Having met at music college, Dark Sky formed in 2008 out of a mutual love for the ever evolving London electronic music scene, a love that the trio have always reflected through not only their DJ sets but also their productions, drawing influences from original UK garage through to house, via drum & bass and hip hop.
It wasn't long before their forward thinking outlook on production and DJing got noticed and their debut 12″ was picked up by the Bristol imprint Black Acre. The release was met by rave reviews and since then further releases have been signed with consistent success to Pictures Music, Ninja Tune, Blunted Robots and Modeselektor's 50 Weapons imprint.
Rupert Taylor, aka XXXY, has been involved in music all his life, but he's really made a name for himself over the last few years with his modern take on garage cross rhythms and dubby bass lines, with the sound palette of classic house and techno jams. Taylor's stock first began to rise when his unique take on garage music was first heard with releases on the American Label; Formant, and Mancunian label; Mindset. His subsequent releases on Fortified Audio, Infrasonics and Pollen cemented his status as an up and coming artist to watch.
Cardiff's Cayne Ramos aka The Organ Grinder has a long history with, and deep understanding of, electronic music. Way back in the 90s was he stuck into jungle and myriad pirate radio stations, soaking up influences and honing his understanding of what works on the 'floor. Soon after came the garage explosion, something which also had an impact on Cayne and saw him MCing under the Chico alias for seminal acts like Tuff Jam, Mike Ruff Cut Lloyd, EZ and Dreem Team. Ever evolving and refining his tastes, the mid naughties saw Cayne step away from the mic and into the booth, DJing at and hosting his own regular UK funky nights on the bristling South West scene.
Now channeling all those experiences and influences from over the years into his own studio productions, Cayne Ramos heads into 2013 as The Organ Grinder off the back of a fine 2012. It was the year in which Ramos served up a knowing brand of house music that nods its hat to the New York scene of the 90s at the same time as looking to the future. Arriving on esteemed labels like Catapult and Gerd's influential 4Lux, The Organ Grinder's music has brought him plenty of deserved attention and even a career-defining gig at the much-lauded Berlin Mecca that is Panorama Bar.
Ten Thousand Yen boss and a producer of killer bass music for labels like 50 Weapons and 2020 Vision aka Doc Daneeka also plays, as do label artists Bambounou and Phon(o) Live.