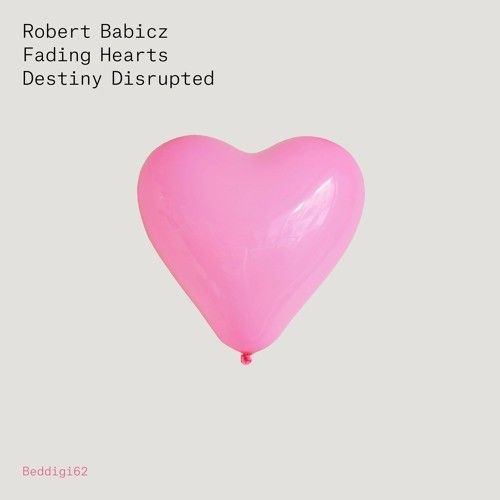 Robert Babicz - Fading Hearts / Destiny Disrupted
Robert Babicz is a man on a mission, the Cologne based producer stands tall as one of only a handful of distinctive artists who are bold enough to breathe life into their productions with true emotion. His creations display a level of honesty and soul that sets them apart from so much of today's here-today-gone-tomorrow disposable music – the mark of a true musical innovator. Here, he returns to Bedrock and reveals his talent and skill as one of Europe's most essential techno producers, with two stunning tracks for the summer season.
The wonderfully deep, wobbly throb of "Fading Hearts" is a masterclass in dub-inflected hip-swinging goodness. Overlaid with gorgeous, subtle melodic flourishes, its angelic beauty is a true wonder to behold. Meanwhile, "Density Disrupted" turns up the darkness factor, shifts proceedings up a gear and gets suitably twisted in supreme style, showing another side to Babicz's seemingly infinite creative palette.
Robert Babicz moved to Germany from his native Poland in 1980 and began making dance music in the early 1990s, when acid house was at its peak of popularity. His career has thus already spanned more than two decades and it is evidently clear from the music that he creates, that he has devoted his life to his craft.
A much-respected connoisseur of sound design and production, his services as a mastering engineer are in demand all over the world. He is also well known as an exciting live performer, utilizing a host of synths and live equipment to enhance the improvisation in every set he plays. But Babicz's art is comprised of more than just his music. He films everything, later editing the images together as a visual accompaniment to his audio. His short films capture the emotions, colours and feel of his trips and, in turn, these then also have an effect on his music, colouring his emotive, unique take on electronica with a very human feel.
If you like what you hear and want to dig a little deeper into the Bedrock back catalogue to check out Robert Babicz's previous adventures on the label, you could start with 2010's "Pink Trees", his remix of Pete Heller's "Nu Acid", the stupendous "Welcome To The 90's" from Bedrock 12, "Eastside" from Bedrock 14, "Rabbit Clouds" from the Underground Sound Of Miami Series 3, and his huge "Rave Angel".
Keep it Babiczstyle!