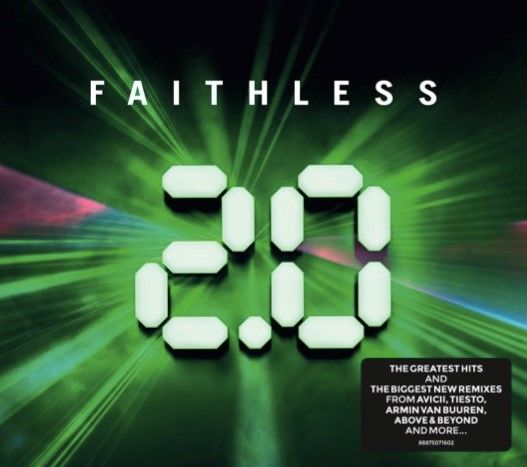 Faithless - Faithless 2.0
Seven albums, in excess of 15 million records sold and counting, sold-out international tours, festival headliners across the world from Glastonbury to Coachella, creators of global household anthems 'Insomnia', 'We Come 1', 'Mass Destruction' and 'God is A DJ', dubbed 'A National Treasure' by NME…'
FAITHLESS ARE BACK
CELEBRATING 20 YEARS AS THE FORERUNNERS OF DANCE MUSIC
2015 marks the 20-year milestone in their illustrious career and to celebrate the band have curated a special remix album 'Faithless 2.0.' A package comprised of 28 tracks split across two CDs joining dots between past, present and future.
In a summer that's already seen the band headline BBC Radio 1's 20th anniversary celebrations in Ibiza and announce their first run of EU tour dates for over four years (selling out their gig at Alexandra Palace in less than 50 minutes in the process and adding an extra London date by popular demand), 'Faithless 2.0' certainly feels like a fitting way to draw their 20th year to a close.
Calling on those they've inspired and been inspired by throughout their remarkable career, the album sees heavy hitters Avicii, Tiesto, Above & Beyond, Eric Prydz, Armin Van Buuren; alongside underground connoisseurs Booka Shade, Claptone, High Contrast and Purple Disco Machine all provide their own takes on their seminal classic material.
Stand out tracks on CD1 include Avicii's Faithless' mighty 1995 classic 'Insomnia' and Tiesto's storming electro-house rework of 'God is a DJ'. Alongside some of the biggest names in contemporary dance culture, the band have ensured the album serves as a platform to showcase new and emerging talent too with producers-on-the-rise Autograf turning their hands to 'Drifting Away' and British band Until The Ribbon Breaks providing a beautifully heartfelt, atmospheric twist to 'Don't Leave'.
While CD1 firmly brings their catalogue back to life, CD2 celebrates 14 of Faithless' career-defining records, with originals 'Insomnia', 'Mass Destruction', 'We Come 1' and 'Salva Mea' reminding us quite how timeless their music really is.
An artistic retrospective and a testament to one of the most influential bands of a generation, 'Faithless 2.0' will be released on October 9th.
See below for the full track-listing.
CD 1
1. Insomnia 2.0 (Avicii Remix [Extended])
2. We Come 1 2.0 (Armin Van Buuren Remix)
3. God Is A DJ 2.0 (Tiesto Remix)
4. Muhammad Ali 2.0 (High Contrast Remix)
5. Salva Mea 2.0 (Above & Beyond Remix)
6. Not Going Home 2.0 (Eric Prydz Remix)
7. Music Matters 2.0 (Axwell Remix)
8. I Was There
9. Miss U Less See U More 2.0 (Purple Disco Machine Remix)
10. Tarantula 2.0 (Booka Shade Remix)
11. Bombs 2.0 (Claptone Remix)
12. Drifting Away 2.0 (Autograf Remix)
13. Don't Leave 2.0 (Until The Ribbon Breaks Remix)
14. Insomnia 2.0 (Avicii Remix [Radio Edit])
CD 2
1. Insomnia
2. Mass Destruction
3. God Is a DJ
4. Don't Leave
5. Muhammad Ali
6. We Come 1
7. Reverence
8. Salva Mea
9. One Step Too Far
10. Bring my Family Back
11. Tarantula
12. Bombs
13. Feelin' Good
14. Not Going Home
Faithless – EU Tour Dates
21/11 – Alexandra Palace, London
25/11 – The Hydro, Glasgow
02/12 – Barclaycard Arena, Birmingham
04/12 – Alexandra Palace, London (SOLD OUT)
05/12 – Manchester Arena, Manchester
12/12 – P12, Brussels, Belgium
13/12 – Ziggo Dome, Amsterdam, Holland