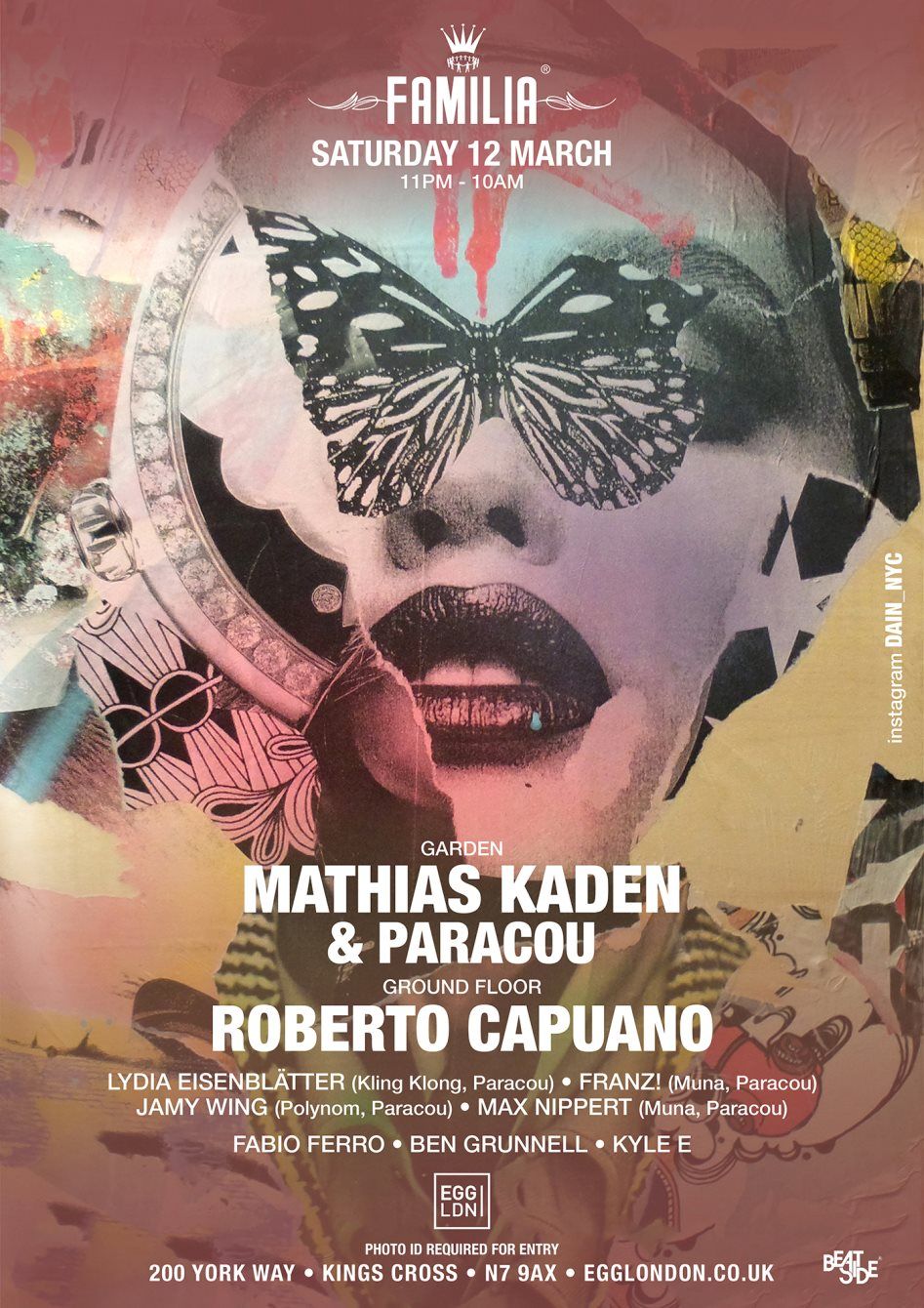 Familia March 12th w/ Mathias Kaden Back2Back all night w/ the Paracou DJs – UK Debut
Mathias Kaden Back To Back all night with the Paracou DJs – UK Debut for Lydia Eisenblätter (Kling Klong, Paracou), Franz! (Muna, Paracou), Jamy Wing (Polynom, Paracou) & Max Nippert (Muna, Paracou)
+ On the Terrace: Roberto Capuano
Familia welcomes back the celebrated deck wizard Mathias Kaden along with Paracou, a band of some of Germany's most talented DJs at and masters of their craft. With Mathias at the helm, lightning mixing, pure energy and musical bliss is guaranteed.
The Ground Floor will be headed up by Roberto Capuano, a favourite producer from the Drumcode stable and shining new light from Napoli who joins Familia for the first of this years exclusive appearances along with the Residents that make this night so unique.
Wachtraum return bringing techno force Enrico Sangiuliano with them and collectively are set to shake the The Ground Floor to it's foundations.
Listings Info
event: Familia
date: Saturday March 12th 2016
at: Egg Ldn, 200 York Way, Kings Cross, N7 9AX
Line Up: Garden Main Room: Mathias Kaden & Paracou , Lydia Eisenblätter (Kling Klong, Paracou), Franz! (Muna, Paracou), Jamy Wing (Polynom, Paracou), Max Nippert (Muna, Paracou) + Kyle E
Ground Floor: Wachtraum w/ Enrico Sangiuliano, Anthony Castaldo, Uakoz , Marco Ranieri & Thirdone (Live) and Andrea Greco
Terrace: Roberto Capuano, Fabio Ferro and Ben Grunnell
Loft: hosted by Distorted Mind w/ Balthazar & JackRock
Times: 11pm-10am
Tickets: £10 in Advance online from www.egglondon.co.uk orhttp://www.residentadvisor.net/event.aspx?784263 , Student Members £10, EGG LDN Members £15 and more on the door
For table bookings contact:[email protected]
web: www.egglondon.co.uk