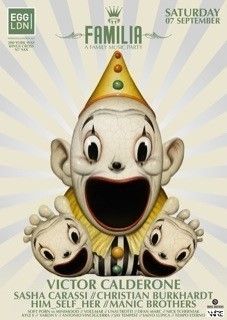 Familia
On 7th September Familia opens the doors of Egg London with is undoubtedly one of the most exciting line ups of the year.
In the words of Carl Cox, Victor Calderone is a New York legend. In 1996 his first hits topped the Billboard dance charts, unleashing the meteoric Calderone phenomenon. Further inspired by New York's club scene and being asked to remix and collaborate with some of the biggest stars on the planet Victor's DJ and production career skyrocketed. Few DJs or producers have achieved the level of success that Victor has so diligently earned, recently producing tracks such as "The Journey Begins" with Nicole Moudaber and currently playing some of the biggest Techno events in the world such as Richie Hawtin's Enter and Space Ibiza, Electric Zoo Festival New York and Drumcode appearances we are truly honoured to welcome Victor Calderone to Familia and Egg London for the first time.
Sasha Carassi is a force to be reckoned with releases on labels such as Drumcode, Octopus and Driving Forces and collaborations with artists such as Alan Fitzpatrick, Sian and Mauro Picotto, and appearances on his own labels Globox Recordings, Capsula Records and Phobiq Recordings from the likes of Joseph Capriati , Jerome Sydenham, The Advent & Industrialyzer, Secret Cinema, Slam, Marco Baily and Matador, Sasha has managed to rise above the flux of producers hailing from his native Napoli and more than carved his mark on the Techno world.
This year his sets have been heard from El Row Barcelona to New York, his bus touring schedule is non-stop, and on 7th September his 'Big Room Techno' sound will climax our party in London.
One of the hottest acts of the Miami Winter Music Conference 2013, Manic Brothers are the third headliners on the Ground floor, currently playing at major techno events all over the world, their productions on Drumcode heard from the decks of Adam Beyer, Joseph Capriati, Sven Väth, Dustin Zahn, Nicole Moudaber and many more. Egg London are more than excited to have the Manic Brothers back in the venue.
Christian Burkhardt is an artist truly absorbed with the range of sonic possibilities. A producer not content with existing within the realms of House and Techno, but one that is determined to further stretch its limits with his signature sound, his live sets heard on nearly every continent. His long list of remixes for Tsuba Records, Mobilee and Deep Vibes the ongoing soundtrack to clublands coolest floors. Christian has a fan base of people truly in the know, playing Cocoon events from Ibiza to Budapest so it's safe to say excitement is building for our Terrace floor headliner.
Joining Christian will be Minimood's Volt.mar, who's Vinyl only dj sets are contemplative journeys into deep hypnotic techno and dubby grooves Minimood's releases have enjoyed support from the linked of Miss Jools, Sasha and Sebo K.
Co-hosting the Terrace will be Soft Porn led by Unai Trotti and Dean Mark, we're excited to have the guys return to the Familia fold, bringing their unique flavour with them.
The Loft is headed up by Him_Self_Her, a House act with a big current buzz and following, with support from the likes of Pete Tong, Jamie Jones, Hot Since 82, Solomun, H.O.S.H, Lee Foss, and Sandy Rivera and Damian Lazarus who's signed the pair to Crosstown Rebels the Production Duo from Leicester are currently taking the scene by storm
Perhaps best known for their release 'Gone Too Long' on Cream Couture records in 2012, the track spent 11 weeks at No 1 in the Beatport New Disco chart, and spent a mind-blowing 7 months in the top 10.
Their studio has been kept busy with releases for Eskimo, Love Matters, Runnin' Wild, Love The Him_self_Her tour schedule is also ever increasing, with gigs passed in cities across the globe.
Also on the night appearing are Nick Tcherniak, Kyle E, Antonio Vinciguerra, Salvo Lupica, Varon V, Jay Tempest and Tempo Eterno. Topped off with opulent visuals, surprise elements and one of the best international party crowds in London, all in all make this a party not to be missed.
http://www.residentadvisor.net/event.aspx?505188
Line Up
Victor Calderone
Sasha Carassi
Christian Burkhardt
Him_Self_Her
Manic Brothers
Soft Porn vs Minimood
Unai Trotti
Dean Marc
Nick Tcherniak
Kyle E
Antonio Vinciguerra
Salvo Lupic
Tempo Eterno
Varon V
Jay Tempest
http://www.residentadvisor.net/event.aspx?505188