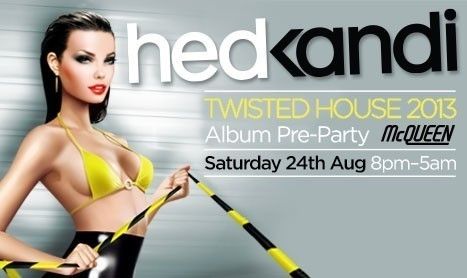 Hed Kandi Twisted House – Album Pre Party
To celebrate the release of the new Twisted House 2013 compilation on September 20th, Hed Kandi is throwing a special album pre party on August 24th at McQueen Shoreditch. The final instalment of three spectacular boutique events at the luxurious McQueen's, this will be the perfect party to kick start the bank holiday weekend. Fans of the deeper and darker sides of house music will be in for a treat, as Hed Kandi DJs Andy Norman & Stu Ojelay spin out the latest club hits with live support from the one and only Dax on saxophone. Additional DJ support will be supplied by McQueen DJs Shane Macauley, Mike Kirkland, Max Boom, Steve Foyle and Jack Lee.
Hosted in one of London's most exciting night clubs McQueen Shoreditch is the go to place for fans of luxury clubbing, with specially designed cocktails and VIP lounges the venue is definitely the place to party.
Mixed by DJs Phoebe d'Abo & Carl Hanaghan, Hed Kandi Twisted House 2013 brings together an assortment of tantalizing tracks, taking fans on a journey through Hed Kandi's twisted side. Packed within 2 discs, expect hard house beats and gritty bass lines showcasing some of this summer's most influential acts on the clubbing circuit.
Line up
Hed Kandi: Andy Norman, Stu Ojelay, Dax On Sax (Saxophone)
Support: Shane Macauley, Mike Kirkland, Max Boom, Steve Foyle, Jack Lee
VIP: [email protected]