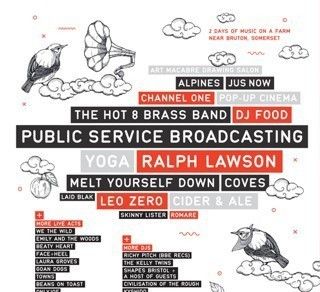 Farmfest 2014
Ahead of his headline appearance at Farmfestival this August DJ Food has put together a laidback blend infused with the spirit of summer.
'Children of the Sun' is a mix about the sun and summer in general, made especially for Farmfestival 2014. 50 minutes designed to relax to outside, lying on the grass in the warmth of the sun. Taking in jazz, beats, ambient, soul, funk, rock and electronica each track comments on the sun, summer or the great outdoors in some way – DJ Food
The in-house team at Farmfest have been busy creating a brand new website for the festival which is live now. Accompanying the new site is a video previewing this year's event and celebrating Farmfestival over the years.
Farmfestival 2014 Preview from FarmfestTV on Vimeo.
Farmfestival 2014
Date: Friday 1st – Saturday 2nd August 2014
Location: Gilcombe Farm, Bruton, Somerset
Price: Adult weekend advance £53, 12-17 weekend £42.50, Campervan pass £25
Tickets: https://tickets.partyforthepeople.org.uk/events/205-farmfestival-2014
Website: http://farmfestival.co.uk/
Facebook: http://www.facebook.com/Farmfestival
Twitter: https://twitter.com/#!/Farmfestival
Full Line-up
Bands: Public Service Broadcasting, The Hot 8 Brass Band, Melt Yourself Down, Coves, Alpines, Beaty Heart, We The Wild, Emily and The Woods, Laura Groves, Face+Heel, Jus Now, Laid Blak, onlyjoe, Skinny Lister, Beans on Toast, The Fire Beneath The Sea, Gorgeous George, Polaroid 85, We Used To Make Things, Sounds of Harlowe, Goan Dogs, Towns, Meadowlark, Sam Green and The Midnight Heist, Lonely Tourist, Gemini (Kelle & Borei), The Ukes of Hazard, Firewoodisland, Kairo, Ema Sierra, Georgie Vale, Rhys Coleman
DJs: Ralph Lawson, DJ Food, Channel One Sound System, Romare, Leo Zero, Richy Pitch (BBE Records), The Kelly Twins, Kyshido, Shapes DJs + special guests, Wholemeal DJs + special guests, Slim Goodgroove, DJ Louie Louie, Franklin, H.U.G.S., Ways And Means, The Quintessential Soundsystem, Paulo Fernandez, James 'James Bell' Bell, Kat Richmond, Farmfestival Djs
The Farmfest Ethos
Farmfestival started as a party for friends and has stayed that way 9 years on. We're a festival that doesn't believe in hype or inflated prices. What we do believe in is a genre-defying selection of music from emerging talents, cult heroes & local gems, inspiring arts activities, amazing charities and great local produce, set to a beautiful Somerset vista. Or to put it simply: good music, good causes, good times.
It's the festival that we would want to go. We want great music from across the board, we want cool stuff to do when our ears need a rest, we want a relaxed atmosphere where everyone is welcome and we want to dance the night away and wake up to a hearty breakfast, sip on a thirst quenching local cider and start all over again. We want all these things at a price that is not extortionate, we want to enjoy them in a beautiful setting in glorious countryside and we want to donate money to good causes. Farmfest is all of these things and that's why we made it.