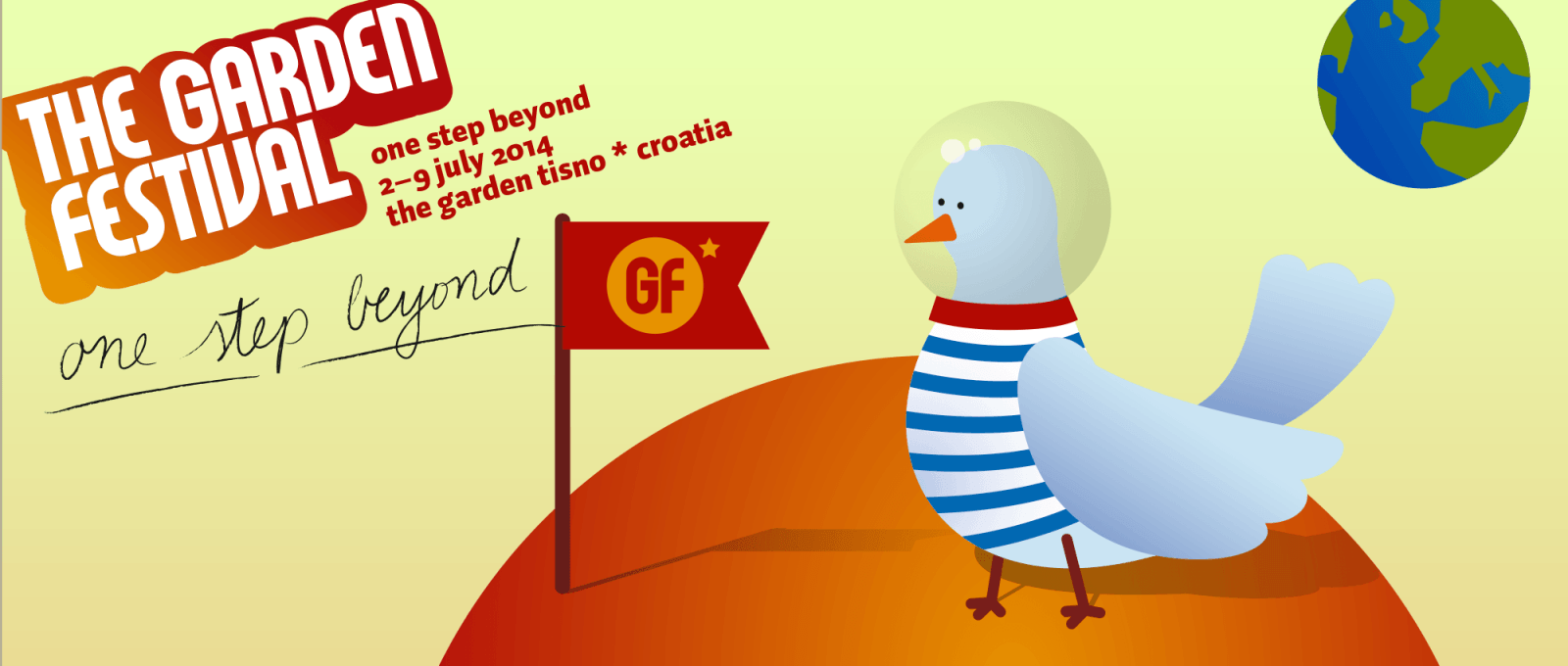 The Garden Festival in Croatia announces Martyn live and new Terrazza
With just under a month to go until The Garden Festival begins, a final guest has been added to the 9th season of the founding Croatian festival, nestled on the beautiful Dalmatian coastline in Tisno.
Ninja Tune's Martyn brings his inimitable soundscapes to the party, the Dutch-born, Washington DC-based producer ushering in an entirely new sonic direction with The Air Between Words, his latest album released this summer. Stylistically and sonically, Martyn stands apart from his counterparts, incorporating vintage references whilst taking his music forward at the same time. This latest live addition joins recent announcement Theo Parrish's Teddy's Get Down on the main stage of The Garden Festival, capping off a truly sublime odyssey under the sun and stars perfectly.
The Garden Festival is also launching a new area called The Terrazza, helmed by the festival's original sonic architect and resident, Ole Smokey, who along with his many friends will be laying down tunes all day at the top end of the site. Ole Smokey is a venerable institution whose music knowledge is one of the most expansive around, so expect deep beats, classic tracks and a few curve balls each day of the festival as he is joined by Bobby Beige, James Holroyd, Stu Patterson, Steve Cobby, Dave Harvey and many more.
Over at the just opened The Garden Zadar in the beautiful historic coastal city, the evening entertainment taking place during The Garden Festival itself has also been revealed:
The Garden Zadar – all set times are from 20:00
Weds 2nd & Thurs 3rd July – Bing Ji Ling & Woody (both from Paqua)
Fri 4th – July Big Danny Kane
Sat 5th – July Ole Smokey – Paul Kaminski (Discomendments) – Bobby Beige
Sunday 6th – July Stu Patterson
Monday – 7th July Deepshizzol
Tuesday 8th – July Bobby Beige – James Holroyd
Don't forget special Double Whammy tickets for both The Garden Festival and Electric Elephant are still available for £150 for both events.
And there are still a variety of options for cheap flights to Croatia for both festivals, check here: www.thegardenfestival.eu/newsitem/flight-update-02-06-14
Latest The Garden Festival 2014 Lineup:
Live Acts: André Bratten * Crazy P Soundsystem * Genius Of Time * Kink * Martyn * Paqua * Session Victim * Seven Davis Jr * Theo Parrish – Teddy's Get Down
Dj Sets: Aartekt * Adam Aalias * Adam Shelton * Adjowa * Amp + Deck * Anthony Mansfield * Autocycle * Axel Boman * Baba Stiltz * Bad Passion Project * Begin * Belfast Music Club Djs * Ben Ufo * Bicep * Big Danny Kane * Bing Ji Ling * Bobby Beige * Brawther * Catz 'N Dogz * Cedric Maison * Cfsn Djs * Christophe * Craig Richards * Damiano Von Erckert * Dan Beaumont * Dan Wild * Darshan Jesrani (Metro Area) * Davis * Dax * Dean "Sunshine" Smith * Deano Ferrino * Deepshizzol * Delano Smith * Detroit Swindle * Discomendments * Dorisburg * Eats Everything * Eddy Ramich * Eric Duncan * Ewan Pearson * Fantastic Man * Feel The Real * Felix Dickinson * Finn Campbell Nottman * Francois K * Futureboogie Djs * Galactic Boogie Djs * Galen * Good Life Djs * Greg Wilson * Hackman * Hesseltime * Hidden Agenda Djs * House Of Disco Djs * Jaime Fiorito * James Holroyd * Jan Kincl Zero * Jen Dickinson * Jimi Yolo * Jimmy B * Jogarde * Josh Tweek * Jukes Of Hazard * Justin Martin * Justin Vandervolgen * Katie Barber * Krankbrother Djs * Last Waltz Djs * Leftfoot Djs * Leftside Wobble * Leo Forssell * Levon Vincent * Luca Ltj Trevisi * Lukas * Marcel Vogel * Mark Seven * Marmat * Max Graef * Maxxi Soundsystem * Medlar * Memoryman Aka Uovo * Midland * Mislav * Neil Diablo * No Fakin * Noema * Ole Smokey * Olof Uhlin * Orkun Bozdemir * Outboxx * Paddy Freeform * Paramida * Pardon My French Djs * Paul Hutchinson * Pbr Streetgang * Peak & Swift * Pete Leung * Phil Mison * Prosumer * Pytzek * Ray Mang * Rollerboys * Sebastian Spring * Shuya Okino (Kyoto Jazz Massive) * Simon Morell * Solar * Somethinksounds Djs * Soul Clap * Steve Cobby * Stu Patterson * Studio 89 Djs * Studio Barnhus * Subb-An * The Pool Djs * The Revenge * Tiago * Tim Sweeney * Tom Frank * Tom Hopkins * Tom Rio * Tristan Da Cunha * Troy & Seba * Under Bron Djs * Underground Paris * Waifs & Strays * Wild Fantasy * William Collins * Willie Burns * Wolf + Lamb * Wolf Djs * Woody * Young Marco
Crews: Bad Passion Vs Last Waltz *Beats In Space * Burek * Crazy P Vs El Diablos * Edible X Pets * Flux * Futureboogie * Hidden Agenda * Just Jack * Kontrapunkt * Krankbrother * Leftfoot * Louche * Magic Door * My Love Is Underground * One Records * Ransom Note * Resident Advisor * Salon Zur Wilden Renate * Sunset Sound System * The Great Outdoors * The Pool * Tief * Under Bron Recordings
The Garden Festival 2014
Weds 2nd – Weds 9th July 2014
@ The Garden Tisno, Petrica Glava 34, 22240 Tisno, Croatia
Tickets: £120
Double Whammy tickets for The Garden Festival and Electric Elephant: £150
www.thegardenfestival.eu
www.watchthegardengrow.eu
www.facebook.com/thegardenfestival
www.facebook.com/BarbarellasDiscotheque
www.twitter.com/thegardenfest
www.mixcloud.com/GardenFestival
www.soundcloud.com/the-garden-festival
www.youtube.com/channel/UCM5w4w6NYdZygkwxX4r9pmA