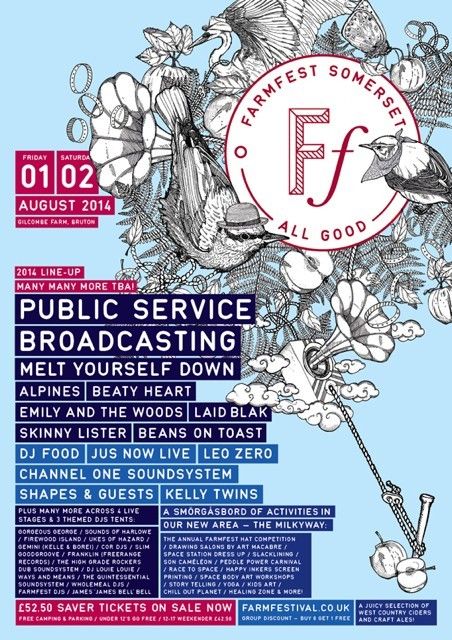 Farmfestival 2014 Announce New Line Up
If you're looking for guaranteed goodness from your festival experience this summer look no further than Farmfest. The scene is classic glorious English countryside, their support of the UK's top emerging acts will tick all your music boxes with a line-up full of burgeoning talent, and the rebelliously reasonable prices will make the fine selection of local craft ciders and ales taste even sweeter. All this and you can relax in the knowledge that the hard work you put in enjoying yourself will benefit good causes such as this year's new main charity, Send a Cow, who aim to help end poverty in Africa with a powerful mix of practical farming, emotional support and a culture of sharing.
NEW THIS YEAR
A new space themed area 'The Milky Way' will be bumping up the good times quota at Farmfest in 2014 with a galaxy full of additional arts, crafts and entertainment including: Drawing Experience by Art Macabre, Space Station Dress-up, Yoga, Healing Zone, Son Cameleon Peddle Power Carnival, Race to Space, Screen Printing workshops, Space Body Art Workshops, Story Telling, Kids Art, Chill Out Planet, Slacklining, and not forgetting Farmfest's famous hat competition! A new late night party area will be seeing the light of day at Farmfest this year ensuring plenty of moonlit dancing, whilst a wide selection of food and drink stalls will be aiding the all important re-fueling!
THE STORY
In 2006, a small group of friends native to Somerset made the decision to host an intimate, cost-effective festival for their friends as an alternative to the events dominating the English summer. Farmfestival's subsequent success has seen attendances grow organically through word of mouth, from an initial 400 to its capped 4500 capacity. Year after year, loyal followers and newbies alike make their way down to its countryside home at Gilcombe Farm, Bruton, for the promise of wallet-friendly good times and acts on the cusp of stardom, acts such as Friendly Fires, Ghostpoet, Egyptian Hip Hop, Submotion Orchestra and Man Like Me, all of whom have played previously. The festival remains adamantly sponsor-free, the lo-fi DIY aesthetic combining with the genre busting music policy to create the unique atmosphere. Previously quoted as one of the UK's best kept festival secrets (Dj Vadim / Venue Mag), the cat is slowly being let out of the bag.
Confirmed Live Acts:
Public Service Broadcasting, Melt Yourself Down + headliner TBA, Alpines, Beaty Heart, Laid Blak, Jus Now Live, Skinny Lister, Emily and The Woods, The Fire Beneath The Sea, Beans on Toast, The Sounds of Harlowe, Gorgeous George, Gemini (Kelle & Borei), Ukes of Hazard, Firewood Island + more guests TBA
Confirmed DJs:
Ralph Lawson, DJ Food, Channel One Soundsystem, Romare, Leo Zero, The Kelly Twins, Shapes Bristol Djs, COR Djs, Slim Goodgroove, Wholemeal Djs, DJ Louie Louie, Franklin (Freerange Recs), Ways And Means, The Quintessential Soundsystem, Farmfestival Djs, James 'James Bell' Bell + more guests TBA
Price: Adult weekend advance £52.50
12-17 weekend £42.50, Campervan pass £25
Tickets: https://tickets.partyforthepeople.org.uk/events/205-farmfestival-2014
Website: http://farmfestival.co.uk/
Facebook: http://www.facebook.com/Farmfestival
Twitter: https://twitter.com/#!/Farmfestival