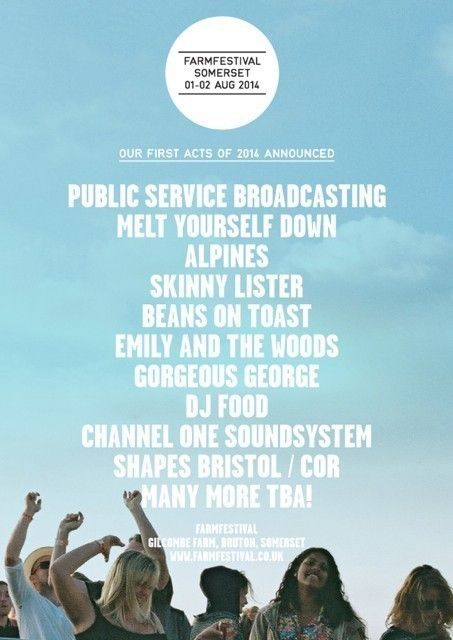 Farmfestival Announce 2014 Line Up
The organisers at Farmfestival have announced that they are 'really, really, really excited' at how the line-up is taking shape this year. Public Service Broadcasting, the sonically combustible propaganda pilferers, will headline alongside volatile world-funksters Melt Yourself Down. With legendary dub-reggae crew Channel One Soundsystem and DJ Food also contributing to the line-up, and other notable acts including Alpines, Emily and The Woods, Skinny Lister, Beans on Toast and Gorgeous George, the excitement emanating from Farmfest 2014 sounds well placed!
Public Service Broadcasting
Public Service Broadcasting, the sonically combustible propaganda pilferers, will be bringing their explosive live show to headline Farmfest 2014. Currently leaving a trail of revolutionary excitement in their wake the ace snippet-selectors' innovative blend of live instrumentation and electronic alchemy in combination with a captivating visual experience has seen them sell out their own headline shows and play in support of such luminaries as The Rolling Stones, New Order and The Manic Street Preachers.
Melt Yourself Down
Described as "the sound of Cairo '57, Cologne '72, New York '78 and London 2013" Melt Yourself Down produce a volatile and heady fusion of funk, jazz and world music that's as lively as anything you are likely to see. A super group of drummers, saxophonists, guitarists, beat mechanics and vocalists hand-picked from a host of other bands (Acoustic Ladyland, Zun Zun Egui, Sons of Kemet, Heliocentric) they produce a riotous symphony deriving their inspiration from Ethiopian great Mulatu Astatke and saxophonist James Chance, whose rare 1986 album the band are named after.
Farmfestival welcomes Bristol's Shapes to the party!
Farmfest welcome Bristol crew Shapes to the party for 2014. Purveyors of all things House, Techno and Disco and a penchant for technicolour fancy dress debauchery, Shapes' ambitious line-ups are anything but formulaic, frequently looking beyond the domestic DJ circuit for bookings. They will be curating the second DJ tent alongside the excellent Civilisation of the Rough who have been successfully manning the ship single-handedly for the past two years. Expect their DJ line-ups to be appearing very soon!
Adult weekend tickets for Friday 1st & Saturday 2nd August are rebelliously well priced at £52.50, including free camping and parking. Profits from Farmfest are donated to our new appointed main charity, Send a Cow.
Oh, and don't forget to wear a hat, not only will it make you feel great it's compulsory and the best hats gets free tickets to next year's festival!
Weekend Ticket £52.50 – https://tickets.partyforthepeople.org.uk/events/205-farmfestival-2014
Friday 1st – Saturday 2nd August 2014
Gilcombe Farm, Bruton, Somerset, UK
Website: http://www.farmfestival.co.uk/
Facebook: http://www.facebook.com/Farmfestival
Twitter: https://twitter.com/#!/Farmfestival