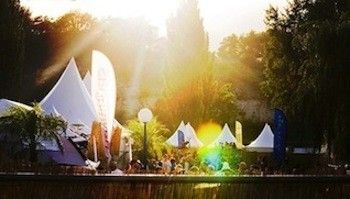 Weekend At The Edge Of The Lake
Weekend At The Edge Of The Lake Festival returns to it's much loved magical Swiss Alpine lake home in the heart of Sierre, (City of Sun) for it's 8th outing this June.
Renowned for bringing up for it, party loving people from the all over Europe together, this much loved family friendly festival returns to it's idyllic lake and beachside setting nestled in a beautiful local alpine village to celebrate sun, fun and good times for all.
Famed for a relaxed, friendly, fun atmosphere alongside it's eclectic live band, DJ, AV and visual arts programming an activities, the festival champions the best in creativity at a seriously pocket loving price.
The alpine summer is lovely and warm and the local village is an animated, welcoming and generous little town, well worth the journey alone. Geronde Lake is a great Mediterranean stopover, festival goers can swim in the open-air pool, laze on it's sunny grassed beaches, play beach-volleyball and rent pedalo whilst kicking back and watching the world go by. Local hills and vineyards offer options for long walks and long lunches with where local wine and food are the stars and with the festival only ten minutes from Sierre's town centre everything possibly needed for a lovely summer weekend is readily within reach.
With jam-packed festival activities going on throughout the day and into the night such as the petanque tournament, live street arts, lake pedalos and lots of other enjoyable outside summer activities, the ethos of the festival is firmly rooted in absorbing festival goers in a well deserved, laid back, relaxed atmosphere combined with high quality programming that can be appreciated by everybody.
With this year's line-up to be announced shortly, get a taste of what's musically in store here from previous years:
Gilles Peterson, Kid Koala, Bonobo, Jazzanova, Goldfish, Quantic, Henrik Schwarz, Dixon, Âme, Ben Westbeech, Kraak & Smaak, Crazy P, Makossa & Megablast, Benji B, Alice Russell, Felix Laband, DJ Vadim, The Bamboos, Saravah Soul, Belleruche, Tortured Soul, Yarah Bravo, Rainer Trüby, ASM, Motor City Drum Ensemble, Imperial Tiger Orchestra, Prommer & Barck, Da Cruz, Chuck Love, Boddhi Satva, Diesler, Lefto, OY, Nemoy live, Sumo, DJ Oil, Shur-I-kan and many more..
Stay tuned for the full music & visual arts line up coming soon…
For all the latest news check out: http://www.aubordeleau.ch/en
:::::::::::::::::::::::::::::::::::::::::::::::::::::::::
FESTIVAL LISTINGS INFORMATION:
WHAT: Weekend At The Edge Of The Lake Festival (Weekend Au Bord De L'Eau Festival)
WHERE: Geronde Lake, Sierre (City Of Sun), Valais Alps, Switzerland
WHEN: Friday 27th- Sunday 29th June 2014
PRICE: 3 day festival pass just £32, kids go free
TICKETS: http://www.aubordeleau.ch/en/festival/ticket_shop.html