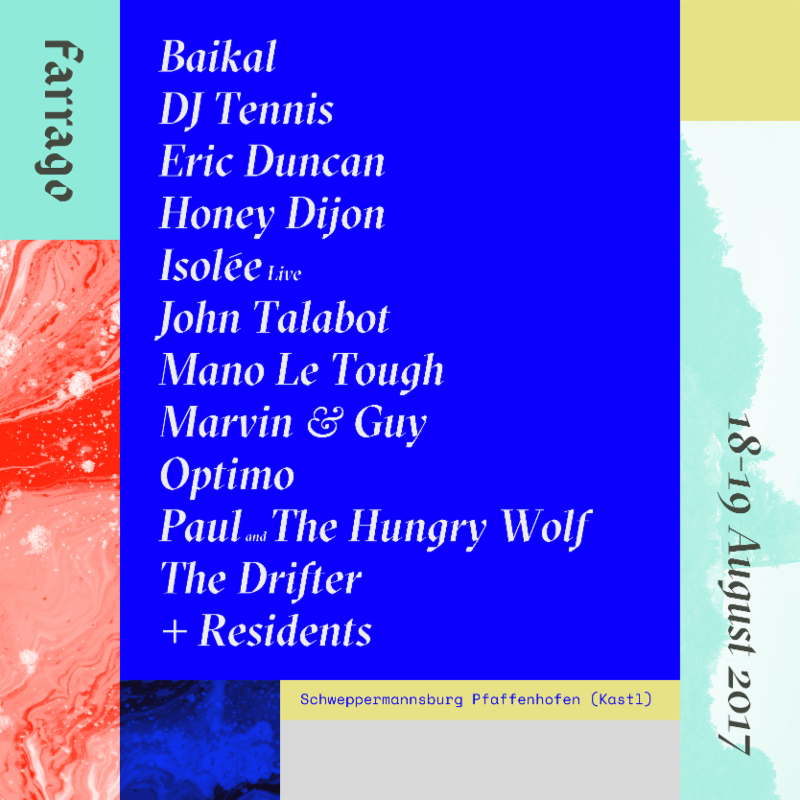 Farrago Festival announces first acts…
New to the international events calendar, Farrago Festival offers an intimate celebration of electronic music at a stunning Bavarian castle located in the lush green folds of South Germany. Mano Le Tough, DJ Tennis, John Talabot, Optimo, Marvin & Guy, Isolée, Honey Dijon, Baikal plus more are all get set to play the inaugural two-day festival on Friday 18th and Saturday 19th August 2017.
Farrago Festival mixes the many facets of contemporary electronic music with the unique surroundings of a 13th century castle ruin. Nestled on a mountain spur in Northern Bavaria, Farrago will offer a sonic pilgrimage for discerning music fans from across Europe, to enjoy some of the scene's most respected acts in a truly unique and unforgettable setting.
The carefully curated lineup, hosted in the courtyard of Schweppermannsburg castle's towering keep, will feature sets from leading producers Mano Le Tough, DJ Tennis, John Talabot, Optimo, Honey Dijon, Marvin & Guy, Baikal, The Drifter, Eric Duncan, Paul and The Hungry Wolf, plus a live set from Pampa Records' Isolée, providing a rare opportunity to experience artists of such stature in an intimate and unique environment.
Away from the dancefloor, festival goers can enjoy the stunning fields and forests that shroud the festival site, explore the beautifully restored castle ruins of Schweppermannsburg, savour culinary delights from a hand-picked selection of locally sourced food vendors and relax with ice-cold drinks under the shade of the old oak tree growing within the castle grounds.
For the more intrepid festival-goers camping will be available within easy walking distance of the leafy castle courtyard with a number of hotels located in the charming, nearby village of Pfaffenhofen (Kastl) for those who prefer their creature comforts.
Surrounded by stunning natural beauty, Farrago Festival provides the perfect chance to escape the hustle and bustle of everyday life and enjoy two full days of outstanding music amongst an international crowd of likeminded peers.
Strictly limited to just 700 people, earlybird weekend tickets to Farrago Festival start at just €75 including camping. A shuttle bus services for €10 will available to transport customers to and from Nuremberg (only).
All tickets avaialble from:
Resident Advisor – https://www.residentadvisor.net/event.aspx?946820
Festicket – https://www.festicket.com/de/festivals/farrago-festival/2017/