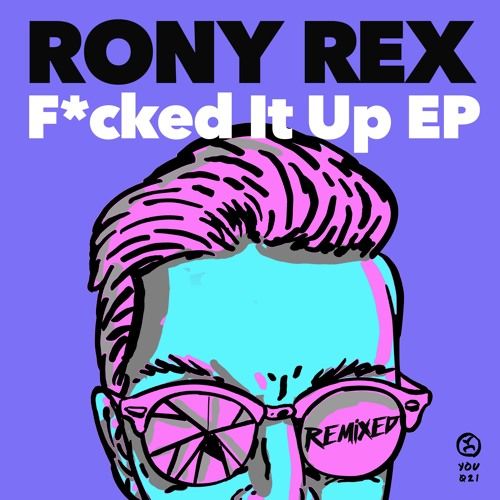 Rony Rex - F*cked It Up EP (Remixed)
Rony Rex's hit EP F*cked It Up gets remixed in style.
A collection of Finland's freshest house and disco stars all feature on the release, including Gas Gas, Roisto (currently #7 on the Hype Machine Remixes Chart), KASPERG and Smok. When the original EP was released by the trendy Youth Control Records last month, it smashed into the #2 spot on the Finnish iTunes Albums Dance Chart. With new life breathed into the EP courtesy of these on-point remixes, further chart positions are anticipated…
After Finnish star Rony Rex's sizzling debut EP F*cked It Up went to # 2 on the iTunes Dance Albums chart, it is now being remixed by a top team of artists who all add their own style. Those tapped up for the rework treatment by the ever more essential Youth Control label are handpicked Finnish stars, Gas Gas, Roisto, KASPERG and Smok, who each bring something unique to the original production. The remix package lands today, Friday 4th August, via Youth Control. Listen now https://soundcloud.com/youthcontrol/sets/rony-rex-fcked-it-up-ep-remixed
Those following the career of rising star Rony Rex will know he's made quite an impression in a very short time. His debut single Sticky Fingers, also on Youth Control, went straight to #1 on the iTunes Finnish Chart the day of release, hit the #4 on the Spotify Viral Chart and went on to be a big tune for the likes of tastemakers Diplo, Felix Da Housecat and Don Diablo. Rony's debut EP F*cked It Up swiftly followed and garnered top support from Don Diablo, Tommy Trash, Stonebridge, Treasure Fingers, Felix Da Housecat, Abel Ramos, Vanilla Ace and many more. The influential label has now lined up a key selection of homegrown Finnish producers to breathe new life in the EP with a series of fresh hot remixes.

First out of the blocks is Gas Gas, a brand new artist who is sure to make an immediate impact going off his excellent remix here that has already received radio play by Don Diablo. His version of F*cked It Up is a playful big room house track with explosive, pitch shifted vocal sounds as well as the main vocals from the original. They really stand out as the wavy bass and slick drums down low help drive home the groove. Various breakdowns bring tension and when the drums drop again the emotional release is sure to send whole clubs wild.
Then Roisto steps up from his base deep in Northern Finland, a place filled with analog synths, 12" disco records and oozing with his great ideas. His fresh sound has been hailed by the likes of Thump, DJ Mag and Wired, and has spawned big singles like Apart In Love, which picked up two million Spotify plays and was licensed by Toolroom. At time of release, his excellent remix of Burn (which features on the F*cked It Up EP), sits at #7 on the Hype Machine Remixes Chart and #32 Most Popular. Premiered by Discobelle, it brims with warmth and colour from the swirling synths. The breezy vocals get underpinned with funky little guitar riffs and the whole thing speaks of good time summer vibes.

Keeping up the heat is KASPERG, the young artist with backing from Radio 1 and Rinse FM. Like Rony Rex, he also hosts his own hugely popular radio show in Finland, Bassoradio, and is known for his inventive live set which fuses house and r'n'b into fine new forms. And that is the case here on his standout rework of Burn, a feel good tune with loose, tumbling, long legged drums, neon chords and love-struck vocal moods that you'll be singing back for days.
Last but not least, veteran Finnish star Smok has had his music released on labels like Sound Vessel and Phat Elephant, has been supported by Stacey Pullen and Funk D'Void, and excels at all styles of house from soulful to deep. His essential remix of Burn is an elastic affair with skewed synths doing a dance with nimble drums. Hip swinging claps add to the infectiousness and ensure bodies will be writhing en masse when they hear this one in the club
This is a fantastic package of varied and vital remixes that breath exciting new life into the still essential originals. Own it now >> https://fanlink.to/rpF

Youth Control
https://soundcloud.com/youthcontrol
https://www.facebook.com/weareyouthcontrol
https://twitter.com/youthcontrol
https://www.instagram.com/weareyouthcontrol

Rony Rex
https://soundcloud.com/ronyrex
https://www.facebook.com/itsronyrex/
https://twitter.com/itsronyrex
https://www.instagram.com/itsronyrex/