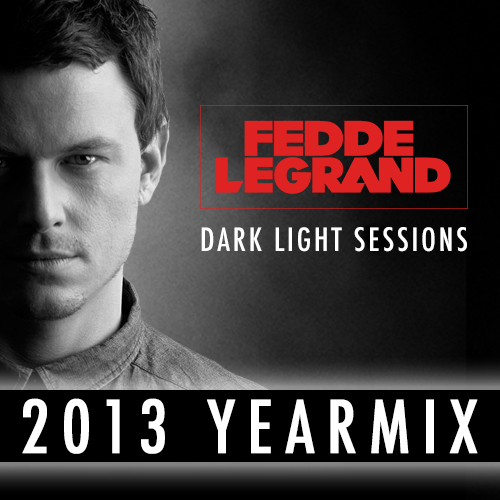 FEDDE LE GRAND DARK LIGHT SESSIONS 'YEARMIX'
The critically acclaimed Dark Light Sessions from Fedde Le Grand has gone from strength to strength ever since its inception some two years ago. First starting out in a monthly format with broadcasting giant Sirius XM, it soon became staple weekly listening for all Fedde fans and dance lovers alike. As we enter another sterling 12 months of the show, there's one installment all fans are waiting for – the epic and extensive end of year mix of Fedde's 2013 favorites. Outdoing himself once again, this edition features a huge 59 tracks handpicked and hand mixed by Le Grand himself (see tracklist below).

With each one of the 59 having its own reason for being in the mix, Fedde will be on hand to chat about the significance of each record with his fans on Twitter. Simply hashtag #DLS2013 and get your questions at the ready for the greatest DLS show to date!

Currently climbing the ranks and moving its way to the top end of the Beatport charts is Fedde's latest collaboration, 'Where We Belong', with Dutch powerhouse indie band, DI-RECT on board to provide their vocals. After a series of jam sessions from the early part of 2013, the record began to take shape into what we hear today with its emphatic lyrics and typically emotive hook – nothing less than we'd expect from these two talents. A rousing record to ring in the New Year with, be sure to grab it below if you haven't done so already.

That's not all though, as Fedde & DI-RECT want their loyal fans to become a part of the journey the track has come to be. Inviting participants through the power of Instagram, an enormous collective lyric video was created that captures the poignant message of 'Where We Belong', blending in the stunning official video with pictures from fans around the world, catch the end result below:


Tracklist:
1: Breach – Jack
2. Sebastian Ingrosso & Tommy Trash – Reload
3: Walden – Mono World (2013 Remix)
4: Fedde Le Grand – Rockin' N' Rollin'
5: Tommy Trash – Monkey See Monkey Do (Tommy Trash Re-Edit)
6: Fedde Le Grand and Sultan + Ned Shepard – Long Way From Home
7: Merk & Kremont , Paris & Simo – Tundra
8: Lets Be Friends – Manslaughter
9: Showtek – Slowdown / Macklemore & Ryan Lewis Feat. Ray Dalton – Can't Hold Us
10: Danny Avila – Tronco
11: Sebjak & Marcus Schossow – Liceu / Dimitri Vegas & Moguai & Like Mike – Mammoth (Patric la Funk Edit)
12: Promise Land – Bad DJ
13: Avicii – Wake Me Up
14: Daft Punk Feat. Pharrell & Nile Rodgers – Get Lucky (eSQUIRE Extended Bootleg Remix)
15: Fedde Le Grand & DI-RECT – Where We Belong (Extended Mix)
16: Hardwell Feat. Amba Shepherd – Apollo
17: Avicii vs. Nicky Romero – I Could Be The One
18: R3HAB & Lucky Date – Rip It Up (Nicky Romero Edit)
19: Michael Woods – Clanga
20: dBerrie – Switch
21: Icona Pop Feat. Charli XCX – I Love It
22: Lana Del Rey – Summertime Sadness (Cedric Gervais Remix)
23: Axwell – Centre Of The Universe (Remode)
24: Timeflies – I Choose U (Fedde Le Grand Remix)
25: Steve Aoki, Chris Lake & Tujamo – Boneless
26: Marco V – Hypergenic Supersonic Futuristic Monophonic / David Guetta Feat. Ne-Yo, Akon – Play Hard
27: Sander van Doorn & Yves V – Direct Dizco
28: GotSome Feat. The Get Along Gang – Bassline (Accapella)
29: Marco V – Sunset Blvd
30: Avicii – You Make Me
31: Showtek Feat. We Are Loud & Sonny Wilson – Booyah
32: Krewella – Live For The Night (W&W Remix)
33: Marco V – Back In The Jungle
34: Tony Romera – Hey Bean
35: Martin Garrix – Animals (AUDIO BASTARDZ Bootleg)
36: Calvin Harris & Alesso Feat. Hurts – Under Control (Oliver Heldens Bootleg)
37: ID – You Got This
38: The Aston Shuffle vs. Tommy Trash – Sunrise (Won't Get Lost)
39: Major Lazer – Watch Out For This (Bumaye) (Dimitri Vegas & Like Mike Tomorrowland Remix)
40: Showtek & Justin Prime – Cannonball
41: Knife Party – LRAD
42: David Guetta & GLOWINTHEDARK Feat. Harrison – Ain't A Party
43: Hardwell and W&W – Jumper
44: Noir & Haze Meets Compact Grey & Ron Costa – Around The Bane (Noir Mashup Treatment)
45: GTA, Henrix & Digital Lab – Hit It!
46: Fatboy Slim & Riva Starr – EAT SLEEP RAVE REPEAT
47: John Dish – Homme
48: Nikki Williams – Glowing (Fedde Le Grand Remix) / Landis & Henry Fong – Get Down (Kenn Colt WMC Mash)
49: Calvin Harris Feat. Ellie Goulding – I Need Your Love (Roul and Doors Ivan Gough Beat Edit)
50: Nicky Romero vs Krewella – Legacy
51: Dimitri Vegas & Like Mike Feat. Wolfpack – Turn It Up / David Guetta Feat. Taped Rai – Just One Last Time (Hard Rock Sofa Big Room Mix)
52: Fedde Le Grand & Sultan + Ned Shepard – No Good
53: W&W & Ummet Ozcan – The Code / Madeon – The City (Sultan + Ned Shepard Mashup)
54: Fatboy Slim & Riva Starr – EAT SLEEP RAVE REPEAT
55: Avicii – Hey Brother
56: Dada Life – Born To Rage (USA Version)
57: Fedde Le Grand & Michael Calfan – Lion (Feel The Love)
58: Nicky Romero & Nervo – Like Home
59: Empire Of The Sun – Alive (Zedd Remix)