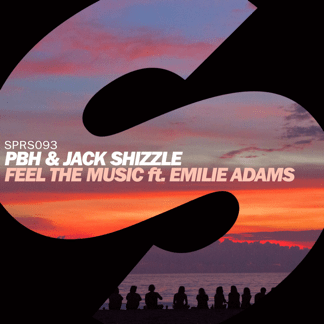 PBH & Jack Shizzle - Feel The Music feat. Emilie Adams
Renowned Brit duo PBH & Jack Shizzle releases its much acclaimed new single 'Feel The Music', out now through Spinnin' Records sublabel SPRS. Featuring Emilie Adams on vocals, it's the ultimate feelgood house track already catching lots of DJ support recently, underlining the duo's ambitions like no other.

UK duo PBH & Jack Shizzle seems to be raising the bar with every tune it drops. Known for their much demanded remixes of Black Box' 'Ride On Time' and Sigala's 'Give Me Your Love', the guys have already caught the attention of well known labels like Hexagon and Ministry Of Sound.

Now, as they present their new single 'Feel The Music', the duo has also signed to Spinnin' Records for a release on its SPRS imprint. The track, a feelgood summer house track brings energetic piano chords alongside the touching vocals of Emilie Adams. It's an exciting new step in the careers of both Brits, as they explain..

"Last summer in BCM Mallorca we were playing a first version 1 of 'Feel The Music', which was good but still needed work and better vocals. After months and months of hunting we connected with Emilie and then the track progressed into how it sounds now."

"We were very keen to have this as a summer release, and Spinnin' luckily agreed it was peak summer material too. DJ support has been great so far! We've been very blessed to have such big support from Don Diablo over the last few years, he actually played 'Feel The Music' on his Hexagon Radio back in January already. And here we are, six months on, with a full release!"
Further DJ support: incl. Robin Schulz, Lost Frequencies, EDX, Lucas & Steve, The Aston Shuffle, Sister Bliss and many more

PBH & Jack Shizzle – 'Feel The Music' feat. Emilie Adams – Out now on SPRS
https://sprs.lnk.to/FeelTheMusic