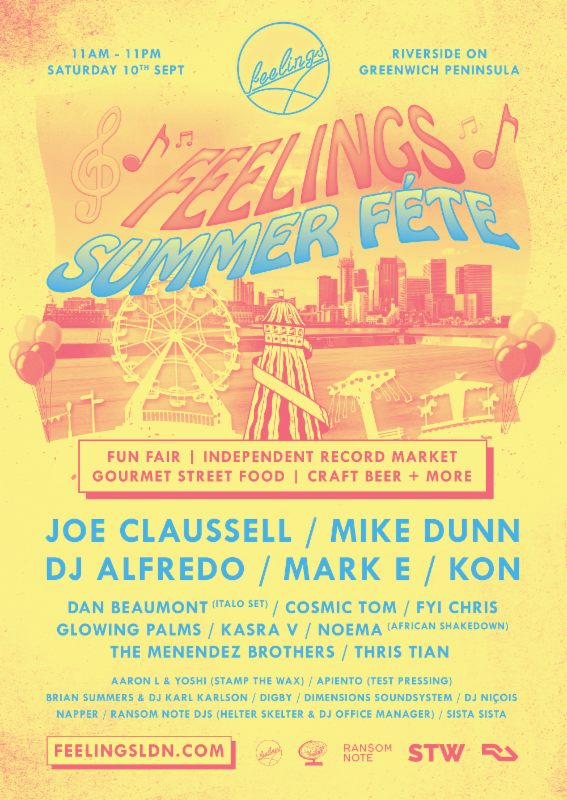 Feelings launch debut festival
Loveable London party-fiends, Feelings throw a huge birthday bash on Saturday 10th September 2016 to celebrate their second anniversary. Closing the summer, the all-day party will feature a fun fair, independent label market, craft beer, top-notch street food and three stages of music from veteran spinners and vibe simmerers including Joe Clausell, Mike Dunn, Alfredo, Kon, Mark E, Dan Beaumont, Kasra V, The Menendez Brothers, Noama, Cosmic Tom and many more at the beautiful riverside location.
Culminating the themes from two years of parties, the music offering at Feelings Summer Féte will be calved out into three distinctive zones.
Joining forces with leading music connoisseurs Ransom Note and Stamp The Wax, the Main Stage House zone will be headlined by Body & Soul stalwart Joe Clausell as well as a set from Mark E and Mike Dunn; the Chicago house innovator that headlined Feeling's road-block first birthday. Further sets will come from Feelings family Kasra V, as well as The Menendez Brothers, FYI Chris, Dimensions Soundsystem and Ransom Note DJs, Helter Skelter and DJ Office Manager.
The Disco zone takes the form of Feelings Summer Féte's bumper cars, at the centre of a fun-fair dancefloor with a vibe-laden soundtrack provided by Kon, Dan Beaumont playing an exclusive Italo set, Cosmic Slop's Cosmic Tom, Sista Sista and Digby plus Feelings residents Gustav, Brian Summers & DJ Karl Karlson.
Over in the Balearic zone, seminal White Isle scenester Alfredo heads-up a program of sun-soaked sounds with an eclectic mix of Ibiza inspired productions and world music from African Shakedown's Noema, Thris Tian, Glowing Palms, Apiento, Napper and Stamp The Wax's Aaron L & Yoshi.
Dressing each arena in accordance with the soundtrack, Feelings have pulled out all the stops for the Summer Féte, adding an independent label market, fun fair, craft beer and mouth-watering street food to keep party-goers entertained, plus upcoming after party announcement to make the most of summer's last throws.
FEELINGS SUMMER FÉTE LINEUP
MAIN STAGE
– Ransom Note & Stamp The Wax presents
Joe Clausell
Mike Dunn
Mark E
Kasra V
The Menendez Brothers
FYI Chris
Dimensions Soundsystem
Ransom Note DJs (Helter Skelter & DJ Office Manager)
DISCO DODGEMS
– Disco / Italo / Funk / Soul –
Kon
Dan Beaumont (Italo Set)
Cosmic Tom (Cosmic Slop)
Brian Summers & DJ Karl Karlson (Feelings)
Sista Sista
Digby
DJ Niçois (Feelings)
STAGE 2
– Balearic / World Music –
Alfredo
Noema (African Shakedown)
Thris Tian
Glowing Palms
Apiento (Test Pressing)
Aaron L & Yoshi (Stamp The Wax)
Napper (Turf)
ALL TICKETS AVAILABLE AT:
https://feelingsldn.eventcube.io/events/4569/feelings-summer-fete