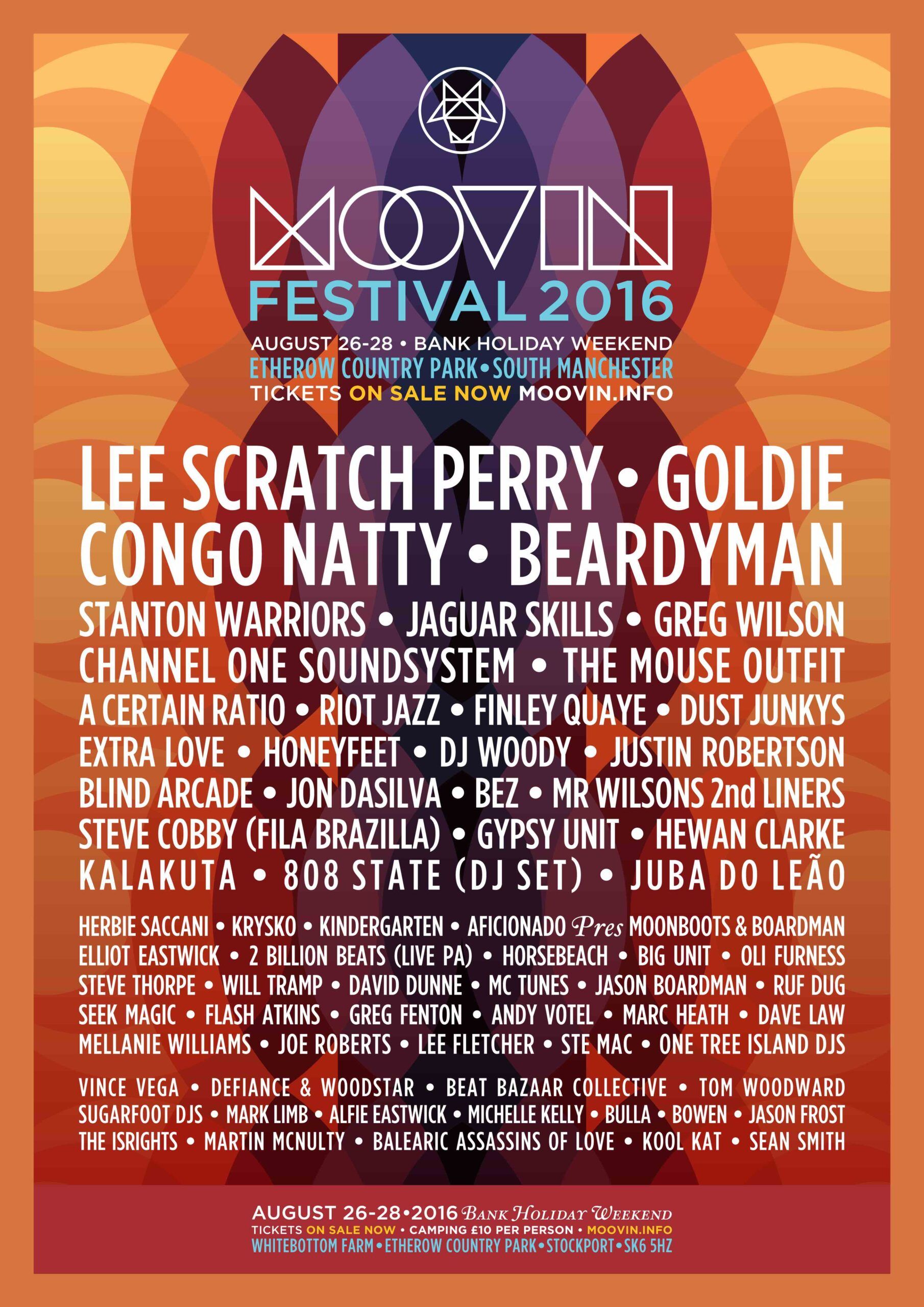 Moovin' Festival – First Acts Announced For 2016
Moovin Festival is back and bigger and better than ever on August 26th, 27th and 28th. Taking place just 20 minutes from Manchester at the eco-friendly Whitebottom Farm in the stunning countryside around Compstall, this friendly, boutique and personal gathering brings together the finest reggae, jazz, house, breakbeat, dub, hip hop, jungle, folk, urban, electronic and drum and bass stars, therefore providing an eclectic mix of the rhythms of life.
Moovin has a big line-up but a limited capacity so as to feel cosy and intimate and as such, this small, local festival has grown organically and is now taking root firmly to the left of centre, right next to a massive bass bin. The site itself is beautiful, festival-goer's walk from the car park through a magical canopy of trees, past a glistening lake where waterfowl will greet you as you make your way to a breathtaking gorge that welcomes you at the entrance.
Moovin may be a small festival but it has a massive appreciation for great music, with a Grammy winner, a Mobo winner, a Brit award winner, a DMC Scratch Champion, a Beatbox Champion and even a holder of an MBE all playing. Its intention is to invoke the values of original music festivals and parties, home-grown, local, value for money and without commercial influence. It is not a corporate festival and wants to stay that way. All the promotors want is to see smiling faces.
This year Moovin is thrilled to welcome a host of up-and-coming local artists along with internationally acclaimed musicians including in the first wave of announcements, Lee 'Scratch' Perry, Goldie, Congo Natty, Beardyman, Stanton Warriors, Channel One Soundsystem, Finlay Quaye and A Certain Ratio, as well as DJ's Justin Robertson, Jon Dasilva, Hewan Clarke and many more.
Moovin will have several performance areas including the Barn Stage, a large open sided cow shed, with bales of hay for cosy country chill out, or frolicking in, and sound systems guaranteed to knock your festival wellies or flip flops off. With diverse entertainment and activities all day, Moovin will immerse guests in an interactive musical and sensory experience. A delicious selection of food from local businesses will also be available, including juices and smoothies for a natural nutriboost.
On Moovin 2015, reviews stated that "Everyone had an open mind, was easy going, sociable and friendly. There was a sense of peace and community. There was no trouble. The site was respected and looked after by all and people kept an eye out for each other. It was great to see and a credit to humankind." This is exactly what the promoters want to be the vibe of the festival going forward, and is also one of the reasons it has been keep it as a limited capacity event.
Founded and successfully nurtured by Haçienda, Tangled and Dry 201 resident Herbie Saccani for the first two years, , this year sees him collaborating with Mancunian promoter Paul Fletcher "Fletch", who as well as a time running Sankeys. has also been promoting the Haçienda nights for a decade including recently creating groundbreaking sold out shows with Haçienda Classical.
So get Moovin. . . and let's see you in the fields!
Whitebottom Farm, Etherow Country Park, South Manchester,
26th – 28th August 2016 – Bank Holiday Weekend
Tickets: Weekend – £45 Earlybird / £55 First Tier / £65 Second Tier
Tickets on sale Friday at 10am from http://bit.ly/MoovinFestivalTicketwebLink