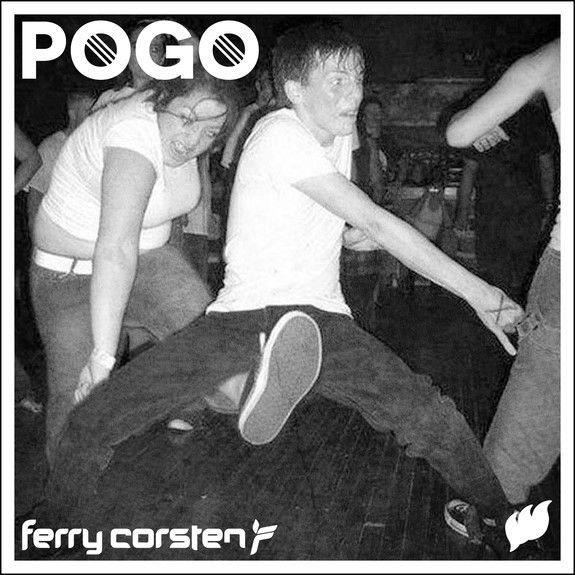 FERRY CORSTEN – POGO
Following on from the hugely successful electro-house smash 'Hyper Love', Ferry Corsten once again demonstrates his diversity as he unveils the deliciously dark, old school trance inspired 'Pogo' – out now on his very own Flashover Recordings imprint.

With 'Hyper Love' continuing to climb the charts and dominate airwaves worldwide, for his latest single Corsten harks back to a darker side of trance that has been kept under wraps on his recent productions. On 'Pogo' Ferry uses deep bass, fluttering synths and an irrepressibly catchy topline melody to build energy, punctuated with ominous vocals that lend a truly eerie atmosphere to proceedings. Featuring on Kramer's BPM show on Sirius XM earlier this week, 'Pogo' has been rapidly gaining support from listeners around the globe.

Long since cementing his place as one of the most influential names in electronic music, Ferry continues to sell out dates around the globe both as a solo artist and as half of superduo New World Punx alongside fellow DJ Markus Schulz. With a host of new dates added, be sure to catch him at one of following gigs below.


Tour Dates:
24th October – Castle, Chicago IL
25th October – Sam Houston Race Park, Houston TX
31st October – Jack Yo Lantern, San Jose CA (NWP)
1st November – Shaw Conference Centre, Edmonton Canada (NWP)
7th November – Yalta Club, Sofia Bulgaria
8th November – Mayday, Katowice Poland
14th November – Space, Moscow Russian Federation (NWP)
15th November – Trancemission, Minsk Belarus
21st November – Life SLS, Las Vegas NV
22nd November – SoungGarten Hall, Philadelphia PA
26th November – Echostage, Washington DC (NWP)
29th November – Stereosonic, Sydney Australia (NWP)
30th November – Stereosonic, Perth Australia (NWP)
5th December – Stereosonic, Adelaide Australia (NWP)
6th December – Stereosonic, Melbourne Australia (NWP)
7th December – Stereosonic, Brisbane Australia (NWP)
21st December – Enchanted Valley Carnival, Pune India (NWP)