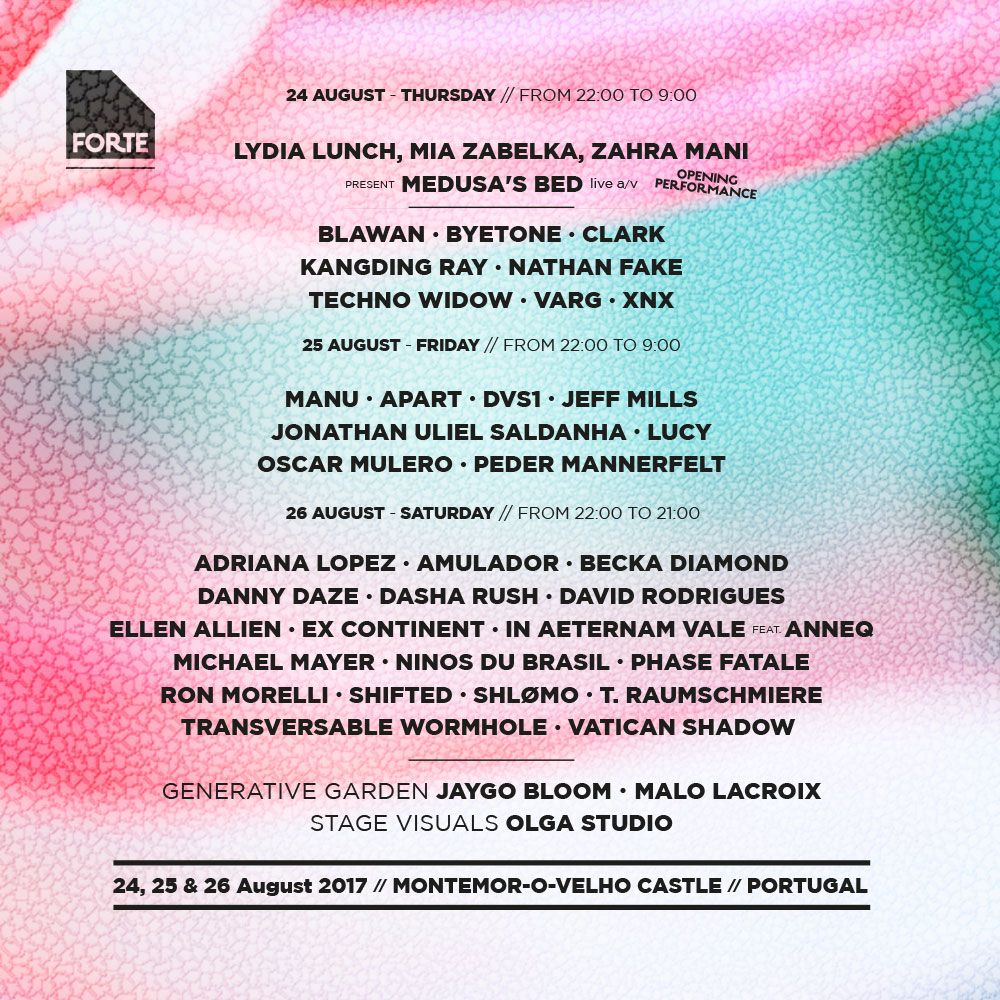 Festival FORTE 2017 announce new names and daily acts line-up
Festival FORTE announces new names for the 2017 edition at the Montemor-o-Velho Castle as well as the daily artist lineup.
More pioneers come together. Ellen Allien is back at the most aspired stage in Europe. In Aeternam Vale adds up the dramatic voices of Anneq to his live performance. Under the nickname Varg, the swedish Jonas Rönnberg, presents himself live, bringing to the Castle the sounds of Abdulla Rashim's label, Northern Electronics, who stands out for the rhythmic and contemporary aesthetics. Dominick Fernow, Vatican Shadow, head of Hospital Productions, is set to perform in 2017 after a brilliant performance in 2015 for yet another indescribable performance.
Malo La Croix joins Jaygo Bloom at the Generative Garden, an audiovisual artist, acting in the fields of performance, installation and cinematography. He recently collaborated with artists such as Murcof, Dasha Rush and Yves De Mey. Lacroix, Jaygo Bloom and Olga Studio are the latest confirmations inside the Castle of Montemor-o-Velho.
The 2017 edition is notable by its daytime programming hosted at Esther de Carvalho Theater. This new strategy results from the natural growth of the Festival and the willing to expand into diversified spaces in the Village of Montemor-o-Velho. The quality of performances is the essential criterion, with the sole aim of creating unique memories and experiences, in a Festival with an increasingly diverse cultural offer.
The Theater presents Jonathan Uliel Saldanha, sonic and scenic constructor, who approaches in his work the pre-language, the circular rhythms, the acoustic animism and the relations of the sound with its spectra. At the Theater are also expected the performances of the national Techno Widow and XNX, which will join the already announced Ex-continent and Lussuria.
MONTEMOR-O-VELHO CASTLE
THURSDAY // 24 AUGUST 2017 // 22H00pm – 09H00am
Opening A/V Show: Lydia Lunch, Mia Zabelka & Zahra Mani apresentam 'Medusa's Bed', Blawan, Byetone, Clark, Kangding Ray, Nathan Fake, Varg
FRIDAY // 25 AUGUST 2017 // 22H00pm – 09H00am
Manu, Apart, DVS1, Jeff Mills, Lucy, Oscar Mulero, Peder Mannerfelt
SATURDAY + SUNDAY // 26 AUGUST 2017 // 22H00pm – 21H00pm
Adriana Lopez, Amulador, Danny Daze, Dasha Rush, Ellen Allien, In Aeternam Vale feat. Anneq, , Michael Mayer, Ninos du Brasil, Phase Fatale, Ron Morelli, Shifted, ShlØmo, T.Raumschmiere, Traversable Wormhole, Vatican Shadow
Generative Garden: Jaygo Bloom and Malo Lacroix // Stage Visuals: Olga Studio
ESTHER DE CARVALHO THEATER // 24 . 25 . 26 AUGUST 2017
Ex-Continent, Jonathan Uliel Saldanha, Lussuria, Techno:Widow, XNX
Soon more information will be announced regarding the full program at the Esther de Carvalho Theater as well as at "Camping is Love".