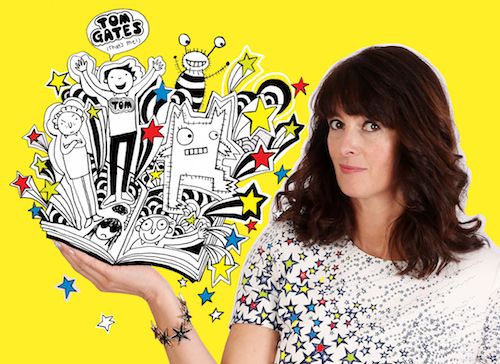 Camp Bestival Unveils More Family Fun
The sun is shining and festival fever is in full swing, so we are delighted to unveil even more amazing family fun and incredible music for Camp Bestival's 10th Birthday celebrations. From legendary choreographers, doodling bands, pop-up performers and some ace micro-theatre, to gramophone-based high jinks and old-time music flavours, it's all going on this July 27th to 30thdown at Lulworth Castle on Dorset's Jurassic Coast.
We are super-excited to announce that Matthew Bourne's New Adventures & Re:Bourne will be returning to Camp Bestival. The dance artists will be leading inclusive workshops for a range of ages based on Matthew Bourne's award-winning production of The Red Shoes and Cinderella that are sure to get people moving and being creative.
Don't miss Liz Pichon & The Tom Gates Brilliant Bands & Doodle Live Show, with author of the bestselling Tom Gates books, Liz Pichon, leading an interactive drawing event where you can learn to doodle like Tom and his favourite band, DUDE3. And we'll have even more musical fun and rock and pop for all the family with Andy & The Odd Socks, featuring Kids TV presenter Andy Day.
We'll also have twin pop sensations Max & Harvey who have amassed over four million fans on music.aly and get ready for anarchic antics, daddy dance off, sing-a-long shenanigans, lip sync lunacy and air guitar goofiness with Raoul & Hectore's Disco Stupido.
Plus, there will be an array of pop-up performances including a portable confessional booth to confess all of your guilty pleasures with Pop Confessional!, a roaming bicycling botanist with tales from around the world Isabella Story Bicycle, local Morris Dancers, samba band madness with Batala Portsmouth, a cappella barbershop harmonies with Ladies Of The Lawn, Dreamland Maragate Characters, roaming celeb photographers Snap Papz who will be catching all you Pop Stars & Rock Stars in action, and pop-up group skipping sessions with Skip Team.
And we have a brand new micro theatre The Iguanodon Restaurant, featuring a fast and hilarious romp about scientific discovery about the history of fossils and of our local area of the Jurassic Coast, that will change the way you see the world!
Pig's Big Record Club is a brand new emporium of sonic treasures for Camp Bestival's 10th Birthday celebrations that harks back to our very beginnings. For the tenth year running the 78s spinning specialists of the Shellac Collective will be pulling out all the stops in Pig's Big Record Club to put on a show of vintage music splendour and unrivalled live music that'll bring joy to your heart.
Shellac Collective founder and Pig's Big Record Club curator Greg Butler says: "The Shellac Collective have been performing at Camp Bestival since it started in 2008 and we're thrilled to still be here to celebrate its tenth birthday. If you are wondering why our venue is called the 'Pig's Big Record Club' – it's in honour of John Peel – who would play a 78 every night on his show called the Pig's Big 78 – introduced by his wife Sheila who he affectionately called 'The Pig'."
Tapping into the primordial roots of sound, there will be a host of live performances harking from off the beaten track including murder ballads from The Henry Brothers, Mexican sunshine from Vote Pedro, foot-tapping folk from Flashback Photograph, blues from Tom Colborn and selections influenced by the great American songbook from Henry Nurse. Plus, there will be live sets from Paul McCaffrey, Damian Django, Datum Plane and Jimmy Hillbillies.
Pig's Big Record Club entertainment will include screenings of Laurel and Hardy, performances from Ms Chameleon's Incredible Flea Circus and Rag Time dance classes with Charlotte Ewart.
And providing aural antiquity lovingly played on original 78s spanning every genre from jazz, jive and swing to blues, Latin and rock n roll, don't miss exceptional, mind-expanding DJ sets from DJ 78, Greg's Greats 78s, Tony Tunes, DJ GG, Jules Bushell, Li'll Miss Lonely, Ms Chameleon's Mechanical Melodies, Johnny Louche, Brother Graham, Not Saffron, Henry Nurse (DJ set), Duncan Gunn, Dr D and Dr Sid.
A night in the Pig's Big Record Club is always an uplifting experience, make sure you visit and get your feet moving on the dancefloor for a night you'll never forget.
Keep checking www.campbestival.net and our Facebook and Twitter for all the latest info.