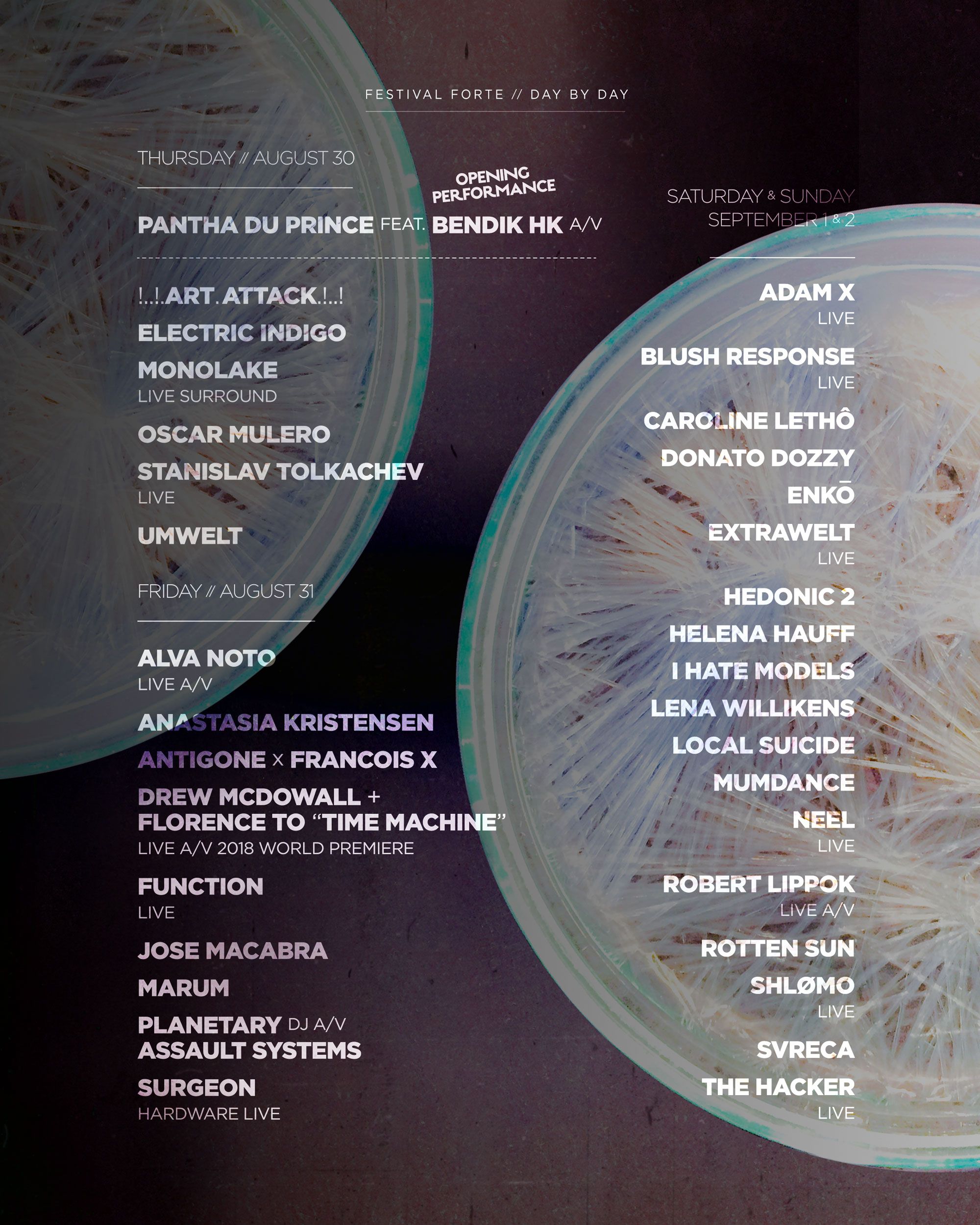 Festival Forte 2018 – New Artists and Daily Line Up announcement
Pantha du Prince feat. Bendik HK a/v | Adam X live | Alva Noto live a/v |Anastasia Kristensen | Antigone x Francois X | !..!.Art.Attack.!..! | Blush Response live | Caroline Lethô | Donato Dozzy | Drew Mcdowall + Florence To"Time Machine" live a/v 2018 World Premiere | Electric Indigo | Enkō | Extraweltlive | Function live | Hedonic 2 | Helena Hauff | I Hate Models | Jose Macabra | Lena Willikens | Local Suicide | Marum | Monolake live surround | Mumdance | Neel live | Oscar Mulero | Planetary Assault Systems dj a/v | Robert Lippok live a/v | Rotten Sun | Shlømo live | Stanislav Tolkachev live | Surgeon hardware live | Svreca | The Hacker live | Umwelt

The legendary Drew Mcdowall, who was an active full time member of Coil in the nineties, having produced albums that marked a generation such as Time Machinesand Musick to Play in the Dark will team up with visual artist Florence To, known for her sound and light installations with generative motion graphics and light productions focusing on architectural spatial design. Together, they will present for the first time ever the "Time Machine 2018 Live A/V" show. Patterns of fibrous metallic waveforms and reverberated percussions that are pulled and spun around the spectrum defined by Drew's musical hardware combine with the visual framework of Florence To with information that progresses over time, hypnotizing the audience and breaking the trance by irregular flash of a brighter visual (similar form to the current visual but brighter and defined) thus creating a similar pattern to create a hallucination and also an awkward moment between the performer and audience.

The lineup of the Theatre is also closed with three stage performances happening on each day of the festival. It all starts with !..!.Art.Attack.!..! + HH Art Spaces that will present the outcome of an ongoing collaboration. "Relaxation Oscillator" is a piece of visual and sound poetry in which the audience is invited to enter hypnotic states and surrender to the repeating ever-changing circuit.
On the second day, Jose Macabra brings his many influences, from the industrial and noise scenes, together with a legion of related genres such as ritual and the darker flavours of techno, blended with sound art, art brut and experimental music. Ranging from the apocalyptic to the joyous, these genuinely powerful sounds are always challenging in the positive senses of the term, always inviting the listener to explore sonic vistas that break new and ever-fresh ground.

Finally, on the third day, Rotten Sun will present "The Art of Mirrors", a new performance collaboration between Mia Zabelka (e-violin, electronic devices, alien objects), Kira O'Reilly (live art), Tina Frank (video art) and Lee Adams(experimental dj). Inspired by the eponymous Bataille text, Rotten Sun present their initial explorations in movement, image and psychoacoustics – Art of Mirrors – is an improvisation between four artists who have never before worked together. A gleaming razor's edge, reflecting back the blank stare of the void.
There is also news regarding artists that will perform at the camping site. Berlin based duo and couple Local Suicide have been releasing music on labels such asHFN, My Favorite Robot, Multi Culti and Bordello A Parigi, running one of the top 10 independent music blogs in Germany, organizing events and touring the world since 2007. Their sound could be described as an energetic fusion of slow techno, post disco, new wave and acid house or as they like to call it "technodisco".
A great representative of the Portuguese electronic scene, Lisbon based Caroline Lethô will live up to the hype and demonstrate her talent spinning through different genres of high quality dance music.
Festival Forte is moving on to its 5th edition running from August 30 to September 2, 2018 in the Castle of Montemor-o-Velho, Portugal.
A new culture has been created, formed by a special audience that is dedicated and interested in the innovative proposals that the festival has to offer and which extend throughout the town of Montemor-o-Velho, the Castle, with the stage and the generative garden, the Camping site and the Theater.
With the bar set very high, Festival Forte's team transcends itself and embraces the challenge of making each edition more spectacular. The public expects it and deserves it. The artistic choices stand up to this challenge and for the 2018 edition, the complex task of finding those who are at the level of the Forte's requirements is fulfilled with audacity and determination.
Generative Art continues to be a central element in the creative process of Festival Forte, which will culminate with Jaygo Bloom's installations in the castle garden and church.
The commitment to sustainability remains a concern, with the implementation of new measures that promote a greener environment, in addition to those already accomplished such as compostable loos, recyclable cups, paperless digital promotion and the cashless system that was awarded a prize in 2017 by the Ministry of the Environment, promoter of the "Sê-lo Verde" program.
We are all set for the most special edition of Festival Forte ever, which is the fruit of the contribution of all those who believe and support it, valuing an obsessive passion for art and innovation.