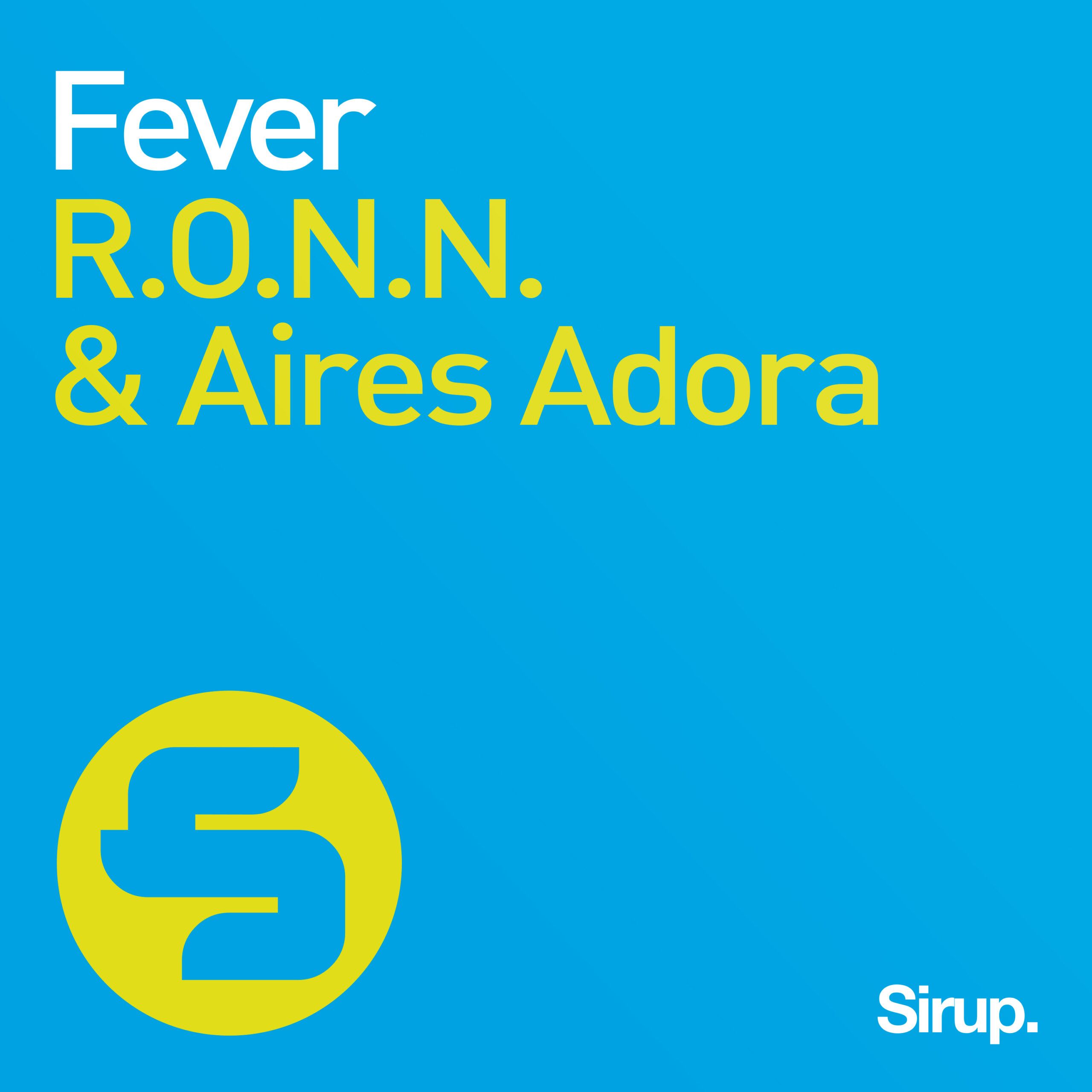 R.O.N.N & Aires Adora - Fever
R.O.N.N. and Aires Adora have teamed up once again for the release of their hugely anticipated single 'Fever'; sure to cause chaos worldwide and it is out now via Sirup Music.
Ron Carroll, the man behind the R.O.N.N. moniker, is one of the scene's most respected artists, thanks to his vast array of unique, top quality productions. With a keen eye for detail, R.O.N.N. is responsible for hits such as: 'Way Back', 'Change For Me', 'Ride This' and 'Turn It Up', collaborating with legendary names like: Robin S and releasing on premier labels including: Flamingo Recordings, Circus Recordings, Vamos Music and Milk & Sugar along the way – a career many would dream of having.
Teaming up with R.O.N.N. is talented vocalist Aires Adora, who too is based in the city of Chicago, the spiritual home of House music. The multi-talented singer and songwriter has released mind-blowing tracks such as 'I'm Your's' on recognised imprints like: Play This! Records and SYS Music; securing her place as one of the industry's go-to vocalists.
Having been working together for the past two years, the pair are no strangers to each other and have released hot records like: 'Seperated' and 'Simple'. This time they returned with a superb, 70's and Disco influenced thriller called 'Fever' – a certain dance-floor shaker. Filled with groovy drums, a funky Disco bass-line, soulful vocals and intricate sound design, the highly rated duo have created a future summer classic; a must for any DJ's record collection.
'Fever' is out now via Switzerland's leading record label Sirup Music. Boosting an impressive roster, including tastemakers such as: EDX, Nora En Pure, Sultan + Shepard and Mike Candys, R.O.N.N. and Aires Adora have found themselves in good hands. With many more future classics on the way, 2016 looks set to be a landmark year for both R.O.N.N. and Aires Adora. Make sure you grab your copy of 'Fever' now before it flies off the shelves.
Available on Beatport
https://pro.beatport.com/release/fever/1715434
R.O.N.N. Online
https://www.facebook.com/RonCarrollBMC
https://twitter.com/RONCARROLLBMC
https://soundcloud.com/roncarroll
https://www.instagram.com/roncarrollbmc/
https://www.youtube.com/user/RonCarrollTV
Aires Adora Online
http://www.airesadora.com
https://www.facebook.com/AiresAdora
https://twitter.com/airesadora
https://soundcloud.com/aries-adora
https://www.instagram.com/airesadora
Sirup Music Online
http://www.sirupmusic.com
http://www.facebook.com/SirupMusic
https://twitter.com/SirupMusic
https://soundcloud.com/sirupmusic
https://www.youtube.com/sirupmusic