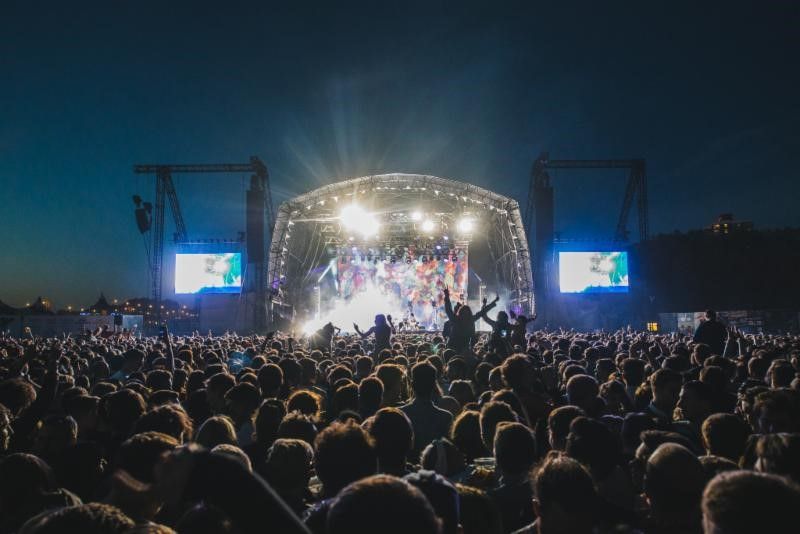 Field Day Announce Line-up For 2016
On Saturday 11th and Sunday 12th June 2016, Field Day celebrates its triumphant 10th year as London's premium purveyor of all things musically magnificent, legendary and aspiring, in London's award winning Victoria Park.
From its early inception back in 2007, Field Day has evolved across two days, heightened its levels of production, expanded its culinary and extra-curricular activities, yet always remained true to its core values – impeccably curated music at the heart of everything it does is. Continuing this ethos Field Day are honoured to announce PJ Harvey for a London exclusive in 2016 on Sunday the 12th June.
Since her first album Dry – a record Kurt Cobain considered one of the 20 greatest albums ever written – PJ Harvey has received worldwide acclaim for her unique, restless artistic vision. The recipient of multiple awards, she is the only artist to have won the Mercury Music prize twice, first with the platinum selling Stories From The City: Stories From The Sea in 2000, then over a decade on with 2011's Let England Shake.
2015 has found PJ Harvey breaking more new ground, releasing her first volume of poetry and writing and recording her as-yet-untitled 9th studio album in front of live audiences inside an architectural installation at Somerset House.
Awarded an MBE for services to music in 2013, her headline slot will be a Field Day exclusive and be the first UK live, full band show since she played at the Royal Albert Hall in 2011.
FIELD DAY 2016 – Saturday
Elsewhere at their decade celebrations, Field Day Saturday will see long time friend of the festival Four Tet play a key slot on the Eat Your Own Ears Main Stage."One of the UK's most dedicated club DJs, capable of holding a room in sweaty excelsis for eight hours without pause." He's restlessly dedicated his life to creating other-worldly club music, with his timeless productions sounding like they've been beamed from another dimension.
All-conquering grime superstar Skepta graces Victoria Park with his presence as he continues to bring grime kicking and screaming into 2016. A new album imminent with a reportedly all star cast of collaborators, his ascendancy continues at pace. Get set to get Shutdown.
Led by the enigmatic frontman Bradford Fox, Deerhunter bring their gloriously shape-shifting genres and sounds, vacillating from post-punk to pop, auspiciously under the all-encompassing umbrella of indie-rock.
Floating Points has won over crowds around the world with his strictly vinyl club sessions, spanning, house, techno, soul and disco, steadily climbing the ranks of the globes most impressive DJ's. Floating Points will bring his enchanting full band show to Field Day Saturday, for a mesmerising performance filled with warm electro weaves and delicate euphoria.
Mercury Prize nominated and this year's rising star SOAK will also appear on Saturday, along with a further line-up which veers into corners as diverse as Cass McCombs blending rock, folk, psychedelic, punk, and alt country, plus Yorkston Thorne Khan, which encompasses the mighty Scottish folk nobility of James Yorkston.
Founded in 1970, the six piece Senegalese Afro-Cuban, Son, Wolof and Pachanga band Orchestra Baobab, are hailed as one of Africa's great iconic bands, producing more hits in less than a decade than other bands in a lifetime. Elsewhere, Paradise Bangkok Molam International Band will bring their mix of traditional Thai sound with echoes of folk-rock, blues and dub to a Field Day stage.
Renowned for their beautifully blissed out sound, London duo Mount Kimbie come to Field Day on the Saturday and will be joining DJ Koze who was recently selected to mix the 50th edition of !K7's seminal DJ Kicks series. Also up on the Saturday is Motor City Drum Ensemble – a much in demand artist who over the the past few years he's cemented his reputation as one of the top ranking record pioneers making Resident Advisor's Top 20 DJs last year.
One of the biggest names in the German electronic music scene and part of the Robert Johnson family, Roman Flügel is also on Saturday's line-up. A chameleon visiting many styles from ambient to house, techno, electro and leftfield. Special Request, the rugged alias for house and techno stalwart Paul Woolford is inspired by the unruly conventions of UK pirate radio stations, with productions span from murky house through darkside techno to chaotic eye-of-the-storm hardcore/jungle tear-outs. Also joining Saturday's bill will be the dynamic house duo Dusky, who in just three years have asserted themselves as leaders of the UK underground.
Live electronic acts come in the form of Holly Herndon, Kink and Red Axes. Holly Herndon brings her unique blend of glitching, bewitching electronics and choral voices to her sonic performance. Recent album Platform, co-released on 4AD and the peerless RVNG Intl has seen another step forward in her production and gained her further plaudits far and wide.
Hailing from Sofia, Bulgaria, Kink's an enigma in many different forms and will perform one of his much-lauded live sets at Field Day. Tel-Aviv producers Dori Sadovnik and Niv Arzi have been performing together for a long time, first as post-punk band Red Cotton. It's with their current Red Axes incarnation that they've struck gold, touching on stripped back slow mo techno.
Ghanaian musician Ata Kak, was the first ever post on The Awesome Tapes from Africa blog which spawned the hugely influential label. Obaa Sima has gone on to transcend genres and appeared in an unbelievable array of DJ's sets since. Ata Kak comes to the UK to play Field Day for what will be his first time out of Ghana. Special.
Performing new live music for the first time, Wild Nothing, the American five piece indie rock/dream pop band from Virginia, will bring their shimmery, synth-washed indie pop recordings to Field Day Saturday. While Trevor Powers' a.k.a Youth Lagoon, will provide the Festival goers with an insight into his ever mind expanding and varied productions.
Producer, DJ and software developer Avalon Emerson and electronic music producer, songwriter and multi-instrumentalist Mura Masa also join for the Saturday, along with Dean Blunt, an artist renowned for consistently delivering compelling and unpredictable performances and the terrifyingly gifted Meilyr Jones.

FIELD DAY 2016 – Sunday
On Sunday, hailing from Buchanan, but now ensconced in Iceland, singer, song-writer and honesty purveyor John Grant joins the bill alongside PJ Harvey. His third solo studio album, 2015's Grey Tickles, Black Pressure featured several guests such as singers Tracey Thorn of Everything But The Girl and Amanda Palmer. In 2014 John Grant was nominated for Best International Male Solo Artist at the BRITS and appeared on UK TV show, Later with Jools Holland in early October this year, accompanied on stage by a band including several backing singers and special guest Budgie.
Also on Field Day Sunday, Baltimore dream-pop duo and masters of the lullaby, Beach House are known for creating music which is dark, dreamy, and alluringly hypnotic. Since their formation in 2005, Beach House have charmed indie music enthusiasts across the blogosphere with their languid songcraft, and the eerie warmth of "Apple Orchard" landed on Pitchfork's Infinite Mixtape MP3 series in August 2006.
Swedish psych-rockers and master of the on-stage costume, GOAT will bring their unique sound to the main stage. The indie-informed and highly electronic adept Junior Boys, are back with a much lauded new album this year including a synth cover of Bobby Caldwell's 'What You Won't Do For Love'.
Elsewhere on Sunday's cohesive yet eclectic line-up, Glaswegian DJ royalty duo Optimo will be representing. JD Twitch of Optimo's Autonomous Africa, Optimo and Optimo Trax labels responsible for some of the most incredibly diverse releases of recent time. Former Sonic Youth frontman will also bring The Thurston Moore Band to the Sunday Field Day crowd.
BBC 6Music resident, and member of the best-selling duo Everything But The Girl, Ben Watt will play with his band featuring Bernard Butler, whilst Molly Nilsson's synth-pop also comes to the fore. Plus many more to be announced complete another classic Field Day Sunday.
An extensive, heavy weight line-up and still so much more to come…
"10 years… amazing. Can't believe how the time has flown. A mind bending travel in time and so much great music, it's hard to pin point a favourite moment as there are just so many… I'm thrilled that this year the iconic PJ Harvey, someone I've been a huge fan for many years, will come and headline the Sunday. Saturday brings us another fantastic diverse mix of incredible music from Four Tet to Skepta, Floating Points who's playing Live, to Orchestra Baobab, Paradise Bangkok Molam International Band and of course loads more…" Tom Baker, Field Day Director & Founder
LINKS & FURTHER INFORMATION
TICKETS:
fielddayfestivals.com/tickets
FOR MORE INFORMATION PLEASE VISIT:
www.fielddayfestivals.com
Confirmed Acts for Field Day Saturday 11th June:
Ata Kak / Avalon Emerson / Cass McCombs / Dean Blunt / Deerhunter
DJ Koze / Dusky / Floating Points – Live / Four Tet
Holly Herndon – Live / KiNK – Live / Meilyr Jones
Motor City Drum Ensemble / Mount Kimbie DJ Set / Mura Masa
Orchestra Baobab / Paradise Bangkok Molam International Band
Red Axes – Live / Roman Flügel / Skepta / SOAK / Special Request
Wild Nothing / Yorkston Thorne Khan / Youth Lagoon
Confirmed Acts for Field Day Sunday 12th June:
PJ Harvey / Beach House / Ben Watt Band feat. Bernard Butler
Declan McKenna / GOAT
John Grant / Junior Boys / Molly Nilsson / Optimo
The Thurston Moore Band
Plus Many more announced across the full weekend soon…