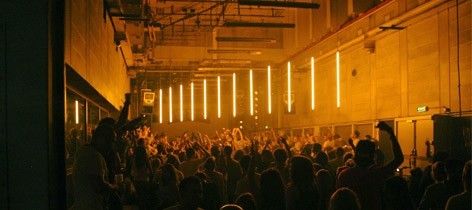 FIELD DAY Expands to European Events
As just announced exclusively by Dazed, we are thrilled to confirm that Field Day is expanding to Europe! For the first time ever, Field Day is leaving London to host three Field Day events in three beautiful and exciting cities: Turin, Amsterdam and Paris. We are extremely honoured to count on the support of amazing partners: Club To Club in Turin, Trouw and Mojo in Amsterdam, Super! in Paris, and the brilliant Dazed as main media partners:

"It's always exciting to see local people do good, and news that Field Day is expanding into the continent with this series of club nights is a move that makes all at Dazed proud. Field Day has consistently lead the way in elevating incredible underground music, a philosophy that Dazed of course shares. These European dates have a great series of lineups, and we're excited to share them with our readers." Dazed & Confused

"I'm thrilled that Field Day is hosting some brilliant line ups in some exciting and unique club spaces across Europe. It's great to have partnered with like-minded and creative promoters that I've worked with for many years, as well as one of our favourite publications, Dazed. I very much look forward to the first of many in the magnificent city of Turin, Italy, and it's just a Eurostar ride away to Amsterdam and Paris!! So perhaps make a weekend of it in May and then again in London's Victoria Park in June!" Field Day & Eat Your Own Ears founder Tom Baker

FIELD DAY TURIN
Hiroshima Mon Amour
Thursday 24 April
JON HOPKINS/ SOHN/ ONEOHTRIX POINT NEVER
www.clubtoclub.it/2014-en/

We are very excited to bring a brilliant line up of Field Day favourites Jon Hopkins, SOHN, and Oneohtrix Point Never to Italy! Field Day Turin will take place on Thursday 24 April at Hiroshima Mon Amour, one of Turin's best-known night clubs/ cultural associations. We are honoured to have one of our favourite European festivals, the brilliant Club To Club on board.

"Italy-based international festival of music & arts Club To Club is proud to partner with Field Day for the Turin date of their European events series. It's the first collaboration ever between the two festivals, built on the common mission of bringing to their audiences the most exciting acts in contemporary music, balancing between pop and avant-garde." Club To Club, Turin

FIELD DAY AMSTERDAM
Trouw
Friday 2May
FOUR TET/ JAMIE XX
www.trouwamsterdam.nl/en

We can't wait to host Field Day Amsterdam at the legendary Trouw on Friday 2 May. Considered one of the best clubs not only in Amsterdam but the whole of Europe, Trouw is housed in a former news printing plant in the East of the city. We are very excited to confirm an excellent line up for this excellent venue: the brilliant Four Tet and Jamie xx.

"One of our favorite festivals and two of our favorite artists: we're stoked to have Field Day over on May 2nd and show the Londoners how we do things in the Dam!", Trouw, Amsterdam

FIELD DAY PARIS
YOYO
Date and Line Up TBA
www.supermonamour.com – yoyo-paris.com

We are very proud to announce our partnership with our friends, the brilliant Parisian promoters Super! for our Field Day Paris event. With the same mentality as Eat Your Own Ears and Field Day, Super! promote a never ending list of fresh talent (including the likes of Wild Beasts, SBTRKT, Real Estate, Jagwar Ma, The xx, Tune Yards…) plus Fireworks! and Pitchfork Paris festivals. Field Day Paris will be taking place at the hottest new club venue YOYO, located in the heart of Palais du Tokyo and stunning views to the Seine and Eiffel Tower… With the line up and date still to be announced, we can already tell you that it's shaping up to be excellent!
www.fielddayfestivals.com