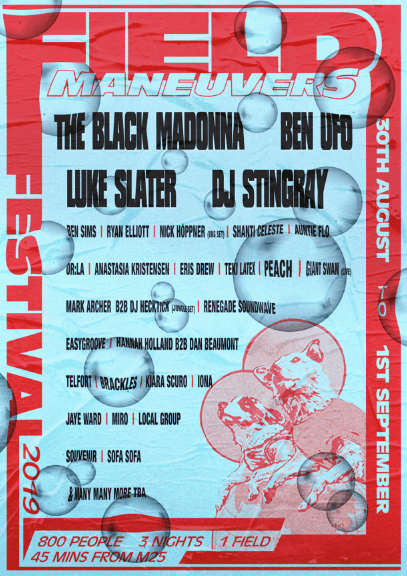 Field Maneuvers announce first names…
Returning for an almighty seventh year, today Field Maneuvers announces one of their biggest line-ups to date with The Black Madonna, Ben UFO, Luke Slater, DJ Stingray, Anastasia Kristensen, Eris Drew,Or:la, Teki Latex, Peach + many more. 800 people, 3 nights, 1 field, the festival retains the ethos its had since the beginning – a small, inclusive party that showcases the best aspects of what the electronic scene has to offer. Situated just 45 minutes from the M25, Field Maneuvers is the perfect way to see out the summer, do not sleep on tickets: http://www.fieldmaneuvers.com/tickets
As a tiny 800 person capacity party Field Maneuvers offers ravers the chance to catch their favourite big room DJs in an intimate setting. 2019's edition sees The Black Madonna, one the scene's leading DJs, returning to headline after playing FM after her legendary closing set in 2016. Garnered through years of experience in the game, her mixing style, selections, and ability to hold a dance floor in the palm of her hand, are second to none. One of the most understated yet exceptional selectors of our generation, the Hessle Audio boss Ben UFO will also be returning to FM. Next up is none other than Luke Slater, aka Planetary Assault Systems, one of the cornerstones of the scene, who will be debuting his hard hitting and unforgiving techno at FM. And finally, another FM first-timer, its high tempo electro don, DJ Stingray.
Deep Sea Frequency label boss Or:la will be bringing her wide-spanning bass-heavy selections and is joined by Danish techno artist and superstar Anastasia Kristensen. Expect a musical masterclass from rave and vinyl enthusiast Eris Drew, still fresh from throwing it down the Sputnik tent last year. Another Field Maneuvers debutant, with sets that jump through IDM, grime, hip hop and UKG, is Teki Latex, who's sets are so unique you have to witness it to believe it. Also performing at the festival for the first time are dynamic selector Peach, and much-hyped live techno duo Giant Swan.
Throwing back to the old-school days, Renegade Soundwave and Easygroove will be showcasing the finest euphoric hardcore cuts alongside two of the key players in London's queer clubbing scene, Hannah Holland and Dan Beaumont. Elsewhere, expect deep cuts and house driven tracks from Telfort and an adventurous set from DJ duo Kiara Scuro. FM regular Jaye Ward will be showcasing her hypnotic, off kilter selections whilst Miro provides the grooviest jams. Dedicated London diggers SOUVENIR will be reaching and Bristol based garage DJ Sofa Sofa rounds off the bill.
Year on year, Field Maneuvers builds up it's heavy roster of residents, ranging from world famous DJs to break through artists. Returning to this year's edition are the scene's most in demand DJs from techno pioneer Ben Sims, to Panorama Bar resident Ryan Elliott the dedicated selector with an impeccable ability to read the crowd, and long-term Ostgut Ton affiliate Nick Hoppner playing a UKG set. If eclecticism is what you crave, look no further than Peach Discs label boss Shanti Celeste and world explorations from Auntie Flo. Altern-8's own Mark Archer will be going b2b with DJ Hektick for a jungle set. Expect nothing but hard hitting pumpers from Brackles and genre defying selections from Iona. Dynamic duo Local Group will also be returning to FM 2019.
With a love for free-parties at its very core, Field Maneuvers is not for profit and run by a dedicated crew of music lovers. It brings together the best quality sound systems, production and stage design, with the much loved Sputnik stage described by Resident Advisor as 'one of the most unique rave spaces in the world.' Situated just 60 minutes out of London, it is an easy to reach location and camping is included within the ticket price – all you need to bring is a tent and good vibes. Tickets are already on final release and flying fast, grab them here: http://www.fieldmaneuvers.com/tickets
FIELD MANEUVERS
30th AUG – 1st SEPT 2019
LOCATION TBA (45 mins from the M25)
FINAL RELEASE TICKETS AT £139 + BF: http://www.fieldmaneuvers.com/tickets
FULL FIRST WAVE LINE-UP (ALPHABETICAL)
ANASTASIA KRISTENSEN – AUNTIE FLO – BEN SIMS – BEN UFO – BRACKLES – EASYGROOVE – ERIS DREW – GIANT SWAN – HANNAH HOLLAND & DAN BEAUMONT – IONA – JAYE WARD – KIARA SCURO – LOCAL GROUP – LUKE SLATER – MARK ARCHER B2B DJ HECTICK (JUNGLE SET) – MIRO – NICK HÖPPNER (UKG SET) – OR:LA – PEACH – RENEGADE SOUNDWAVE – RYAN ELLIOTT – SHANTI CELESTE – SOFA SOFA – SOUVENIR – STINGRAY – TEKI LATEX – TELFORT – THE BLACK MADONNA