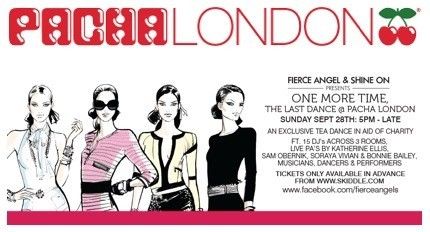 FIERCE ANGEL & SHINE ON PRESENT ONE MORE TIME
On Sunday 28th September, legendary venue Pacha London closes its doors for the last time. During its time Pacha has played host to some of the world's biggest DJs and brands. One of the most memorable nights was Hed Kandi who ran parties from 2002 onwards.
For one night only Mark Doyle (the creator of Hed Kandi) is re-forming the original team and putting together a very special Tea Dance aimed at the original clubbers and industry staff that have worked and partied in Pacha since the beginning.
All the artists and performers are giving their time for free and all profits will be split between Nordoff Robbins, The Born Free Foundation and a charity chosen online by our guests.
Expect a late afternoon and evening of house anthems, glamour and decadance as we say goodbye to one of London's most iconic venues in true style.
The entire event will be broadcast live on reelhousetv.com
There are a few closing parties taking place at Pacha but this truly is the last dance … do not miss out!
Main Room Mark Doyle, Andy Norman Mike Van Loon Hatty Lovehearts Paul Wilkins Matt Collins, David Dunne Bonnie Bailey (Live PA), Katherine Ellis (Live PA) Sam Obernik (Live PA) Soraya Vivian (Live PA) Pav (Percussion) Assaf (Percussion)
Room 2 Maze & Masters, Dulcie Danger, Morlando, Marc Rowell,
Room 3 Mark Tillotson, Marm-E-Duke, Lil Joey
Door Host – The Legendary Toni Tambourine From Malibu Stacey
Stage Performances & Styling By Lex Reneece
Dancers, Performers & More Guests To Be Confirmed
Mark Doyle says: "I have so many memories of Pacha. We took up residence there after our previous venue (Rouge) had some issues. We were already experiencing ridiculously great crowds at the first venue and it only got better at Pacha. In the early days the venue was completely opulent and suited the Hed Kandi brand down to the ground. Two main memories stand out, the queues we had every month which were often impossibly to manage, we even tried opening earlier and found a 1,000 people turned up at least an hour before doors open and whatever time we set.
Another memory is the day Eric Kupper delivered the very first copy of his remix of the classic Peyton track "Higher Place" he had just got off a plane from New York and came straight to the club. He gave me a CD of the track while I was playing we put it on and the crowd just went insane.
Mark continues: "Another memory is the completely mad decor we'd put in. There used to be meetings every month about how we were going to top the last party. We had everything from rotating chopper bicycles in the ceiling to a Beach Hut and sand in the middle of the room. If there is one memory stronger than all the others it's how much of a family we all were from the DJ's and performers to the dancers and drag queens everyone came together for one night a month to make it a spectacular show and I'll never forget that.