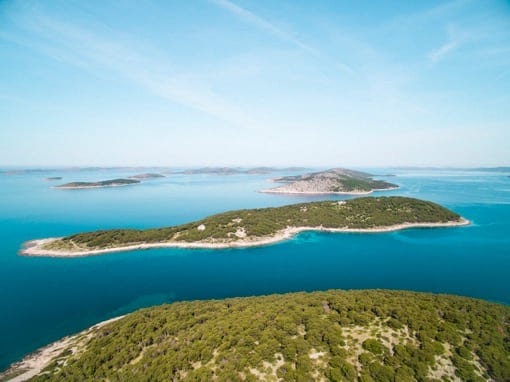 Final Additions Revealed for Obonjan's Opening Season…
With anticipation for Obonjan's inaugural season mounting, the final line-up additions set to join the six-week party this summer are announced. Concluding the season programme, West London bedroom producer extraordinaire Shura lines up with electronic Gold Panda, and Berlin favourite Mr. Ties. Keeping a diverse vein, saviours of Italo rarities Horse Meat Disco join LA indie rockers Local Natives, while world music fusionist Auntie Flo will be presenting his Sun Ritual live.

From the people that brought you Croatia's Unknown festival, the special events for Obonjan continue to draw on talent from across the globe. Avant-pop New Yorker Matthew Dear goes back-to-back with Detroit techno prince Ryan Elliott, Glasgow's legendary Sub Club sons Optimo exercise their combined magic, and Running Back label boss and Robert Johnson resident Gerd Janson also makes his way out over the season. Helping to bring a festival twist to the island's summer holiday setting, the UK's newly anointed house champion Leon Vynehall is joined by Ninja Tunes' globe-hopping poster boy Romare.

They're added to the already bumper bill that features Four Tet, Floating Points, DJ Shadow, Anderson .Paak & The Free Nationals, Jessy Lanza, Gilles Peterson, Roy Ayers, Craig Charles, Talaboman, Gaussian Curve, and many more. For full line-up see Notes to Editors below.

A beloved cross section of family and friends will also be taking part in the six weeks of festivities, including Soho record store sensation Phonica, weekend party specialists SecretSundaze, and tastemaker heroes Greco-Roman.

Extending the music programme beyond the stages, there will also be a selection of talks by the musically enlightened set in the islands' Geodome. Following his show in the amphitheatre, Dave Okumu of The Invisible talks about his career in music and producing for such artists as Amy Winehouse, St. Vincent, and Jessie Ware. Two of the music world's revered personalities, Matthew Herbert and Gilles Peterson sit down for a much anticipated tête-à-tête, and Manchester's tea-toting selector Mr Scruff pulls up a chair to run the whole gamut, which could touch on anything from Madchester war stories to musings on making the perfect pie. Meanwhile, flipping the record, Craig Charles will be the one stimulating the conversation with his Pub Quiz.

These conversations join a burgeoning programme of talks and workshops due to be held by experts in various fields including astronomy, architecture, photography, design, philosophy and marine biology. Not least as the island will have its own resident astronomers Uroš Mikšaj and Dora Premor, joined by the Greenwich Royal Observatory's Tom Kerss, an expert on Planetary Transits and Astrophotography.

Sophie Thomas, the co-director of design at RSA, delivers a talk on waste as a design flaw, drawing on her 15 years of experience in sustainable design and material process. Continuing the theme of shifting paradigms, Sam Deere discusses his theory of Effective Altruism, whilst Philosophy Slam pioneer Robert Rowland-Smith brings his blend of improv comedy and audience participation, and founder of emission free cargo runners, New Dawn Traders, Alex Geldenhuys, lifts the lid on his work, sitting at the intersection of business, art and activism. They join the already announced life coach Jules Evans, School of Life Philosopher Mark Vernon, breakthrough coach Nick Jankel and author Zoe Cormier, among others, who lend their minds and proffer perspectives for the island's first year programme.

Along with the enriching and the empowering, comes some light relief, with a full comedy programme also announced. Between warming up for comic icon Bill Hicks and writing one liners for Joan Rivers, Nick Doody was the first ever British comedian to perform in Croatia. He returns alongside the Award-Winning and Russell Howard-approved, Glenn Wool as well as the likes of Sara Pascoe, Ivo Graham, Dan Nightingale and John Robbins.

The island's Wellbeing programme, meanwhile, offers something for everyone from the experienced Yogi to absolute beginner. East London's spirit junkies She's Lost Control will be keeping things aligned from their Zen Den where you can get lost in sunrise sessions and classes led by globally renowned practitioners such as New York's UNLIMITED, The Numinous, Pip Roberts, Guru Jagat, Alexander Roxo and Charley Morley . Or, if you were at the Rum Bar too late, there's even Fern Ross' "Yoga For Hangovers" to ease the body and mind. The programme covers everything from sunset runs and plant medicine ceremonies to mindful marbling workshops. For full programme listings see the website.

Notes to Editors

MUSIC

Live
Anderson .Paak & The Free Nationals, Akala, Brother Strut, DJ Shadow, Floating Points, Gold Panda, Hot 8 Brass Band, Jessy Lanza, Kate Tempest (Spoken Word), Local Natives, Roy Ayers, Omar, Saul Williams, Shura.

Age of Luna, Auntie Flo presents Sun Ritual Live, Gaussian Curve, Gigi Masin, Jaakko Eino Kalevi, James Canty, Loyle Carner, Smerz, The Invisible, Willis Earl Beal.

DJs
Craig Charles, Don Letts presents A Tribute to DJ Derek, Erol Alkan, Four Tet, Gerd Janson, Gilles Peterson, Horse Meat Disco, Leon Vynehall, Machinedrum, Man Power, Matthew Dear b2b Ryan Elliot, Matthew Herbert, Maurice Fulton, Midland, Mr. Scruff, Mr. Ties, Optimo, Pearson Sound, Quantic, Romare, Roosevelt, Shanti Celeste, Talaboman, Young Marco.

Andras Fox, Chida, Daddy Ad (Trojan Soundsystem), DJ Cosmo, Ian Blevins, Jonny Nash, Krywald & Ferrer, Last Waltz, Lovefingers, Malka Tuti, Red Axes, Secretsundaze, Shame On Us, The Backwoods, Youandewan.

Residents
Bad Passion, BeatPete, Blonde Ambition, Brand New Wayo, Eskimo Twins, Fikcio Monger, Hamish Cole, Kool Clap, Last Waltz, Legalize Lambada, Let's Go Swimming, Matt Long, Mike Jones, Oli P, People Get Real, Renata Maris-Bainbridge, The Sonic Emporium, Toucanplaythatgame

Comedy
Allyson June Smith, Andrew Bird, Barry Castagnola, Carl Donnolly, Chris Martin, Dan Nightingale, Glenn Wool, Ivo Graham, Jamal Maddix, Jason John Whitehead, John Hastings, John Robbins, Julian Deane, Nick Doody, Mark Nelson, Mark Olver, Pippa Evans as Loretta Maine, Ray Bradshaw, Sara Pascoe, Sean McLoughlin, Yuriko Katani.