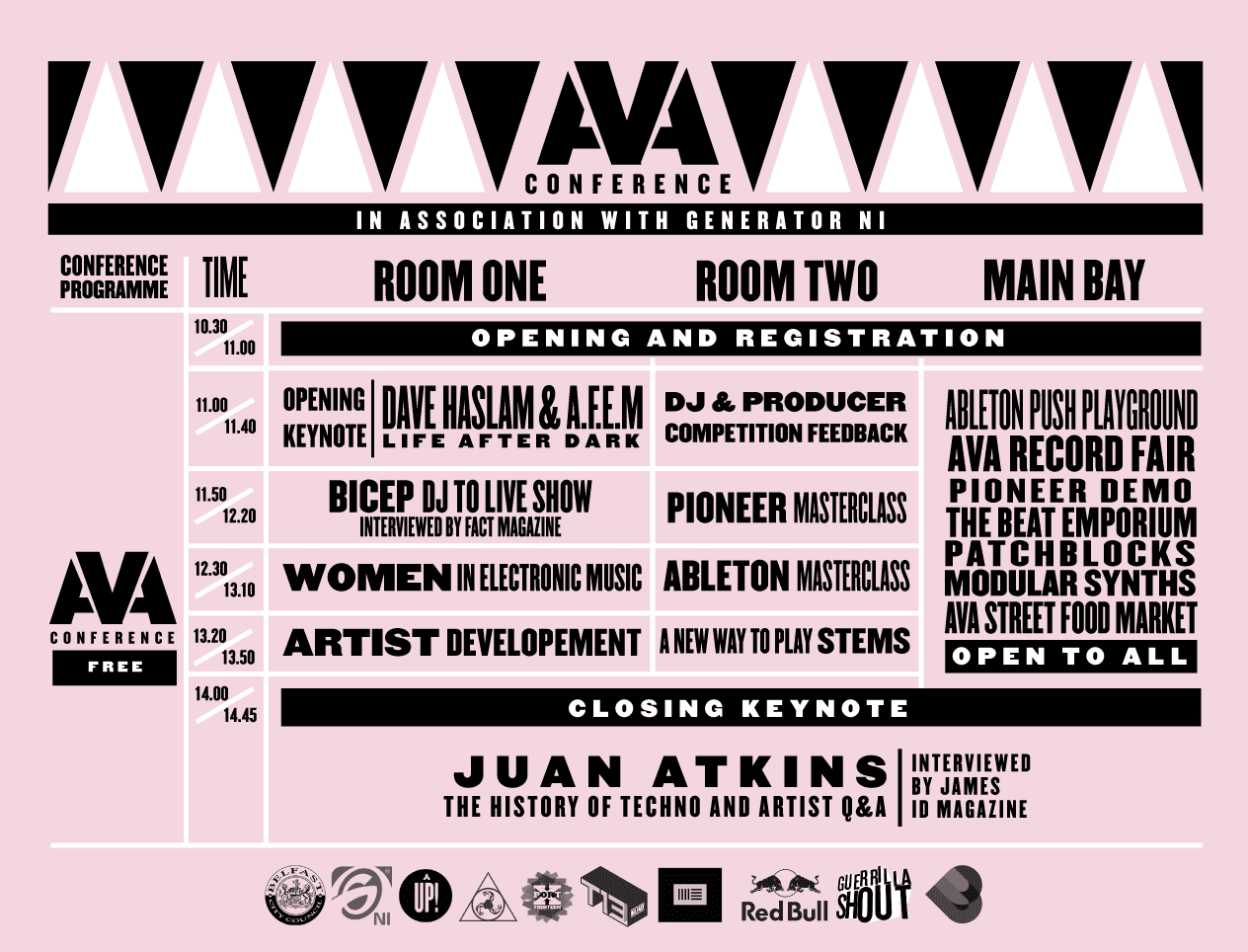 Final programme announced for AVA Festival and free daytime conference
Last year AVA Festival and Generator NI joined forces to create AVA Festival's educational conference, a pre-cursor to the VAA night festival elements. AVA X Generator NI can now share the final programme for this years conference, including a panels, talks, keynotes, masterclasses and one-on-one interviews with a mix of artists and industry professionals. From Techno Pioneer Juan Atkins to home-grown duo Bicep, then Dave Haslam, Mark Lawrence, Shanti Celeste and Bonobo's Manager Lizzy Bowman, the day promises to be an insightful look intro the electronic industry. Other key names include FACT Magazine, I-D Magazine, The Association of Electronic Music, Red Light Management, BigBox, Clintons and Listen Up, all taking part in AVA X Generator NI's inspirational conference.
Partnering for year two, AVA and Generator NI share a joint vision to develop Northern Ireland's electronic music and digital visual arts industry, through working with international and local artists, labels, manufacturers, media and industry professionals to explore issues in music business, technology and creativity. Designed to bridge the gap between the evening's live AVA experience and the creative, technical and business processed behind it, AVA's conference has a varied programme aiming to deliver insight, facilitate conversation, spark inspiration and further connect artists and industry with the grassroots of electronic music culture of Northern Ireland.
Sign-up to the individual sessions opens today at www.avafestival.com/conference
AVA Conference Programme (FULL TIMETABLE BELOW)
09.15-10.45 || AVA Pro – Closed Industry Networking Breakfast
AVA Pro is an invite-only networking event for indigenous and travelling industry professionals to connect over breakfast and business. It will involve various roundtable discussions headed by industry leaders to facilitate and guide conversation. AVA Pro is in partnership with Belfast City Council and Generator NI.
?The roundtables bring together like-minded people to discuss a number of topics, make new contacts and do business together. Hosted by an impressive roster of industry experts, each session lasts 15 minutes and then guests are invited to change tables and engage in conversation with other like-minded people.
All NI resident conference sign-ups will be given the opportunity to apply for a place at the 2016 AVA Pro Roundtable Sessions.
11.00-11.40 || Opening Keynote – Life after Dark – Dave Haslam & Mark Lawrence
'Life After Dark' will welcome author and former Hacienda DJ, Dave Haslam and the CEO of the Association of Electronic Music, Mark Lawrence to explore the 'creative, cultural and economic value of club culture'. This Sofa Session will examine UK nightlife and its crucial role in developing some of the best and most important musical talent in the country and how, conversely, the night economy has been in turmoil with 50% of UK venues closing in the last decade. What role can the industry play in championing nightlife and the clubs, bars and promoters that make Britain a breeding ground for incredible artists, DJs and producers?
11.50-12.20
Bicep – DJ to Live Show // Interviewed by Scott FACT Magazine
Bicep are the Belfast DJ's, producers, remixers and tastemakers who headlined the 2015 AVA Festival with a performance that will live long in the memories of all who attended. In 2016 they have taken the bold decision to set aside the ones and twos and develop a live show. Who inspired them to do this? How do the tracks transition out of the studio into a live environment? What's the geekiest piece of hardware they're going to road-test? Peek under the hood of the forthcoming live show in a fascinating discussion with Fact Magazine at the helm.
12.30-13.10 || Women in Electronic Music hosted by SoShe.Said – Halina Wielogorska // with Shanti Celeste, Dresden Leitner, Grace McCracken and Marcus Barnes.
The gender divide across the music industry remains heavily weighted towards men-both in terms of DJs, producers and performers; and also contingent industry. A 2013 report showed that the gender divide across all music industry related jobs is 67.8% male to 32.2% female- and PRS for Music's membership (the UK collection society for composers and songwriters ) is only 13 per cent female. 'Pushing the Dial on Women in Electronic Music' will discuss the challenges faced by women in the industry, talk through how the panelists themselves have developed their own careers; and signpost on how women can join together to encourage the next generation of creative and industry champions.
13.20-13.50 || Artist Development // Ashley Howard, James Jackson, Lizzy Bowman, Joe Dougan, Mark Gordon
Developing a team in any genre of music is about building a backroom of incentivized colleagues who will push your music, activate your fan base, get you bookings at concerts and events, remix your work, and protect your tracks and productions (and exploit them towards the opportunity). But how can you find a manager? What are the metrics a booking agent looks for? Can a PR company unlock tastemaker blogs and DJ feedback? Where does Radio and YouTube come into play? This panel will build a roadmap for emerging artists to start to build their own artist development plan from the beginning.
14.00-14.45 || Juan Atkins: The History of Techno // Interviewed by James I-D Magazine
Juan Atkins, known as the 'Originator of Techno', started out in 1979 and coined the term "techno" to definethe high-tech soundscape of his early music projects. Inspired by George Clinton and playing keyboards as a teenager-his aim was to create a futuristic music sound that would wed the most abstract funk of Parliament with the robotic synth-pop of Kraftwerk. Fast-forward to 2016 and techno remains on the cutting edge of electronica, with generations continuing to push its boundaries. In this unmissable closing keynote, one of modern electronic music founding fathers will tell the story of the birth of this most iconic of genres.PLUS a full programme of music producing technology and equipment master classes and drop-in sessions from Ableton, Pioneer, The Beat Emporium, Modular Synthesis, Patchblocks, AVA Record fair, street food market AND the announcement of the AVA Emerging DJ and Producer competition in association with Extended Play and Belfast Underground Records.
A one-of-a-kind event in Belfast, AVA Festival and Conference is paving the way for a new generation of talent. The free limited spaces on the AVA conference workshops and sessions are available viawww.avafestival.com/conference and limited tickets for the AVA evening showcase, with a price tag of just £30, with less than 15% remaining. For those travelling from the UK and beyond, T13 Belfast is only 10 minutes by car from Belfast City Airport (LDN > BEL approx 1hr30) and flights are available from £40 via skyscanner.net. Accommodation wise there are plenty of hotels, and apartments for rental close by for group bookings. Whilst there is no car parking at T13, there are various paying car parks close by.
CONFERENCE SESSION SIGN UP: www.avafestival.com/conference // FESTIVAL TICKETS AVAILABLE:www.avafestival.com/tickets