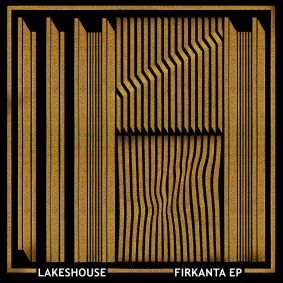 Lakeshouse - Firkanta EP
Lakeshouse are next up on Paper Disco with a fantastic four track EP that blends the sounds of the Norwegian club scene with a touch of UK underground dance music.
Lakeshouse is a group of edit-savy producers, DJs and jazz musicians based in Oslo and Malmö who have turned out well received remixes of, amongst others, Lindstrom, and have a killer live show to boot.
This musical moniker is their latest venture following their original concept "BOKA", and it will explore fresh new musical ground with a more club-oriented sound than before. Digital, mechanical and organic elements and Norwegian lyrics are all mixed into this tasty new EP, which also features artwork by the band. Their idiosyncratic soundtrack to a fantasy club fits the Norwegian space disco legacy but at the same time sounds like it belongs to a scene of its own.
They say, "Repetition and patterns in house music can be similar to the repetition and patterns in industrial architecture and geometry, which also inspired the visual profile and music of Lakeshouse."
Opener 'Ambulanse' takes its influence from UK garage with drums that swing perfectly, bouncing sub and synth stabs adding to the groove. The chorus 'køyr opp tempoet' literally means 'drive up the tempo' as the singer is not feeling too good and asking somebody to take him to hospital… fast! The superb 'Robåt' then ups the energy with a bouncing bassline, 303 riff, nagging lead and synth flourishes that drive through pure floor dynamics.
Keeping up the quality, 'Gjere Kva Du Vil' is a driving peak time disco banger telling people they can do whatever they want to do. There are touches of Italo and easy listening with swooping synths and interweaving melodies run through the unmistakable Norwegian wonk filter. Finally, 'Firkanta' goes for the cosmic disco bull's eye and doesn't miss. It takes off into space with its lead synth whilst riding the riff before things change up in the break with a drum solo that launches hands in the air.
These are four hugely charismatic tracks that are stuffed with new ideas and perfectly executed so as to really detonate the dance floor.
Tracklist:
1. Ambulanse
2. Robåt
3. Gjere Kva Du Vil
4. Firkanta