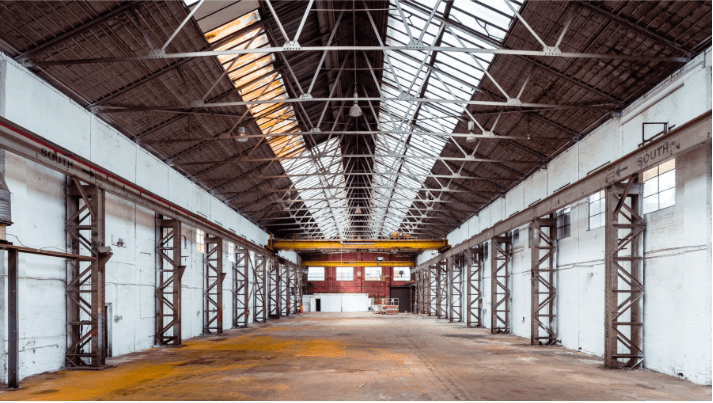 First look at the Midlands Brand New Venue: CRANE
Opening in Autumn 2017, and situated in the heart of Digbeth, CRANE is a fully licensed, repurposed industrial facility complete with its original machinery, maintained and preserved. The venue draws its name from the imposing crane that spans the width of the building, creating an impressive backdrop that is scheduled to host world class dance parties, art exhibitions, markets, product launches, street food gatherings & theatre.
It all kicks off on September 29th with an official opening party featuring VIVa boss Steve Lawler, Richy Ahmed, Kölsch, Cristoph and Roth$tein playing in the Crane main room, then the likes of Pawsa and Pax playing in the Cellar and Paradox City and others in the Hangar.
Gritty urban aesthetics aside, the venue layout comprises of multiple event spaces – each providing its own different, distinct atmosphere. The cavernous ground floor has been equipped with an overhanging mezzanine, and underneath a cellar providing an intimate setting for revellers to explore. Adjoining the main rooms, a mid-sized hangar-like terrace offers an escape from the action, boasting plush seating under subtle lights, completed with a view over the nearby canal.
This is a truly ground breaking project, creating the largest multi-purpose venue of its kind in the U.K's second city.
Venue profile:
12,000SQ ft Ground Floor
7,000SW ft Cellar
2 tiered mezzanine
Charismatic aircraft hangar structure terrace, overlooking canal
Breathtaking production
Check out the launch video here – https://www.facebook.com/therainbowvenues/videos/1778972345452322/
https://www.dropbox.com/s/exp2p7zf7qgzjy1/Crane_Venue%20PDF.pdf?dl=0
https://www.facebook.com/cranebirmingham/