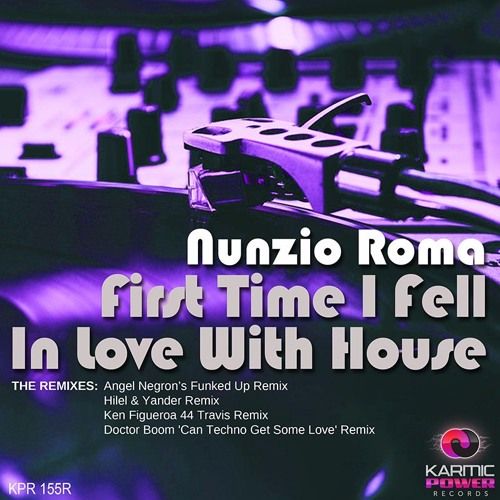 Nunzio Roma - First Time I Fell In Love With House (Remixes)
Karmic Power delivers a complete remix package of mixes for all house genre's from Ken Figueroa, Hilel & Yander, Doctor Boom and Angel Negron. Huge support gained already on the original mix.
1. 6AM 27th & 10th NYC Mix
2. Angel Negron's Funked Up Remix
3. Hilel & Yander Remix
4. Ken Figueroa 44 Travis Remix
5. Doctor Boom 'Can Techno Get Some Love' Remix
BUY: https://KarmicPowerRecords.lnk.to/wr6CG
YOUTUBE: https://www.youtube.com/watch?v=Optlh5EOpQE
BIOGRAPHY NUNZIO ROMA:
Nunzio Roma has been a dj for over 30 years. He's spun at the legendary Palladium, Limelight and Danceteria as well as other various clubs throughout the NYC area.
In 1989, he began producing house music and released a few white label projects on his own in the early 90'S. His passion for music led him to pursue a degree in audio engineering at The Center For Media Arts. His knowledge of the first digital audio editing program, Digidesign's Sound Tools, landed him a job at INS Studios where he edited and engineered countless projects.
After a hiatus from the industry he returned in 2015 and quickly racked up 2 Top 100 House Tracks, 1 Top 100 Deep House Track and A Top 10 Minimal Track on Traxsource, as well as a Beatport Top 10 Minimal Track and a few Top 100 Releases. He has been busy with remixes for Mike Mac & Mark Dickson, Harb Allen, Joe Gigs, Fet Juel, Fabio Rodry, MojoK, Rob Bello, Paco Moreni, and Blaise Grippa.
2016 Is off to a great start with a recently signed track to Karmic Power Records. Look out for original material as well as remixes coming soon on Maintain Replay, Bosom, Del Sol Ltd, ARCH44 Music, MIU/Cubek and Dance Lab Recordings as well as his own label BK215 Records.
He is available for remix work and dj gigs. His style is true deep house and house and always rocks the dance floor.