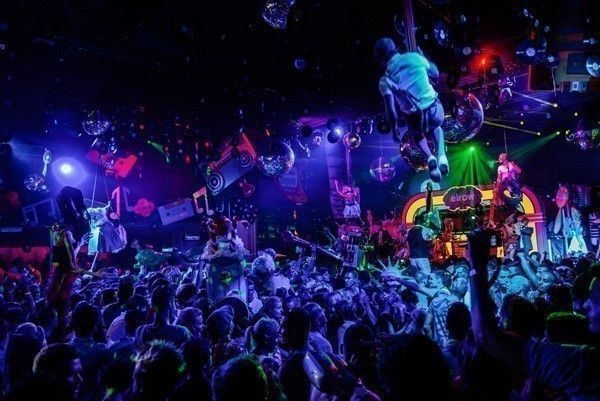 Five reasons not to miss Kehakuma-elrow in August
You arrive in August and your event calendar is out of control. The plans in the quintessential summer month are boundless and more so in Ibiza. Many proposals, invitations and above all, too many club "bracelets". What to do with so much saturation? Very easy, choose the best.
Space Ibiza gives you 5 compelling reasons so that Saturdays in August have a single name: Kehakuma-elrow. If the most enjoyable merger of the island has been much to talk about in June and July, imagine what awaits us this month. UMEK, John Talabot, Seth Troxler, Dj Koze, Tiga, Marcel Dettmann, Vitalic o Visionquest are some of the artists that will reaffirm the success of the #1 couple. There are plenty of reasons to come:
#1 Rebujito, fried fish & Cinco Jotas Music
On August 2nd 'El Rowcío' comes to Space Ibiza with Slovenian DJ UMEK in the Main Room and DVS1 in the Terrace of Kehakuma. Free tapas dinner from 10pm and for dessert, enjoy a line-up featuring underground Techno by Steffi and Virginia and the rowero sound of Marc Maya, De la Swing and Mario Biani.
#2 Champions League electrónica
On one hand, John Talabot, nd_baumecker, and DJ Koze, on the other Seth Troxler. With this lineup of superstars, the game arises on August 9th at the stadium of all clubs, Space Ibiza. John Talabot, the Spanish DJ and most internationally known for its exclusive taste, Disco-House will await in Kehakuma, where you can also enjoy DJ Koze, one of the essential names in electronica worldwide and nd_baumecker, habitual player in the Frankfurt and Berlin scenes. While elrow brings us Seth Troxler in the Main Room, one of the most charismatic DJs of the moment that will show his peculiar vision of Techno and House. Javi Bora, George Privatti, Marc Maya and Raul Mezcolanza will play in their respective positions to take the match to the highest.
#3 Spain is celebrating
Coinciding with the celebration of August 15 with a host of festivities across the country, we want Space Ibiza on Saturday, the 16th to find the real festival.The second visit by Canadian Tiga at elrow and the groove by Los Suruba are seen as the perfect alternative to sneak the rowdy festivals. In addition, the musical quality if reinforced by Javi Bora, Levon Vincent, Marcel Dettmann and Shed (live) in Kehakuma and the strength of Oscar Aguilera and Raul Mezcolanza in the Main Room of the club.
#4 V of Vitalic and Visionquest
Ryan Crosson, Lee Curtiss and Shaun Reeves of Visionquest will revolutionize the Terrace with their inimitable style, moving between Deep House and Techno. Vitalic will be responsible for taking the Main Room to the peak with immortal his as 'No Fun', 'Bells' and 'La Rock 01'. De la Swing, Toni Varga and Oscar Aguilera will accompany the French DJ for the elrow part while Ion Pananides and Javi Bora escort the American trip for Kehakuma. On August 23, mark with us this date with a V, for victory.
#5 Samba di Ibiza
'Sambódromo Do Brasil' is the last elrow party in August. All the joy and color mixed with Brazilian character of the duo Pleasurekraft, Supernova and residents Marc Maya, Raul Mezcolanza and De la Swing. Furthermore, Kehakuma will receive one of creators of Minimal Techno, Robert Hood. Besides Lil' Louis, the man who expanded his French kiss throughout the world, and Germany's Steffi, from one of the most respected labels, Ostgut Ton.
5 Saturdays and 5 reasons so that August 2014 will be remembered for your entire life. Buy your ticket or VIP pass for Kehakuma-elrow and choose to experience Space Ibiza.