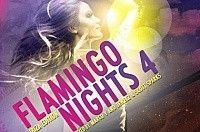 Flamingo Nights: Ibiza Edition
Fedde Le Grand's Flamingo Recordings brings back the highly anticipated 'Flamingo Nights' compilation series for a fourth instalment; 'Flamingo Nights 4: Ibiza Edition'. With a track list devised by Marco V (CD1), Jewelz & Scott Sparks (CD2), this brand new Ibiza Edition sets the tone for a summer season on the Balearic Isle, exhibiting the fresh House music sounds of 2013 in their entirety.
Long-standing warrior of the electronic music scene, ranked among DJ Mag's revered top 50 for the 7th consecutive year, Marco V brings in the mix a precisely crafted selection of sounds that has earned him the irreplaceable status he has today. Jewelz & Scott Sparks bring on CD2 their minimalistic approach to the big room sound, mixing up heavy bass and contrasting synths with harsh beats and intense build-ups.
The launch of the series in 2009 saw Flamingo Recordings front man Fedde Le Grand set out to depict the electronic scenes of the world's greatest clubbing territories via this string of compilations. The fourth instalment in the Flamingo Nights series follows up three editions, which previously focused on the sounds of Ibiza (2009), New York (2010), and Amsterdam (2011). Mixed by the likes of Fedde Le Grand, Funkerman, Soul Conspiracy, Nicky Romero & Deniz Koyu. This year will see Jewelz, Scott Sparks and Marco V join the legend.