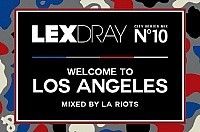 Lexdray – Welcome to Los Angeles
Lexdray, designer of stylish and functional travel bags and cases built formodern life, today released a Video starring LA Riots for his new song "Before You" (Original Mix) featuring Shiny Toy Guns to showcase the line's Ibiza Pack, the ultimate DJ bag. In addition, Lexdray is announcing the release of City Series Mix 10, Welcome to Los Angeles, Mixed by LA Riots, which is available to stream or download.
Produced in partnership with LA-based creative agency Wendel, the Ibiza Pack video recreates the high-energy experience of a live DJ set. The video conceptwas inspired by the 'scratch'-the iconic action birthed from the '70s used to produce distinctive sounds by moving vinyl back and forth on a turntable. In the video, LA Riots is spun like a carousel on a darkened stage with nothing in front of him to 'play'-until his live show at the paint-soaked Life in Color festival in San Diego.
The City Series, which launched online in conjunction with the Ibiza Pack in April, features an exclusive multi-track mix every week created by selected DJs for a city that best represents them as an artist. Previous City Series DJs include Mark Farina (Mix 9, San Francisco), DJ Base (Mix 8, Welcome to Beirut) and Impulse (Mix 7, Welcome to Baltimore). Every City Series mix is available to stream on Lexdray and to download through Soundcloud.
The Ibiza Pack was designed in partnership with two industry icons, DJs Clark Kent and Young Guru, to create the ultimate DJ bag with pockets for daily essentials and to keep every important piece of tech safe.