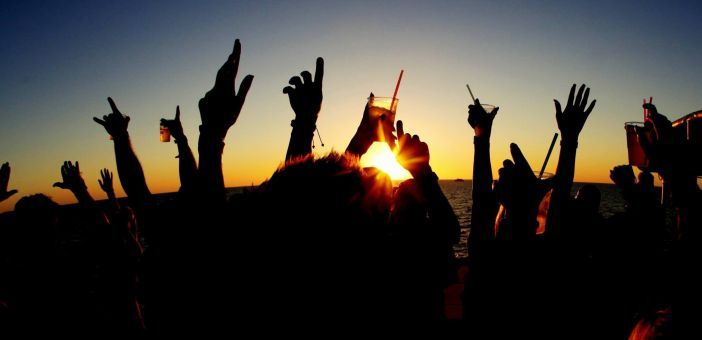 Float Your Boat – All aboard the Official Boat Party for Sundays at Space!
Float Your Boat is hyped to reveal that in 2016 it's all set to host the official boat party for Sundays at Space, one of the most talked about and anticipated parties of the season.
It's no secret that this is Space Ibiza's final year as we know and love it, and while that could see us all weeping into our salty sarongs, instead we'll be too busy celebrating its epic line–‐ups and getting our pre–‐party groove on with Float Your Boat. All Sunday boat party tickets to include entrance to Sundays at Space.
The Float Your Boat action will run from 4–‐7 PM each and every Sunday between 5 June to 25 September, when it will set sail from San Antonio and head out into the blue beyond. There'll be daytime vibes aplenty, as well as oodles of late afternoon sun and a chance to cool off at a swim stop so stunning it'll knock your socks off.
Music will come courtesy of Space Ibiza regulars such as Jason Bye, Andy Baxter, & Clara Da Costa, as well as a whole host of surprise additions yet to be announced. Throughout summer, Float Your Boat are proud to have four special appearances from Do Not Sleep who will be bringing on their main man, Darius Syrossian accompanied by DJ Bones, whose much–‐lauded party will take up a weekly residency at Space Ibiza this year.
As well as entrance to Space Ibiza, tickets will include two free glasses of cava for each party–‐goer, and of course, there's a bar on board that will serve reasonably–‐priced drinks. A free bus to Space Ibiza will run at 9.30 PM, so there's plenty of time post docking to shower, grab some food and shake up for what will no doubt be one of the greatest nights ever. Jump on the bus and you'll arrive in time to soak up the final two hours of Space Ibiza's legendary Terraza – an experience not to be missed.
So there we have it. Sun, sea, cava and Space Ibiza – Sundays have never looked so good. Yet another announcement that confirms 2016 is set to be Float Your Boat's biggest and best yet.
Set sail for the ultimate Ibiza sunset fiesta with #FloatYourBoat
Tickets available in advance at: www.FloatYourBoatIbiza.com
Facebook: https://www.facebook.com/FloatYourBoatIbiza
Website: www.FloatYourBoatIbiza.com
Twitter: http://twitter.com/FYB_Ibiza
Instagram: http://instagram.com/fyb_ibiza
Youtube: https://www.youtube.com/user/FloatYourBoatIbiza
SUNDAYS AT SPACE
http://www.spaceibiza.com/
https://www.facebook.com/sundaysatspace
DO NOT SLEEP
http://www.donotsleepibiza.com/