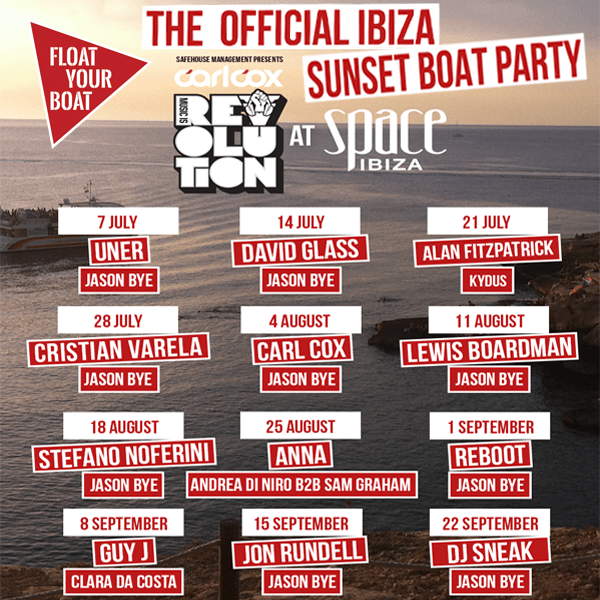 Float Your Boat Carl Cox Sunset Boat Party
Get ready to Float Your Boat with The Official Boat Party for Carl Cox 'Music is Revolution' at Space Ibiza. Every Tuesday from 7 July to 22 September join the world's hottest DJs and coolest, friendliest clubbers for an unforgettable voyage into sound on the magical party island!
The FYB Carl Cox opening party sees none other than Uner on the decks of Float Your Boat's cutting-edge, custom Pioneer XY Pro-Audio Sound System, delivering supercharged techno against the unforgettable backdrop of sun and sea.
Throughout the summer Float Your Boat will showcase the biggest and best techno and house DJs in the world. Leading the charge is the main man himself, Carl Cox – revered techno tastemaker and founder of the legendary Intec Records label. Joining him are the likes of Cristian Varela – twice voted the world's best techno DJ, Chicago house hero DJ Sneak, Jon Rundell, Reboot and many more.
Float Your Boat takes your island adventure to a level of "big smiles, new friends, awesome music and the best sunsets in the world," says promoter Charlie Keegan. With years of experience throwing parties in IBIZA, the FYB family is there to ensure you have the most perfect day.
Your FYB Carl Cox at Space ticket gets you BOAT entry + FREE TRANSPORT + ENTRY to one of the worlds' best clubs, Space Ibiza for Carl Cox's 'Music is Revolution' – all you have to do is turn up and dance!
So JUMP on board and Float Your Boat Ibiza – YOU KNOW YOU WANT TO… !
Set sail for the ultimate Ibiza sunset fiesta with #FloatYourBoat
YOU KNOW YOU WANT TO…
Tickets available in advance at: www.FloatYourBoatIbiza.com