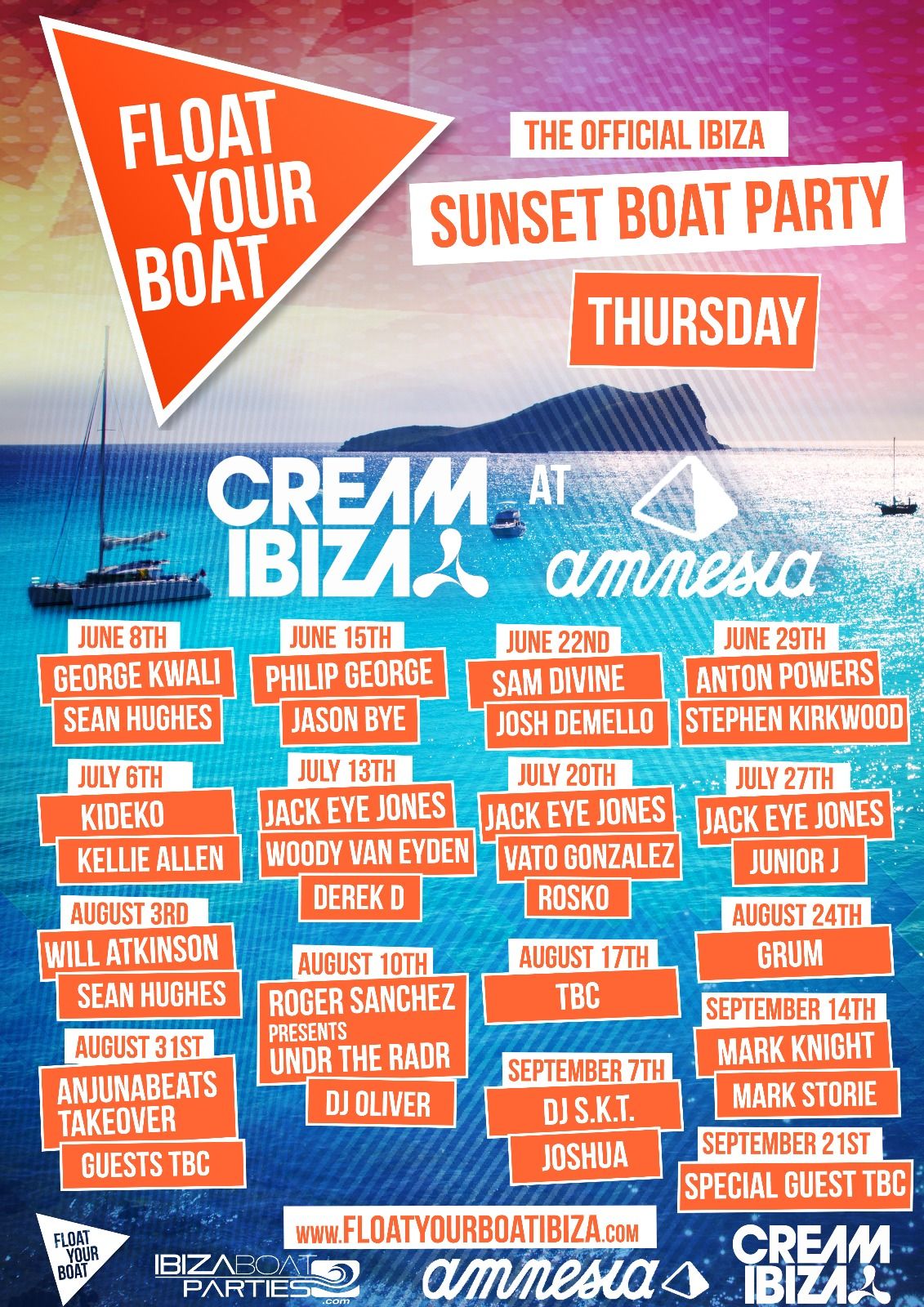 Float Your Boat Release Second Phase Lineups For Cream Ibiza Boat Parties
Float Your Boat have already kicked off their Ibiza 2017 season in style with a couple of sold out sailings of Official Cream Ibiza Boat Parties. Continuing full steam ahead and leaving others in their wake, they have added to their already impressive line up releasing the second phase of artists to play on this year's boat parties.
The international cast of DJs has been made even stronger with the addition of more big names. DJ Oliver will now join Roger Sanchez as he present
UNDR THE RADR on August 10th. Anton Powers will be supported by Stephen Kirkwood on June 29th while Jack Eye Jones will be accompanied on his three July dates by an absolutely stacked line up including Junior J,Woody van Eyden and Vato Gonzalez. Renowned trance label Anjunabeatstake control on August 31st. Following on from his great performance last year, DJ S.K.T. headlines alongside Joshua on September 7th and September 14thwill be under the musical guidance of the skilled duo of Mark Knight and Mark Storie.
NO OTHER BOAT PARTY IN IBIZA HAS LINE UPS LIKE THIS!
The Cream Ibiza Boat Parties departs from San Antonio every Thursday through the summer with the last outing on September 21st. The line up for closing party has been kept under wraps but we've been told that there will be a very special guest, yet to be announced.
The three hour cruises are filled with incredible daytime party vibes, reasonably priced drinks, new friends, big smiles and a perfect view of the best sunset in the world. It's the perfect way to set the tone for the night ahead. After this brilliant warm up out at sea, there is time to shower and get ready before getting the bus to head for Amnesia and enjoy one of the world's best club nights at one of the world's best clubs – bus and entry to Cream at Amnesia is included if you choose the combo ticket!
What's more, entry to Soul Heaven is also included for Ocean Beach Ibiza on Saturday.
YOU KNOW YOU WANT TO!
Float Your Boat parties are guaranteed to sell out so get in early and don't miss your chance to grab a pre-sale ticket NOW before they disappear!

WHAT ARE YOU WAITING FOR?
We hope to see you on board soon!