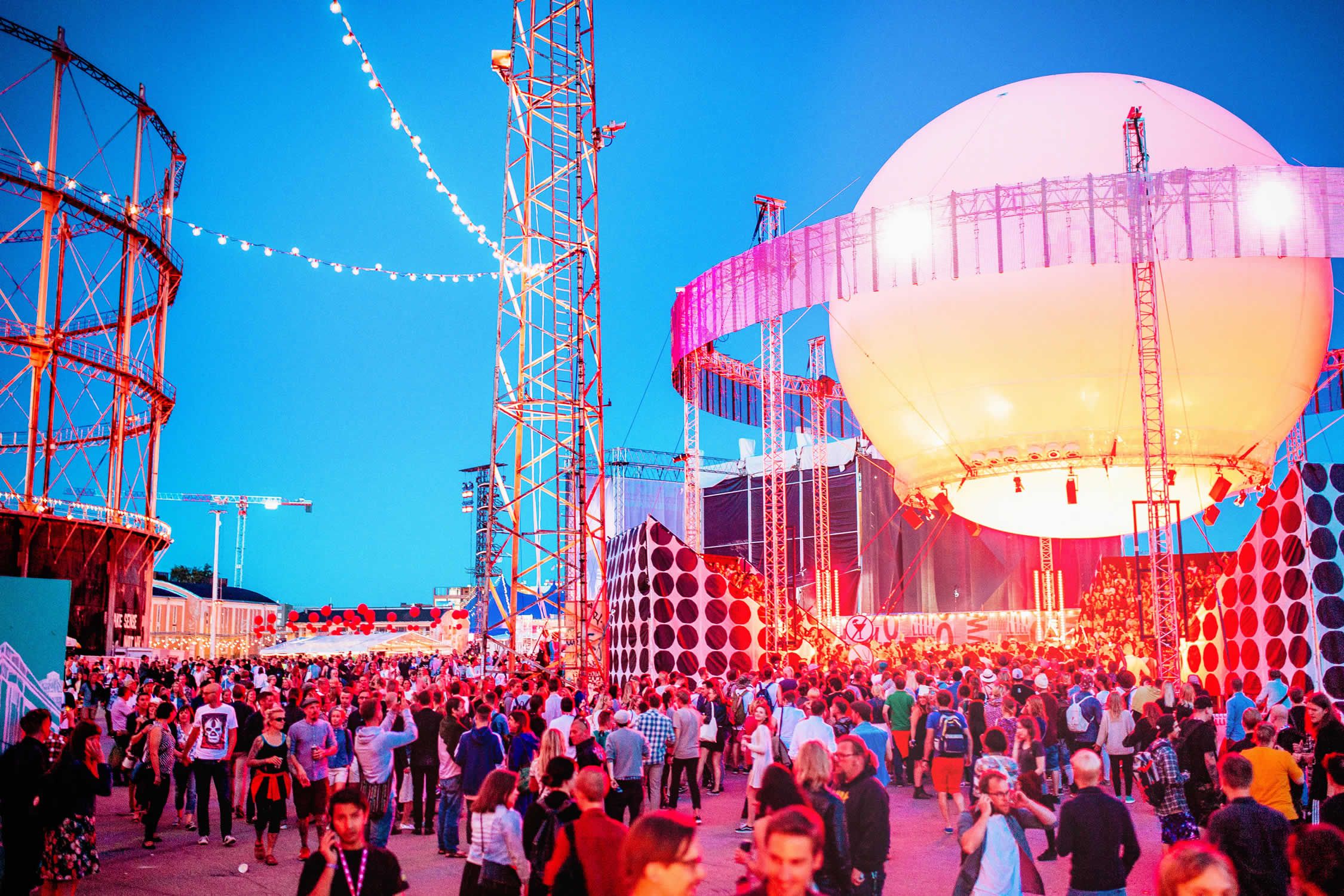 FLOW FESTIVAL HELSINKI announce more acts…
Consistently breaking new boundaries and defining their own set of rules for creativity, Flow Festival Helsinki are delighted to reveal that Trip-Hop pioneers Massive Attack will be making an extremely special appearance at this year's festival.

Masked in an aura of independent thinking and standing as undeniable British icons, Massive Attack have soundtracked a generation of underground dance music and represent a true cultural force. The Bristolian collective of Robert "3D" Del Naja and "Daddy G" Marshall formed a sound blending atmospheric electronica, international instrumentation and decadent soul to stand out as a pivotal force in creative music around the world. Unafraid to draw influences into their multi-faceted sound, they stand as one of only a handful of acts whose ingenuity has only increased over time, with recent EP "Ritual Spirit" once again demonstrating their penchant for powerful and moving orchestrations of dance. They'll be joined for an extremely special performance by the culturally potent Young Fathers whose defiant and powerful scriptures has garnered vast critical acclaim, scooping the Mercury Prize for their 2014 debut "Dead!". A visceral display for the senses, this unique performance is one not to be missed.

When thinking of defiant global icons of rock, none stand much taller than the bare-chested barrel tones of Iggy Pop. His undeniable live presence has seen him traverse the globe for over five decades, paving the way for future generations of young musicians with his distinct punk undertones and repertoire of garage-rock anthems. The trailblazing legend returns this year with the hotly anticipated "Post Pop Depression" so expect the enigmatic hero to rip apart the Helsinki streets once again.

Two musicians who helped craft and define one of last year's most defiant albums with "To Pimp A Butterfly", both Kamasi Washington and Thundercat will be heading to Flow Festival Helsinki, with sets that will both astound and captivate as the modern faces of neo-soul and jazz head to the Scandinavian heartland. Offering their own perspective on modern Britannia, Sleaford Mods have developed a reputation as the modern day punks of post-millennial Britain. Fresh from their acclaimed latest LP "Key Markets", expect a barrage of explosive commentary as they touch down on the streets of Helsinki this August.

Effervescent Californian wordsmith Lil B will be bringing his based soundscapes to Flow Festival Helsinki alongside revered dance morpher Floating Points, whose genre-infused productions has seen him draw praise from across the underground dance world and wavey Scandinavian supergroup Liima.

These new additions join an extensive array of musical icons and game-changers taking to the stage at Flow Festival Helsinki this year including Australian pop saviour Sia, British icons New Order, The Last Shadow Puppets, M83, Chvrches, Jamie XX, Four Tet, Stormzy, Descendents and many more!

A limited number of three-day early bird tickets are available until the end of February, priced at €165 and available through the festival's official website.
http://www.flowfestival.com/

FLOW FESTIVAL HELSINKI 2016 LINEUP (A-Z):

Ata Kak // Chvrches // Descendents // Floating Points // Four Tet // Hercules & Love Affair // Holly Herndon // Iggy Pop // Jamie XX // John Talabot // Kamasi Washington // Liima // Lil B // Massive Attack + Young Fathers // M83 // New Order // Phuture Live (DJ Pierre + Spanky) // Roman Flügel // Shackleton Presents "Powerplant" // Sia // Sleaford Mods // Stormzy // The Black Madonna // Thee Oh Sees // The Last Shadow Puppets // Thundercat // Wooden Wisdom & DJ Fitz