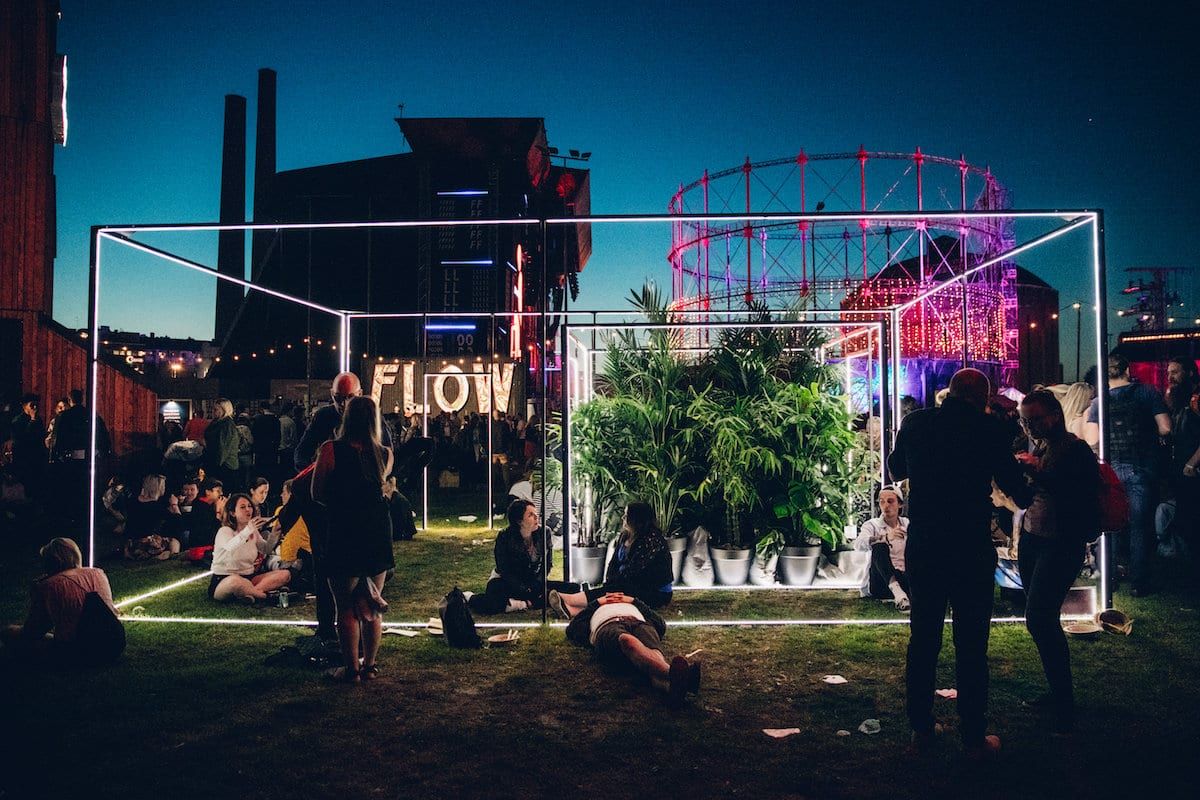 Flow Festival Helsinki reveals Jlin, Aïsha Devi, Vessel, Lanark Artefax, Kelly Moran and more
Flow Festival's experimental music program The Other Sound presents a fascinating look at what's happening on the fringes of music right now, with unorthodox sounds and approaches from the past, future and everywhere in between.
Flow Festival's The Other Sound experimental music program takes over the Voimala venue once again. Appearing at The Other Sounds is one of the brightest lights in experimental electronic music Jlin with a new audiovisual show created in cooperation with Theresa Baumgartner. In addition to her own critically acclaimed releases and concerts, Jlin is a sought after collaborator in modern dance, classical music and modern art. She will also perform at Wayne McGregor Company's dance piece Autobiography Edits, presented by Flow Festival and the Finnish National Opera on the 7th and 8th of August, the two days before Flow Festival opens.
Bending the aesthetics of electronic music into whole new shapes by sheer force of will, among this year's acts are Aïsha Devi with her spiritual music and transcendent shows, Vessel, who draws from the bass-heavy traditions of his hometown of Bristol as well as wilder sounds from further afield, and one of the UK's most exciting young artists Lanark Artefax, who counts people like Björk and Aphex Twin as fans. Also among those taking the stage are Amnesia Scanner, a Finnish duo based in Berlin who are interested in technological innovations, plus Maarja Nuut & Ruum from Estonia, who will bring their blend of abstract soundscapes, violin and experimental singing to the stage.
Jlin and Aïsha Devi are the newest additions to the Flow Festival line up
The Other Sound also hosts New York-based pianist Kelly Moran with her spellbinding soundscapes, Mary Lattimore, a harpist from Los Angeles, conjuring up beautifully abstracted forms, Norwegian and Danish saxophonist and queer artist Bendik Giske, sound and visual artist Ana Gutieszca with her hypnotic noise, as well as one of Iran's most forward-looking composers Saba Alizadeh, who is known both as a virtuoso of the Persian string instrument kamancheh and an experimental musician. An improvised concert by Quadrivium combines analogue projection, prepared piano, tape recorders and modular synthesis to create a symbiotic state on stage.
Tuomas A Laitinen's Cryptospores is a performative installation that exists in many modes. At Flow, it manifests itself as an experience resembling a concert. The Other Sound will also host one of Finnish literary modernism's leading lights, poet and author Hannu Salama honoring the age-old connection between jazz and poetry with band Vapaat Radikaalit.
The classical side of The Other Sound takes a look at the music and influence of composer and provocateur John Cage. Tristero Piano Trio presents a programme of pieces with visual and performative elements. Sibelius Academy's NYKY Ensemble will present a whole set consisting of Cage's early works.
Mary Lattimore and Kelly Moran join The Other Sounds line up today
Flow Festival takes place in Suvilahti 9th–11th August 2019.
Almost 150 artists perform at the festival. The following artists have been announced so far:
Friday 9th August
Cardi B, Erykah Badu, Earl Sweatshirt, Neneh Cherry, slowthai, Nitzer Ebb, Leroy Burgess Full Band, Ville Valo & Agents, Pyhimys – Neljä vuodenaikaa: Kesä, IBE Special, Elias Gould, Katakombi, Maustetytöt. Nordea Globe Balloon: Jonathan Wilson, Makaya McCraven, BCUC, M, Elifantree. Resident Advisor Front Yard: Donato Dozzy, Dj Python (live), Eva Geist (live), Ash Lauryn, CCL, Denzel & J.lindroos. Reaktor Backyard: Fred P, Levon Vincent, Mafalda, Tone B. Nimble, Tomi K, Sebastian Holm & Marju. The Other Sound: Jlin AV with Theresa Baumgartner, Aisha Devi, Maarja Nuut & Ruum, Hannu Salama & Vapaat Radikaalit, Tuomas A Laitinen: Cryptospores.
Saturday 10th August
Tame Impala, Robyn, Blood Orange, Seinabo Sey, NAO, Big Thief, Pond, Yves Tumor, Astrid Swan & Stina Koistinen feat. Owen Pallett (WORLD EXCLUSIVE), Gasellit, Ruusut, Sofa, Bizi, F & SITOI, Henrik!. Nordea Globe Balloon: Nyege Nyege: Bamba Pana & Makaveli + Kampire, Nubya Garcia, Jesse Markin, Jaakko Eino Kalevi, Timo Lassy & Teppo Mäkynen, Pekko Käppi & K:H:H:L. Resident Advisor Front Yard: The Black Madonna, Juliana Huxtable, Dream 2 Science (live), Carista, Katerina b2b Linda Lazarov, Yu Chuan. Reaktor Backyard: Theo Parrish, Palms Trax, Valesuchi, Jeremy Spellacey, Raw Silk, Sansibar, Olli Koponen. The Other Sound: Amnesia Scanner, Vessel, Ana Gutieszca, Saba Alizadeh, Tristero Piano Trio, NYKY Ensemble plays John Cage.
Sunday 11th August
The Cure, James Blake, Father John Misty, Tove Lo, Modeselektor (live), Stereolab , Mitski, Cupcakke, Khruangbin, J. Karjalainen, Pariisin kevät, Iisa, The Holy. Nordea Globe Balloon: Pharoah Sanders Quartet, Flohio, Cüneyt Sepetçi, Katu Kaiku, SUAD. Resident Advisor Front Yard: Nina Kraviz, Baba Stiltz, K-Hand, DJ Yeboyah, D.Tiffany. Reaktor Backyard: Willikens & Ivkovic, Darryn Jones, Nosedrip, Disco Obscura: Tero Männikkö & Kristiina Männikkö, Lauri Soini. The Other Sound: Lanark Artefax, Kelly Moran, Mary Lattimore, Bendik Giske, Quadvirium.
Flow Festival confirmed partners for 2019 are the main partner Lapin Kulta Pure, partners Nordea, Oatly, Perlage, Reaktor, SEAT and Stopteltat as well as media partners Basso, Clear Channel, Helsingin Sanomat and Resident Advisor.
www.flowfestival.com
www.facebook.com/FlowFestival
www.twitter.com/FlowFestival
www.instagram.com/flowfestivalhelsinki