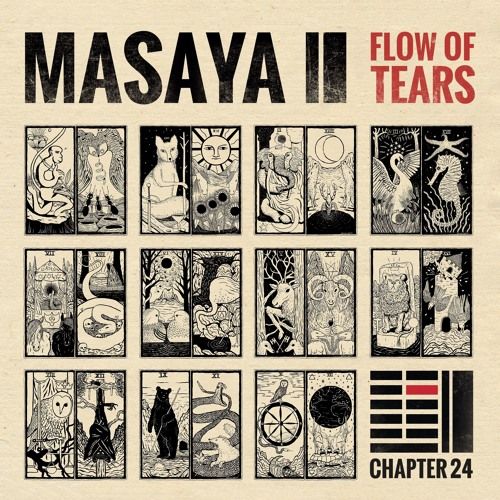 Masaya ft. Ripperton - Flow of Tears EP
Famed melodic house and techno label Chapter 24 marks its second year of great releases with its (suitably) 24th EP. This comes in the form of a four track vinyl exclusive masterpiece from Mina Records boss Masaya. The Swiss born DJ and producer nourishes the feminine touch in her craft, known for her hypnotic and enticing tracks.
This stellar EP titles 'Flow Of tears' features three tracks by Masaya and a remix from a man who needs no introduction, Ripperton!
The EP kicks off with 'Borderline', a spine tingling slow burner that creeps up and grabs your attention immediately. Jingling cowbells and dreamlike, swirling vocals put you in a trance as the synths build up, louder and heavier creating an atmospheric techno landscape that pulsates through your body.
Next, we have the emotive 'Picture', deeper and darker than the former. This track boasts a driving, growling bass throughout punctuated with warm finger clicks and harmonious strings. The layering makes it almost an orchestral score. A moving track to say the least.
'Flow Of Tears' is a sombre track with an almost meditative element to it. It is deeply atmospheric and dreamlike as strings and light percussion flutter over one another. A Sci-Fi inspired bass pulsates under as soft vocals utter the word 'tears' over the top. This echo filled soundscape is another track to mark a successful 2 years to the label.
Last but not least we have Ripperton's remix of 'Flow Of Tears'. The famed Swiss deep house maestro puts his signature touch on the track making it more rubbery, with more of a house like bassline. With releases on labels such as Innervisions, it's no surprise he gives this track the re work that he did. He keeps the ambience and atmosphere intact while making it something that makes you want to move!
A fantastic release to mark this enigmatic London labels 2nd birthday!