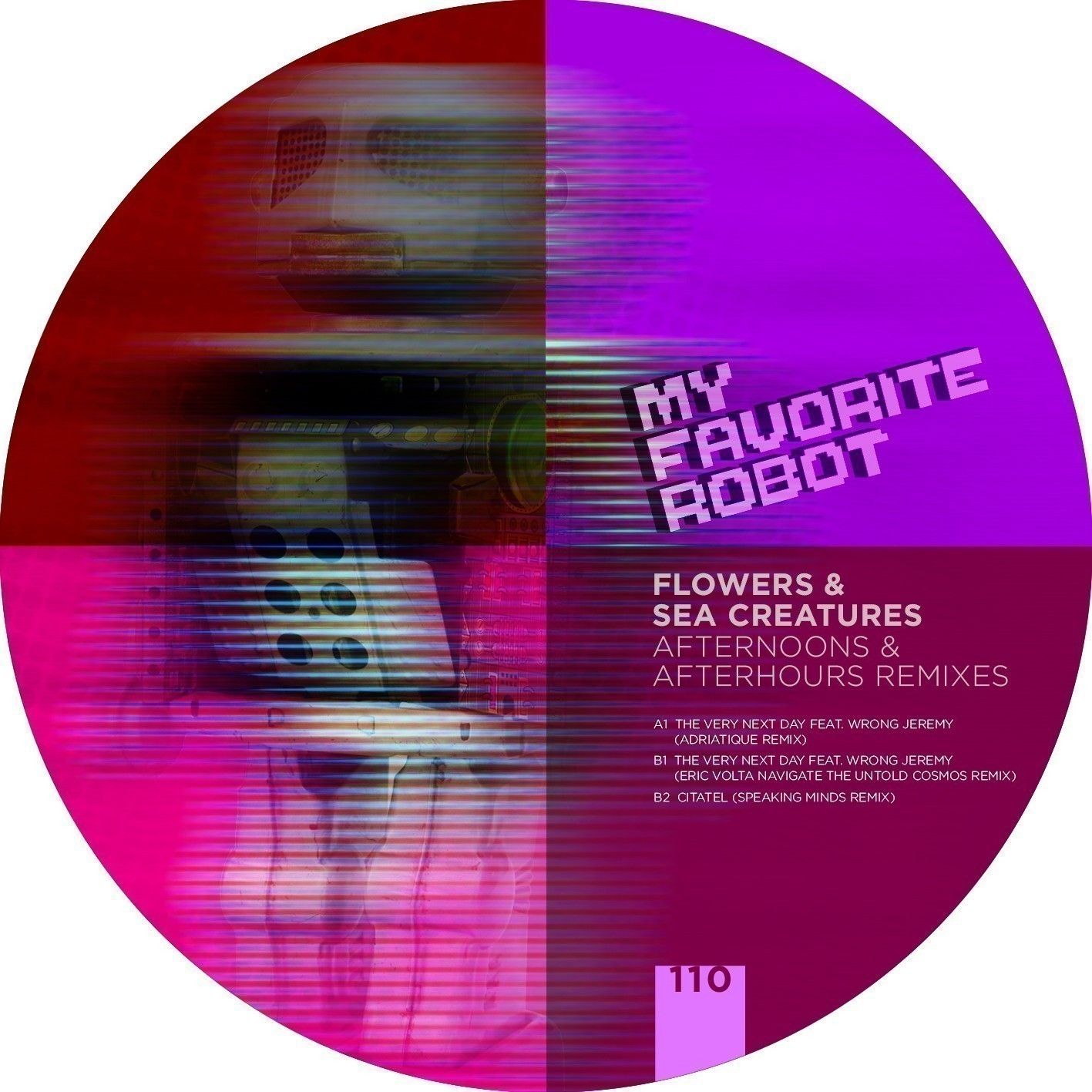 Flowers and Sea Creatures – Afternoons and Afterhours remixes
For their next release, leading Canadian indie dance label My Favorite Robot returns to a huge release from earlier in the year by Montreal duo Flowers and Sea Creatures. Their 'Afternoons & Afterhours' release featuring Wrong Jeremy was a serene and widescreen EP that built patiently and won them many fans, and now label regulars Eric Volta and Speaking Minds, alongside Adriatique all remix it.
DJ and production duo Adrian Schweizer and Adrian Shala aka Adriatique hail from Switzerland and have really put their country on the map in recent times. Releasing a string of standout EPs on labels like Culprit, Diynamic and Hive Audio, they are also regulars in the world's best clubs and this year are residents at Solomun's Diynamic night at Cova Santa. Their version of the 'The Very Next Day' repackages it as a trippy, melody rich house roller with deep, groaning and moody basslines underpinning the whole thing. It grows increasingly chaotic as things roll on, taking dancers ever deeper down the rabbit hole in the process.
Next up is Eric Volta, a MFRR regular and masterful synth craftsman who also releases well received sounds on 1trax, No.19 Music and Visionquest. His 'Navigate the Untold Cosmos remix' is a fantastically moving thing that initially casts you adrift in a celestial and heavenly sphere of beat-less ambience. Eventually it coalesces into an engaging, ticking house number with synths spraying about of their own free will and vocals bleeding in to add more layers of heavenly atmosphere. It's hugely sensitive and emotive and will make all the hairs on your body stand right on end.
Last but not least to remix is Speaking Minds, a project born in 2012 from the union of 2 Italian guys with a common passion for music: they have appeared on Noir Music, had a standout EP on MFRR earlier in 2014 and have had support from the likes of Tale of Us. Their remix of 'Citadel' is similarly spine tingling in the way it so patiently builds on spaced out kicks. A sombre, undulating synth line adds a sense of drama and the airy vocals are allowed plenty of space to breath up top. It's the sort of peak of your set track that really brings everyone together in magically moody fashion.
This moving package is a fantastic way to revisit one of the MFR label's biggest hits this year and proves they know exactly who to call when it comes to choice remixes.