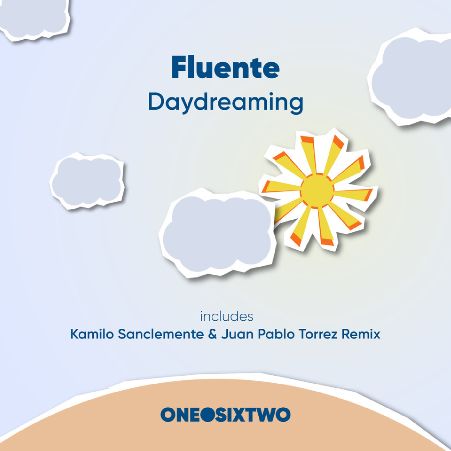 Fluente – Daydreaming
Tripswitch's flourishing ONEDOTSIXTWO imprint unveils its second release of 2019 as it continues to seek out and feature the finest world-class talent within the global underground progressive house scene. The label's 11th release shines a spotlight on Fluente, an exciting collaborative project consisting of two experienced Polish DJ/Producers – Tuxedo and Monojoke. This package is further boosted by a superb remix of 'Daydreaming'resulting from another collaboration, this time between renowned Columbian DJ/Producers Kamilo Sanclemente & Juan Pablo Torrez.
'Daydreaming (Original Mix)' rides on a snappy, low-slung, hip-swinging groove. Its relaxed, slow-build, spacious attitude and lush, heart-fluttering melodic flourishes are a perfect introduction to Fluente's deeply delicious style. With 'Distractions (Original Mix)' the highly creative duo continues their theme, as they embark on an equally absorbing dive, deep into heavenly dub-inflected territory. Having previously released on Hernan Cattaneo's Sudbeat, Nick Warren's The Soundgarden, Hot Since 82's Knee Deep In Sound, and now with their debut ONEDOTSIXTWO release, Fluente's excellent pedigree is developing fast.
Kamilo Sanclemente & Juan Pablo Torrez up the energy levels with a pulsating progressive groove to take 'Daydreaming' on a perfect remix ride. They launch a steadily soaring masterpiece, enriched with layers of sumptuous melodies and that essential smile-inducing anthemic attitude. Kamilo is renowned worldwide for his infectious grooves and mesmerizing melodies, through releases on Einmusika, Parquet Recordings, Perspectives Digital, Manual Music and many more key labels. Juan Pablo has been equally prolific, including establishing his very own Clubsonica Records as one of the most important labels from Colombia. Between them, their unique vision for quality music has put their nation firmly in the map of the ever-evolving global Progressive House scene.
Fluente Info:
https://www.facebook.com/fluente
Kamilo Sanclemente & Juan Pablo Torrez Info:
https://soundcloud.com/kamilosanclemente
https://soundcloud.com/juantorrezmusic
ONEDOTSIXTWO Info:
https://twitter.com/onedotsixtwo
https://soundcloud.com/onedotsixtwo
https://www.facebook.com/onedotsixtwo
https://www.instagram.com/onedotsixtwo
Tripswitch Info:
https://twitter.com/nicktripswitch
https://soundcloud.com/tripswitch
https://www.facebook.com/nicktripswitch
https://www.instagram.com/nicktripswitch