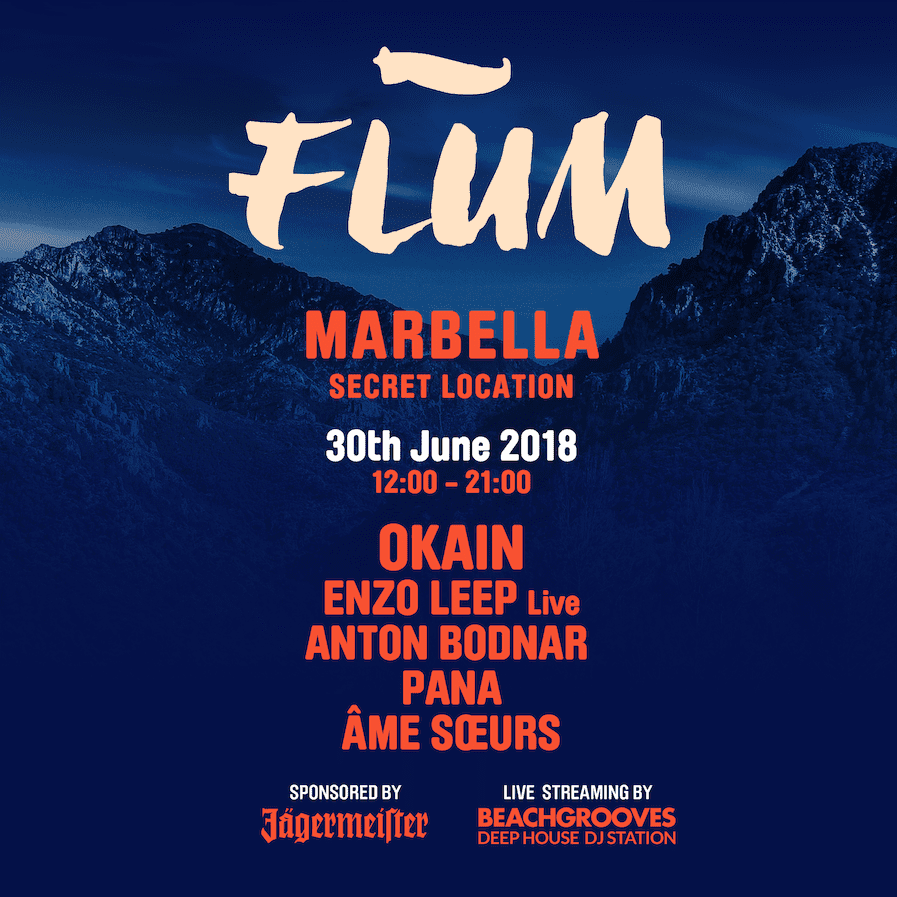 FLUM announces its debut with Okain as special guest
A new brand has born, its name is FLUM and it has a special, unique and completely original proposal that combines exclusive events, a vinyl and digital label and a radio show on Beachgrooves Radio. As a promoter this adventure has born to shake up the Marbella electronic music scene – and other cities in the future – offering the audience the possibility of living an absolutely different experience. FLUM is made up of three pillars: a luxurious and seductive aesthetic where the smallest details are taken care of, a huge display in regard to the show with an unprecedented light and visual systems and a soundtrack made up by a careful selection of national and international artists.
All this will take place on Saturday 30th of June, the date in which FLUM will celebrate its first event in a localization that will be kept secret. From 12:00h until 21:00h the audience will enjoy performances by the international special guest Okain, French artist active since 1999 and one of the most important names in the French electronic music scene. Kickboxer, Tsuba, Bpitch Control, Quartz Music and Jetaime Records are just some of the labels that have released his productions, transforming him into one of the most prolific and valued artists of his generation; by Enzo Leep, DJ and producer from Seville, owner of Rewire Music label and one of the biggest representatives of rustic Underground, whose live shows are truly for the senses; by Anton Bodnar, FLUM´s creator and promoter and one of the most established artists in the national electronic music scene; by Pana, a young promise of the Underground scene thanks to a sound full of personality that labels such as Moan and Local29 have been released on; and by Âme Soeurs, duo based in Barcelona, made up by the Canadian Nico Amadeus and the Rusian Anna Bannana, owner of one of the most eclectic musical universes that can be found all over the world.
Write down Saturday 30th of June in your diary because you won´t want to miss FLUM´s debut, a project whose main purpose is to take care of every tiny detail to make the audience enjoy every disco, every podcast and every party to the maximum. Keep your eyes out for more news.